Scan N Cut courses, Canvas Workspace courses, Cheat Sheets, or learning to design your very own SVG files using Inkscape. If you are looking for a course to help you learn how to use your cutting machine then check out the options below.
This post may contain some affiliate links for your convenience (which means if you make a purchase after clicking a link I may earn a small commission but it won't cost you a penny more)!  Read my very boring full disclosure policy here.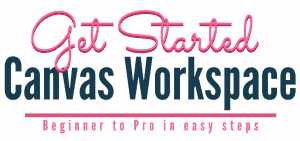 Are you new to Canvas Workspace?

Canvas Workspace is software that is specifically designed to use with your Scan N Cut cutting machine.
This Canvas Workspace course will help you go from beginner to pro in very easy steps and have fun along the way. Learn from the very beginning how to add SVG's, create your own designs and create gorgeous designs.
NO MORE FRUSTRATION!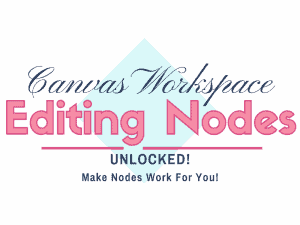 NEW COURSE

A great Canvas Workspace course to learn how to create awesome projects from scratch. Once you know how to use the nodes properly you can make any shape that you want.

This course includes tips and tricks to work through those pesky error messages.
#This course does not cover the very basics of adding SVG's.
FREE COURSE
This Scan N Cut course covers the features of your cutting machine. It will step you through setting up your wifi, using the scanning features of your Scan N Cut and much, much more.
The best news is that is currently FREE!
CHEAT SHEETS
These Canvas Workspace cheat sheets will guide you through what the various icons actually do. They will make it easy to remember and cover both the online version and the downloaded version of Canvas Workspace.

#If you have purchased the "Get Started With Canvas Workspace" course the downloaded version of the Cheat Sheets are already included.
SCAN N CUT CHEAT SHEETS –
Unlock the secrets of the icons
Unlock the full potential of your Scan N Cut cutting machine with this comprehensive 25+ page Scan N Cut Cheat Sheet guide for the SDX models!
These cheat sheets are ideal for anyone who is new to their SDX Scan N Cut cutting machine or needs a quick reminder on what each icon does.
SPECIAL OFFER – Use the coupon code BONUS for 30% off. Normally $10 – $7
Cut Above Course
The Cut Above course is a course by the renowned Jennifer Maker. The course will step you through learning to design in Inkscape and also, Adobe Illustrator. You can choose! This is great for when you are starting out as Inkscape is free to download and Adobe Illustrator is wonderful for more advanced design.

Happy creating

Come and look around my website !!!! You will have easy access to lots of Brother Scan N Cut courses and tutorials, including lots of Canvas Workspace tutorials, other crafting projects, and much more.
This site is to assist you any way that I can with your crafting journey.
While the site focuses on Brother's Scan N Cut tutorials and projects, there is lots of information that would benefit Cricut and other cutting machine users as well.
I have also incorporated some sections for general crafters.
PLUS – check out the Resource Library for free project files that go with the tutorials.