There are a lot of great tips in this post for finding free fonts, and it will also help you figure out what that really cool typeface is called. You'll get step-by-step instructions on installing them as well! Plus tips for using fonts with your Scan N Cut, Cricut, or Silhouette.
Have you ever been in the middle of a project and needed to know what a particular font is? Maybe a friend has said "can you do something like this font?" and had to go hunting? How do you find out what a font is called?
Well, there are a few sites you can go that has a pretty good hit rate at putting a name to your font.
Free font?
Need it free? Got that covered in this post. Read on. I will include a download of sites for you to easily reference.
This post may contain some affiliate links for your convenience (which means if you make a purchase after clicking a link I may earn a small commission but it won't cost you a penny more)!  Read my very boring full disclosure policy here.
Note: The information provided is from my own experience.
What is a URL
For those who aren't as familiar with websites, I wanted to make sure you had some basic information about addresses. To locate a website you place an address into the top bar. A website address is called a URL or Uniform Resource Locator. A URL is basically like finding someone's home address.
Each website has its very own unique address. This address has to be entered exactly right or you will not be taken to the right place. Just like if you entered into your maps application on your phone '22 Jones place Salisbury' and you needed to '22 Jones place Stansbury'. Never going to get to the right place. (These home addresses are made up).
Let's move on….
Places to look for free fonts
The good news is there are LOTS of sites. Below is a list of a few sites that I have found useful.
Dafont website
URL is: Dafont.com
One of my favorite free font sites is dafont.com. They have hundreds. The site has a number of features. You are able to enter the wording and submit it to the site and the fonts are displayed with the text you are looking for.(same feature as 'What the font' site).
The ability to search for specific licensing types is another added bonus. For example, if you need a free commercial license font you are able to filter out the other license types.
A word of warning with this site. The site is broken down into 5 categories, free commercial, public domain, free for personal use, demo etc. Each font seems to have its own rules around how you are able to use it. Make sure you review the rules so you are not breaching any copy-write legislation.
DaFont has a lovely clear easy to use interface with a great filtering system to make it easier to find the type of font you are looking for.
Creative Fabrica Website
Each week I receive an email from Creative Fabrica with their new free font of the week. The website address is www.creativefabrica.com/freebies/free-fonts/. This is a great way to build up your fonts and there are more free fonts on their website which they update regularly.
This website has other items free on their site too. Ranging from free and purchased fonts, graphics, craft-related, and bundles.
FontBundles Website
URL is: Fontbundles.net
This is another of my favorite sites. They have "Friday's free font", they also have a special freebie of the week which may be craft-related or fonts, specials on bundles of fonts and crafts. Then there everyday pricing which is normally fairly reasonable. They have a sister website which is designbundles.net .that This site has some really great items too from templates, photos, craft, and cardmaking etc. Worth having a browse.
While fontbundles.net offer various plans, which if you were purchasing a lot of items from their website may work out cheaper, I have not personally purchased any of them.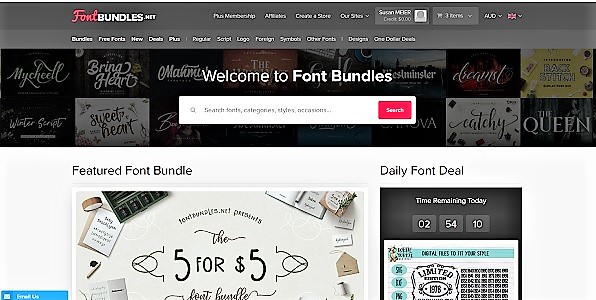 I really enjoy what this site and it's sister site send out to me.
Google Fonts Website
URL is: fonts.google.com
Google, of course, is in the arena of free fonts and going to their website you will find a clear easy to read display of fonts and a search function.
1001 Fonts Website
URL is: 1001fonts.com
This site is fairly easy to move around and locate the fonts they have available. Each font has the information on whether is it is free for personal use etc on the right-hand side near the download button. It also has the hand search function near the top of the page.
Creative Market Place Website
Marketplaces, such as Creative Market give out freebies every month to their registered users. This is a great way to get premium fonts without spending any money.
I have had some great free fonts from this site.
Font Squirrel
URL is https://www.fontsquirrel.com
Font squirrel is not a site that I use much. It has a mixture of free or nearly free fonts available on it. A big plus is that it has a font identifier section. This is another site like "what the font' where you are able to upload a picture of a font that you have seen and it will try to work out what the font is called. The site also has a few other features like a font generator.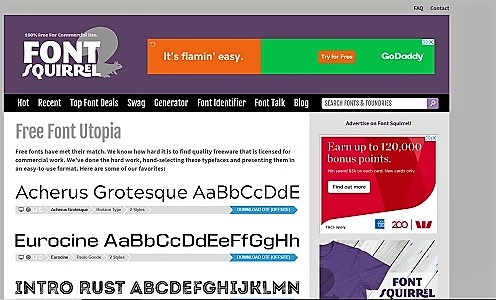 I have only touched on some of the sites available. There are many and sooo much fun exploring.
Single line fonts
Single line fonts are what will give you the best results when using the draw function on your Scan N Cut or Cricut cutting machine. There are ways around using other fonts to draw with which includes filling the text in however single line fonts write in a single line. These are also great for use with your Foil Quill.
I have purchased a number of single-lined fonts from a website called Single Line Fonts and they have an ever-growing list to choose from.
Using Single-Line Fonts in Canvas Workspace
Check this tutorial pictured out for LOTS of tips and tricks on using Single-Lined fonts in Canvas Workspace. There are a few little "gotchas" that are easy to maneuver when you know how.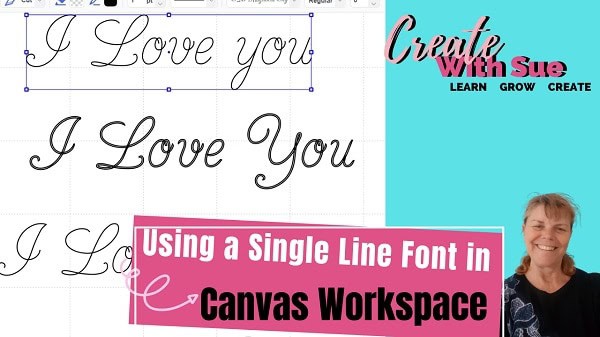 At this stage, I have not found many free true single-line fonts, so if you know of some, please comment at the bottom of this tutorial to share with others looking for single-lined fonts.
How to Install Your Font
Choosing your font
Select the font you would like to use and click on the download button. Now be a little careful on some of the sites that you might go to. With all the marketing and advertising 'junk' on the page, there may be more than one download button for you to choose from.
Read what you are about to download carefully. It is so easy to click on the wrong download button. This applies to all sites, not just font sites.
If you are using the font on your Cricut, Scan N Cut or Silhouette cutting machine there are a few other things that you need to be aware of. I will cover them off further along in the post.
Types of font licenses
There are free fonts available for commercial and personal use however you need to make sure you read the licensing rules, particularly when it is a free font.
Important: Each website has different licensing rules. Some sites make it reasonably easy for you by having two or three license types. Often this is 'personal use only' or 'commercial use'. As mentioned before, Dafont.com have a number of license types and even within these licenses, some files have a variety of license choices and subtle variations depending on Author requirements.
How to unzip your font
Most files are 'zipped' This just means that they have been compressed to make them a smaller file or group of files so they are easier to download. You will often receive information regarding licensing within the download.
To unzip file locate the folder that you have just downloaded it to. This is often your download folder. If you are having too much trouble you can use 'quick search access' on the top right-hand side and use the criteria of today. (Windows users). Your zipped file will look like a folder with a little zipper on it.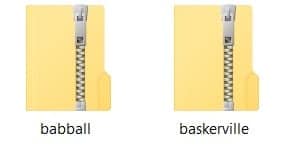 If file is zipped up and you need more assistance click here for instructions.
Font types
Select the font format or type
Now the file is downloaded and unzipped it is as simple as clicking on the install icon… err well maybe not quite.
You are probably going to be presented with a choice of a number of files to install. Fonts can come in variations from bolds, scripts etc and also in various file types. File types that interest crafters are TTF (True Type Font) OTF (Open Type Font).
I recommend you choose OTF if that is available in the selection as the .otf fonts will allow you to access all the swishes and swirly extras if they are available. You will often see them in script-type fonts in particular. Should you only have the choice of TTF that one will work fine.
The more special characters and embellishments that are included in a typeface, the wider range of design options it offers. If you want to be able use all these extra features then install an OTF file instead of TTF (True Type) font because they have MORE possibilities than regular fonts!
DO NOT INSTALL BOTH file types. This is unnecessary and may cause issues.
Font style choices within a single font
It is your decision if you install all the variations of the font like bold, script etc. You also have the option to view the font in detail prior to installation and decide whether you are going ahead with the install.
The ability to print it out is also available so that you have a record of what the font looks like. The only fonts I print are usually a dingbat font which often has a variety of shapes or figures.
Step 4 – preview and install the font
Nearly all fonts have a preview of what the font package looks like and provide a number of sizes and views of what the font looks before you install it.
Notice the install button at the top of the above photo. When you are ready, click install and a few seconds later your new font will be installed.
Click install and you are done.
NOTE: If you already have your software package open then you may need to refresh to pick up the new install. Alternatively, if the newly installed font is still not visible you will then need to close your software and re-open it. The newly installed font should now be available for you to use.
How to find what the font is called
What The font. Yep, that is what it's called.
The site's address is myfont.com/WhatTheFont. This is a great site and very easy to use, searching through over 133,000 fonts looking to match your font.
Tip: if you don't remember the exact website address never fear. Google does a great job if you enter keywords relating to identifying a font.
This is a site where you can find out what a font is called.
The site has an area for you to upload a jpg or png picture of the font you are looking for. Make sure that the text on the picture is highlighted correctly, move the box around if necessary.
Press the arrow underneath the upload area once you are ready. The search tool goes off to check through its database. In my experience, it has had a reasonably good success rate.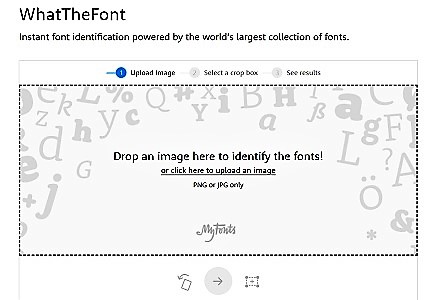 Results can be hit or miss
The results page will come back with a number of possible matches allowing you to scroll down and select the best match. I have been lucky enough a number of times to have the match come up first.
It feels a bit like winning a jackpot. Hmm maybe that is just me.
Another cool feature is the ability to type the text you are trying to match in a field to submit to the site. This a really handy, especially if you have a couple of unusual characters within the font.
A good example is the font Black Chancery. I was hunting for this one the other day and while most of the letters look easy to match, check out the E the T and the R. I needed to use all these letters so an exact match was required.

Once the font has been found you have the opportunity to purchase the font through What The Font or you may already be lucky enough to own it. Don't forget to check first!
The site has other offerings so have a look around to see if there is what you are looking for. Note: these fonts are not always free on this site however once you know the name you can hunt.
Video on issues with fonts and your Scan N Cut
This video shows some issues that you may come across when adding text to your projects. Some fonts are not a good choice for your Scan N Cut or Cricut cutting machine.
There is so much more to cover with fonts and if there is something particular you would like me to add to this post please ask.
Have fun with Fonts ~ I certainly do!
I hope that you have found the is information helpful in where to find free fonts and various tips and tricks to manage fonts for your crafting.
Happy creating,
P.S. While you are here why don't you check out my other posts as there are lots of tutorials and free templates with instructions on the site! Below is a list of the latest posts
Join Me
Don't forget to like my facebook page – Create With Sue
or if you haven't already joined my group: Scan N Cut – Let's Create With Sue please do. I would love to see you there.