Well, I was super excited to be invited by Creative Fabrica to create a Scan N Cut class on Creative Fabrica. I am absolutely over the moon to announce that my brand-new class is now available for you on Creative Fabrica's platform! 🎉
The class consists of 10 lessons and the project is creating a card using the stencil technique. In fact, I created a number of cards after creating just ONE design.
In the class, you will see the various techniques that I used. Plus learn how to use a number of features of the downloaded version of Canvas Workspace to learn how to create the card yourself and achieve the outcomes demonstrated. Read on for more details!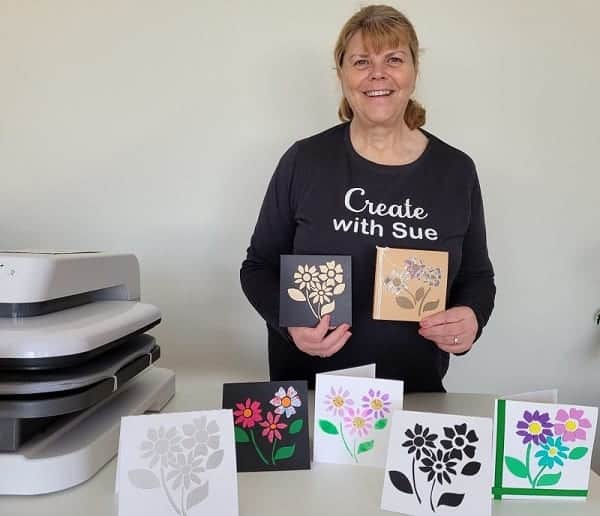 🌟 Exciting News! Dive into the Ultimate Crafting Adventure! 🌟
This post may contain some affiliate links for your convenience (which means if you make a purchase after clicking a link I may earn a small commission but it won't cost you a penny more)!  Read my very boring full disclosure policy here.
About Creative Fabrica
Creative Fabrica Classes is a hub for inspiration and learning. Their classes focus on teaching skills in various areas relating to crafting, with a demonstration project where participants can create the project themselves.
Their main objective is to inspire and educate their Creative Fabrica community. This aligns with the goals that I have for you.
Creative Fabrica: Where Creativity Finds Its Home
At Creative Fabrica, creativity thrives and inspiration comes to life and it offers a treasure trove of fonts, graphics, crafts, and more, all curated to ignite your creative spark. Their catalog of fonts, graphics, and classes continually grows.
I personally love fonts so you can imagine how much fun I have on the site. So many awesome graphics too. Plus, I discovered that there are lots of classes that I enjoy. Learning about new things is a passion of mine. I recently enrolled in a class to create a press for drying flowers which was really interesting. I am hoping they ask me to create more Scan N Cut classes to add to their growing choices…
A quick glance at the Inside Scoop:
🔥 The class is now up and running on Creative Fabrica, waiting for you to dive in and explore. This is your golden ticket to unleashing your crafting genius!
🎁 I've got a special treat just for you. If you're keen to get started, I've arranged a FREE one-month trial exclusively for my awesome community. Yep, you heard that right! With this trial, you'll get 10 free downloads from Creative Fabrica's treasure trove of goodies and access the course for free.
💔 If by any chance, you don't love all the awesome designs, classes, and other features that Creative Fabrica include in their subscription offer after the trial, don't worry! You can cancel the subscription at the end of the trial period very easily. Personally, I LOVE them. I have had a subscription for a number of years now and I find so many uses for the various designs. They are great for creating that last-minute gift. I feel confident that you will love it too.
🚀 For those of you who already have the Creative Fabrica subscription, great news! Skip the first link and head straight to the class using the link further down in this post. Time to get your craft on!
How to enroll
🔗 Click here to grab your FREE one-month trial and embark on this crafting journey with me.
📚 Ready to start creating these awesome cards? Use this link to locate the class and enroll: Crafting Cards Using One Stencil Design. Get ready to be amazed, this is a great learning opportunity.
My very first review on the Creative Fabrica website
I am ecstatic about the very first review! Below is a snapshot of the first review of the Crafting Cards with One Stencil Design Using ScanNCut class. I must admit I have been on the edge of my seat waiting to see how the class was received.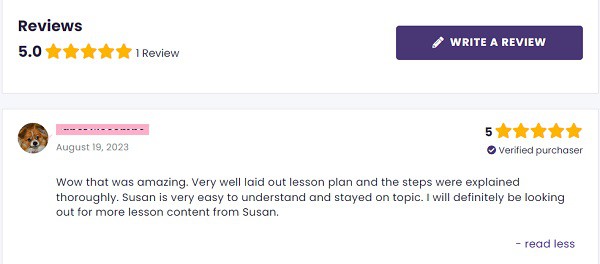 What is covered in the Scan N Cut lessons?
Have been wondering what is covered in the Scan N Cut lesson within the Crafting Cards with One Stencil Design? First of all how to make stencil cards. That is probably obvious.
Other areas covered include learning how to use a number of the features in the downloaded version of Canvas Workspace. Using features like the Remove Overlap, the Layers panel with its tricks that make Canvas Workspace special, plus easy ways to send your design to your machine and save options. Everything you need to create these awesome cards yourself.
A quick heads up
📺 One of my best tips is to replay, rewind, and revisit the training as many times as your creative heart desires! You can even create your project, pausing the lesson as needed. Learning to use your Scan N Cut and Canvas Workspace can be fun!
💌 Your creative learning awaits, enjoy the journey.
Once you have completed the lessons
When you have completed the lessons, (if you really enjoyed them of course) please spend a moment to write a review. This will help others find the class and may encourage Creative Fabrica to add more Scan N Cut classes to their class section.
You also have the opportunity to follow me on Creative Fabrica.
Join me on Facebook
You are always welcome to join me in the Create With Sue Facebook where you can make friends, share your creations, and ask questions for additional assistance. I will provide any assistance that I can to help you use your Scan N Cut and Canvas Workspace.
Join me in the Scan N Cut – Let's Create With Sue Facebook group.
I would love to see you there.
Happy creating,