Now I am going to start this post with the statement that I am a blogger and have created this page to provide a bit of basic blogging information. If you are looking to start a blog there may be some tips that help you.
It is a bit of a journey of how I developed my blog.
Note: while I am not a blogging "expert", I have had nearly 20 years of experience working in IT for an educational institution so I have solid knowledge in both IT and education.
What is a blog?
Wikipedia describes a blog as a discussion or informational website published on the World Wide Web consisting of discrete, often informal diary-style text entries (posts).
Well, this is true…to an extent. But it is a very bland explanation of talented people sharing with passion the knowledge they have. They share information on all sorts of topics from being a Mom/Mum, teaching kids, cooking, managing money, how to blog just to mention a few.
Not to forget…CRAFTING! Which is my passion…helping others to learn by creating tutorial style posts in the crafting arena.
Who should blog
Anyone with a passion for a particular topic. That's it! You will need to aim for great content to keep readers engaged. This is certainly my aim which I am forever trying to improve so that my readers have the best experience I can provide.
How to make money blogging
Now, this part is definitely where I am NOT an expert. Is there money to be made in blogging. Well, yes…I have watched some great bloggers grow and be so successful. Is this an easy road to travel…. nope! It definitely not and while you are starting up blogging there are costs to maintain your domain name, your hosting site.
These are costs that you can't escape to maintain your passion to share your knowledge. Then to earn a living is actually a huge topic with a LOT of blogging information out there. Far too much for me to tackle in depth in this post so we will just tackle my bit for now.
My best advice is to do as much for free as you possibly can. If there is a free startup version, in most cases, this is the way to go. This includes utilising free training where possible. Pick and choose what training you purchase.
One of my favorite bloggers is Jennifer Maker Marx who has a Cricut blog and also a ton of information on blogging. Jennifer has been an inspiration to me, I have purchased just about ALL of her training and I have affiliate links set up for them as well. Jennifer earns a lot of money through her blog, product creation, advertising revenue, and her training courses. A thing to note is that she gives away for FREE every single file she designs. Yep, free for all her readers and she creates some beautiful files. A great teacher and very engaging. More on Jennifer as we move through this post.
Disclosures for blogging
You will notice on all blogs that have any money earning elements added that they have a disclosure policy. This is mine.
This post may contain some affiliate links for your convenience (which means if you make a purchase after clicking a link I may earn a small commission but it won't cost you a penny more)! Read my full disclosure policy.
Pretty boring really, and it says exactly what it means. Items purchased through the link do not cost the purchaser any more. BONUS. Often bloggers are able to organize a discount or deal on the purchase if you use their link. ANOTHER BONUS.
It is also a legal requirement to have the statement and an accompanying disclosure policy on your website.
Affiliate links to purchase products
This is one way that bloggers can make some money. Through affiliate links to products they recommend. These can be all sorts of products. I have a few affiliate links and I am going to list them in this post. One reason for doing that is because I have been doing a terrible job of keeping track of my affiliate links….so disorganized. Actually, unbelievably disorganized in this particular area. This post is one way of keeping my links in one place. If you use them then that is lovely, if not, that is cool too.
It is also a way to show you what I needed to do to create my blog. These affiliates are really My learning journey and required steps I needed to go through to set up my website.
Affiliate links are highlighted links within a post and I highlight mine in blue as that is the standard color for links in posts and makes sense as people then know what they are looking at. Blue is the recommended color as readers are familiar with them being that color. A tip is to make them bold as well so they pop!
Affiliate links that I have set up and recommend include:
Amazon
Amazon, where I mainly link to Scan N Cut or Cricut products. I am a crafter, right? Figures I would have links to craft things. With Amazon, you need 3 sales within a 3-month time frame to stay affiliated. This is not as easy as it sounds and you cannot achieve the sales by purchasing yourself or by your family purchasing through them.
Teachable website
Teachable site. The Teachable site is where I host my training courses and I have been really happy with the site, the learning support, the ease of setting up my courses and most of all… the ease of my students accessing the courses. If you are thinking of setting up a course to offer to your readers or somewhere to manage your downloadable products here is my affiliate link. I have been really happy with them.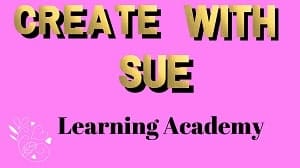 I was very excited when I started setting up my courses on the Teachable site as it was the culmination of my passion for providing opportunities for my fellow crafters to learn. Working for nearly 20 years in an educational institute I have a strong passion for life long learning.
Where to host your blog
Well, you can't have a blog without blogging information on hosting services. My blog is hosted on Siteground and I have been very happy with them. Their support has been great when I have needed it and, while they may not be quite the cheapest hosting service they are definitely one of the cheapest with good value for money, especially for your first year.
They offer that discounted start up rate for 1, 2 or 3 years if you want to take it up. I only took it out for the first year and wished I had taken it out for longer.
Here is my affiliate link if you are thinking about starting up… I can definitely recommend them.
Setting up a Domain
What does this mean? It means setting up and registering a URL (Uniform Resource Locator) so that people can access your site. A URL is simply an address.. a bit like your street address but leads to your website. It needs to be UNIQUE just like your street address is. I used Go Daddy after a lot of deliberation. Another one I have heard good reports about is Namecheap.
Here is a link to a post on choosing a domain registration company. I am not sure I agree with all their choices but it is a useful article. They recommend Bluehost as a hosting company and I have watched a lot of bloggers bail from Bluehost so a word of caution there.
I purposely set up my domain registration with a different company to where I hosted my website. Domain with GoDaddy and hosted with Siteground. I did this so if one company failed I still had somewhere to fall back on. (IT background kicks in)
What theme to choose
Siteground is a WordPress host which I have found to be so easy to set up and use. For bloggers choosing a theme… the right theme.. is important. The first theme I set up really didn't do any of the things I wanted. Now, some of that may have been my inexperience with WordPress at the time however I quickly shifted to a new theme and chose the Edin theme which did a great job at the time. It gave me a sound basic free theme and a place to learn and grow.
Edin
Edin had a few things that didn't quite work for me. Saying this, Edin was still a good first or second theme. My blog was growing and traffic increasing. Probably the worst thing about Edin was that it had a stupid hamburger style menu. I started worrying that a lot of my readers wouldn't notice that the menu was there for them to access. I spent hours (wasted hours) working out how to help my readers find my tutorials and posts. Time for a change!
This is where I had a bit of an OOPS. Turned out to be a really great oops so all is well.
Genesis, GeneratePress or Astra
I had been researching to death which theme to move to (IT background again…it can be a pain LOL) and had narrowed it down to Genesis, GeneratePress and ASTRA. After all my research I decided on Astra as it is quick, responsive on all platforms and super easy to set up and use.
Oh, and my oops?
The plan was to download Astra to my website and then install it when I had a bit more time. (I am ALWAYS looking for a bit more time) However, Astra was so super easy to install that I installed it by accident in about 35 seconds. This meant that I had to spend a few hours crawling through my website to make sure each page was ok, shuffling the menu around so it was easily accessible etc etc.. but no biggy as the oops was the BEST move. Straight away my website's speed improved which was really good. It also had some additional features to what Edin had.
Astra theme was the best choice
One of the reasons I chose Astra was that it has a free version and a PRO version. I am still on the free version however when I find the funds it will be very easy to upgrade. The free theme covers most of what I want to achieve on my website and will keep me operational for quite a while.
My recommendation is to start with a FREE theme that has a pro option available. This will make for a smoother transition when you are ready.
Where to look for technical blog support
Grayson Bell offers blog support if you feel it is beyond you and you have some money allocated to spend on your blog. This might be necessary if you get a bit stuck trying to get something looking like you want it to and he will be able to spend a short amount of time sorting it out for you. While I haven't had to use Grayson's paid services I believe he is very reputable and not overly expensive.
You can often find Grayson 'lurking' in some of the Facebook groups' LOL and he also offers a free course which he has hosted on the Teachable website. (see below) I don't have an affiliate link for this one, unfortunately.
Convertkit
With every good blog, you really need a mailing list. I use Convertkit to host my mailing list and I find it provides me with automation sequences, landing pages, the ability to broadcast emails to all or specific groups of my readers. In Convertkit, I can tag people easily so I know how they joined the mailing list and where their specific interest may be.
Of course, I have an affiliate link to Convertkit.
Convertkit provides you a month or so free to start up and then the plans start. If you are just starting up and need a free email service there are a few out there. Mailchimp is one and I had a Mailchimp account for awhile however I would recommend Mailerlite over Mailchimp as it has a few of the features that Convertkit has. Mailerlite is free up until your mailing list gets to a certain number. From memory 1000. I don't have an affiliate link for Mailerlite. There are other email companies out there as well, just do your research before you start as it is quite a bit of work to move the automations, sequences and landing pages if you have set these up. The actual list is usually a fairly easy move if you find it necessary to change from the one you are using.
Need to learn about mailing lists?
I gained most of my knowledge about mailing lists through Jennifer Maker. I told you there would be more on Jennifer. Her courses on creating and growing your mailing list have been fabulous.
There is the List Love Quick Start Guide which is a shorter, slightly cheaper course.
Then the next level up is List Love Master Course – List building for bloggers. I have completed this one. Jennifer covers Convertkit and Mailerlite within the course and provides suggested templates on what to write. As I said before, Jennifer is a great teacher and very engaging.
Pinterest is the next step
I actually really like Pinterest and believe that this is a crucial component of this blogging information post as most of my traffic seems to come from Pinterest. I love posting on Pinterest, watching the stats grow and finding other people's awesome pins. Creating pins is another area I really like as it appeals to my creative nature. Learning how to use Pinterest effectively is another area that I learned from Jennifer Maker. She has a Pinterest Launch Plan that steps you through and shows you a method so your Pinterest exposure grows.
To go with Pinterest is Tailwind. This is an automation service where you can set up your pins to be released on a regular schedule. It is great and it lets me step back when I am too busy to play in Pinterest and places a degree of confidence knowing that the steps I need to follow to promote my website are still being followed. It frees me up so that I can continue to be an enthusiastic pinner when I am actually on the Pinterest site without the pressure of "having to". Whoohoo.
Tailwind offers a free service up to around 100 pins. Unfortunately, while 100 sounds a lot, it disappears in the blink of an eye.
Designing your pins so they look professional
Canva
Canva is the absolute best for bloggers. The BEST news is that you can use Canva for FREE! Yep! That's right. How exciting is that? They do have a paid subscription too called Canva for Work and they offer a free trial period. Here is a Canva affiliate link, I use their free offering which, when you are starting out will suit you fine. Let's face it, we need to be as budget-friendly as we can.
Design and Canva
Canvas is a great tool for bloggers or anyone wanting to create designs from invitations to newsletters…the list goes on. The thing is, you NEED to have catchy graphics and clickable text as competition for people to choose YOUR site is huge. Design is definitely on the priority list for marketing.
I am a huge fan of Kara Fidd who develops templates and design-related training.
Kara has some excellent tutorials to get you started and creates some amazing templates to assist in making the design journey quicker and much less painful.
Free training and resources
Some free courses on offer are Canva 2.0 Quick Start. This is a really great start to finding tips for using Canva.
Blog Graphics That Convert Video Training is another free one and includes a 3 day challenge. Challenges can be great for giving you a bit of a kick start.
Kara also has a Design Vault where she provides access to 100+ free templates and resources.
Paid training and resources
The Complete Blogger Template Toolkit is a great resource to cover ALL your blogging template needs from your sign off graphic to pin for Pinterest, graphics for Instagram and post graphics.
The Product Creators Ultimate Toolbox for creating and promoting products. It includes all sorts of templates so that you can actually build products in easy to manage design.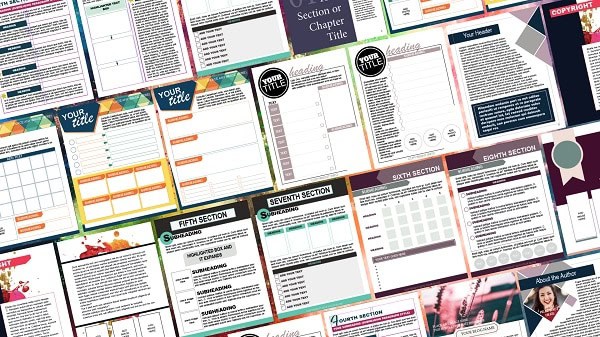 SEO
SEO stands for Search Engine Optimization which means you place keywords inside your post so that Google knows what you are talking about and when potential readers are looking for information… Google points them to you. Sounds really easy HuH? sigh…. I wish. It is quite a complex thing to get perfect and I am still learning. I have completed a couple of e-books and courses by Debbie Gartner who is passionate about SEO a bit of a whizz.
Debbie has a course called Easy SEO Revamp which I have just completed. This is not really for brand new bloggers but more the next stage learning in your blogging career. The best blogging information on SEO for new bloggers is contained in her two e-books… Easy On-Page SEO and Debbie's off-page SEO e-book Easy Backlinks for SEO. My recommendation would be to start with Easy On-Page SEO first and then Easy Backlinks. They can be purchased as a bundle too. Debbie also has Google Analytics Easy as 1,2,3 affiliate if you are at the stage of monitoring Google, I know I am in there ALL the time!
Search in Google for keywords that you can include in your post, in your main title, in your post headers, as part of your URL, in your alt text… yes you guessed it. EVERYWHERE! This is certainly an important part of blogging.
More SEO
Another person to check out is Neil Patel who has some really great youtube tutorials and tonnes of blogging information. He also has a site called Ubersuggest which has a great website checker which I use all the time to find errors I may have made on my site. While Neil is truly an expert on SEO, Debbie provides information for new bloggers in a much easier way to understand.
Google Search Console
I had better not forget to go into more detail about the Google Search Console. This is what we do all the SEO work for and Google Analytics is another area that takes a bit to learn. Basically you need to set up Google Analytics and then validate your website with it. A small link is placed within your site that talks to google. You can set a link up for each of the search engines to give them a helping hand to find your site organically. I have to confess that I check these two sites and still wander around in a bit of a fog with some of the stats provided. A learning curve for all of us.
The next thing you need is the steps to set Google Analytics up on your site. These steps are for WordPress.
Backup is VERY important
This last item I am covering is a backup of your website. I cannot emphasize enough the importance of having a backup. I also want to recommend that you do not just rely on the backup that your hosting company might perform for you. What if it fails? or what if you change hosts and cannot access it when needed, what it??
My recommendation is to use your host's backup service however set up a secondary backup. A backup strategy for your backup so to speak. I use a free plugin on my site (after a lot of research.. I know, I am like a broken record) called Updraftplus. They also have a paid version that you can upgrade to if you feel it is necessary. At this time I am relatively happy to just use the free version.
I will try and add to this page as I can and keep it updated with more information that may be of help to you.
In the meantime,
Happy blogging,
Like it? Please pin it!
Join me on Facebook
If you are a blogger, particularly a new blogger and looking for help and support join our group called New Blogger Support Network. It is a great group with a mixture of brand new bloggers and more seasoned bloggers all there to assist you.
If you are a crafter then please join me and my awesome crafty friends in the Scan N Cut – Let's Create With Sue Facebook group.
I would love to see you there.
Other tutorials you may be interested in

Scan N Cut Basics Course
Would you like to learn how to use your Scan N Cut to gain the most from it?
A free course is available for you – check out what is on offer!