How to choose a Scan N Cut to buy? This is a BIG question if you are thinking about buying a Brother Scan N Cut. Feeling a little overwhelmed? This post will look at a number of models to help you choose a Scan N Cut to buy, guiding you through the minefield.
This post may contain some affiliate links for your convenience (which means if you make a purchase after clicking a link I may earn a small commission but it won't cost you a penny more)!  Read my very boring full disclosure policy here.
It is a minefield choosing
The very first minefield that you might come across is the choice of Scan N Cut models. Now, you would think this part is pretty easy however, each country has Scan N Cut models with slightly different names.
My belief is this is so Brother can manage which models are in what country. The main difference will obviously be the power as countries have different voltages and power points.
TIP: If you can look through the Compare options some sites have or locate a Comparison Chart you are in luck as they are fabulous and will assist you in making your choice. I have included one in the USA section.
Tip to help you clarify what you need
I recommend before you start that you write down a list of things that you really need (or what you think you might need to make projects), then the things you might like. Also, set your budget as this will be a big thing in determining how to choose which Scan N Cut to buy.
Two main Scan N Cut model types
And…. two popular types. The CM models and the DX models. The big difference between these is the auto blade. In the CM models you manually adjust the blade and the DX models have an auto depth selection blade. For some people, this is a game-changer so worth considering.

Note: Brother has primarily discontinued the CM range out across the world. There may still be the opportunity to purchase new in some countries.
Brother also produces a cutting machine called the Design and Cut. This is usually a cheaper model and as far as I can see does not scan…. let me know if this isn't correct. The ability to scan is one of the Scan N Cut's key features. I would choose a Scan N Cut over a Design N Cut.
Another point to remember is that the DX model is Brother's latest flagship model and the CM range is at end of production.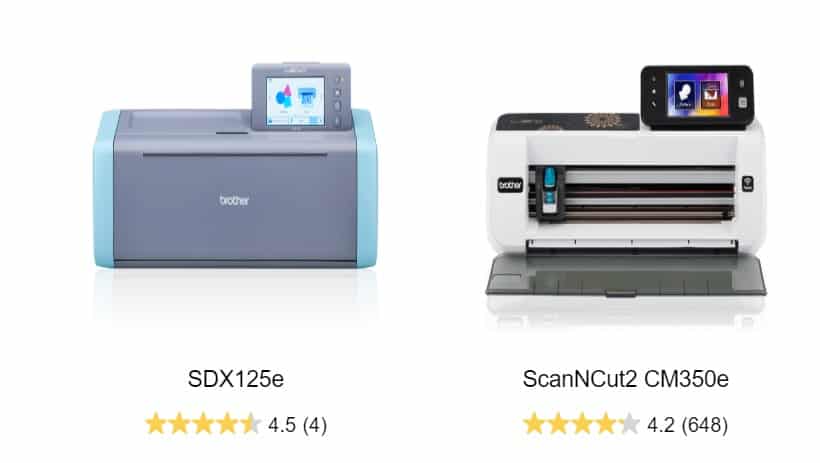 NOTE: the manually adjusted blade is still very easy to manage and once you get used to your machine you won't even think about it. Don't let it scare you.
Also, be aware that the mats are not interchangeable between the two types of machines. When purchasing new mats you need to be sure to purchase the correct one for your machine.

Check here for more information on choosing the correct mat for your Scan N Cut
Must have features
The next step in how to choose which model of Scan N Cut to buy is to look at the features.
Well, this is my 'must-have' feature. Yours may differ and that is perfectly ok. This is why there are so many models to choose from, so you can have your 'must-haves'
Top of my list is wifi – I love love love it. I send nearly everything I make from Canvas Workspace via wifi! My recommendation would be to purchase a Scan N Cut that is wifi ready at least. This is a standard feature in later model Scan N Cut cutting machines.
I also love the Scanning feature of the Scan N Cut. This is often a decider for choosing a Scan N Cut over other brands. All CM and DX models have the scanning feature. If you are still considering between a Scan N Cut and a Cricut Maker there is a comparison here.
Different models may have a higher scanning resolution or will scan 12″x24″ mat instead of a 12″x12″. While this is nice, I personally don't think that the additional 12″x24″ scanning options is a 'must-have'. Your budget and what you are planning to make may put it on YOUR 'must-have' list 🙂
Features that are not as important as you think
When I was first purchasing my machine I did exactly what I am telling you to do… made a list of what I thought was necessary. My list included comparing how many fonts and how many designs or shapes are built into the machine. I WAS WRONG!
This is actually not important at all UNLESS you plan to never use a PC or other device with your Scan N Cut. There are so many designs, free files, and free fonts available that you don't really need to have them built into the machine. Once again, this does depend on your personal needs or wants.
A prime example, if you are a Disney fan you may absolutely adore the Disney SDX model so you can utilize all their trademarked designs. Don't forget, you can purchase Disney designs separately too. NOTE: while you can use the Disney designs to make anything you would like … they can not be for Commercial use.
Note: I have the Disney model and love it!
Canvas Workspace
Brother has provided two versions of Canvas Workspace to enable you to design your own projects AND they also give you heaps of free projects via Canvas. Designing your own projects is so much fun!
There are two versions of Canvas Workspace and both have access to an enormous number of fantastic FREE projects to cut with your new Scan N Cut.
Below are some of the free projects viewed from the online version of Canvas Workspace.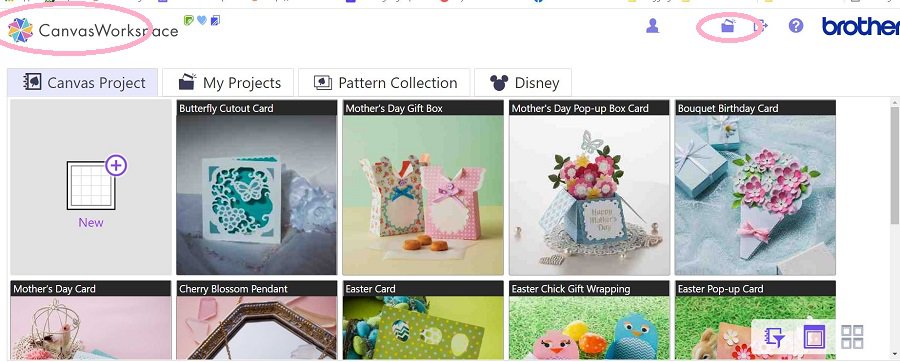 Where to buy
One other thing to consider is that some models are only available through a dealership and others through places like Amazon and various craft stores. If you need any personalized attention then consider a dealership as they will often offer classes.

Having said that, there is a LOT of help out there in Facebook groups, YouTube, and general information searching.
Also, keep in mind that the models purchased through a dealership are exclusive to dealerships and often include additional features.
Let us break the models into countries to make it a little easier for you.
Buying a Scan N Cut in the USA
The models that are currently in the USA include:
CM350 (manual blade)
Scan N Cut SDX125 and SDX125e (auto blade)
Scan N Cut SDX225 (auto blade)
SDX85M
SDX230DX
SDX330D – new model (includes the new rotary blade for fabric)
You may see lettering after a model. Often this means that there are some added accessories or bonus files depending on the letters included. Do a little research and work out whether this is good value.
NOTE: The CM350 and CM350e are designed the same and the main difference is the CM350e includes the wireless activation card and the CM350 does not. You will have to pay extra for the wireless card.
Comparison Charts
Brother produces comparison charts which are super helpful to compare the features between them.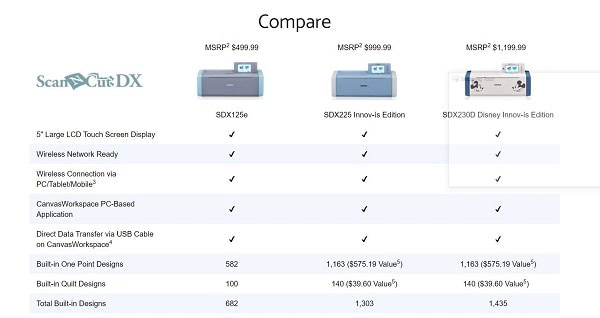 Above is a snapshot from the US Brother site of a Comparison Chart. Follow the link to review the difference between the models in full.
Note, you will need to scroll to the bottom of the page.
The biggest difference to consider between different models is that some models will read PES files. This is huge if you are an embroiderer and have a Brother embroidery machine. The SDX225 will accept PES for example.
If you are not an embroider then …meh! You don't need to look for that added feature. The SDX225 will scan 24″ as well as cut and it has a vinyl roll feeder in the package so these may be the features that use to choose by. Both of these features are nice to have.
Line up for 2021/2022
With more new models on the horizon, it is hard to keep up. Viewing the models below, the only one I would caution about is the SDX85 which has a very small screen that would drive me nuts after using my CM900 and DX2200D. This may not be an issue for you and the price for this model is very tempting to those on a very tight budget.
My advice is to purchase the model that you can afford. Scan N Cut machines are great fun and while you think you are only going to be making "X"… you will find you end up making so much more than you planned. I haven't noticed any crafters using the SDX85 model reporting any major issues.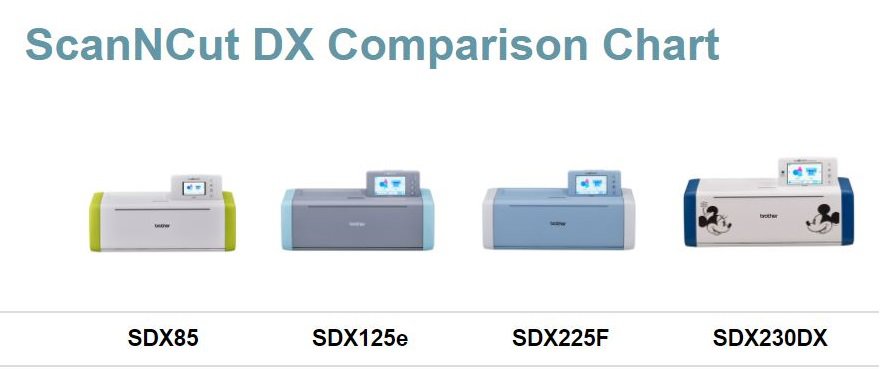 SDX230DX or SDX330D??
Brother continually releases new models and slight variations of models which makes it very very confusing.
The SDX230DX was the original limited edition promotion with the Disney designs inbuilt. The bonuses included pens and some tools in a cute bag, a Rhinestone starter set, the Roll Feeder, a carry bag in some instances, and a few other bits and pieces.
The SDX330D is new and includes the newly released rotary fabric blade. At this stage it does not seem to include the other bonuses… this may be dependent on where you purchase from.
In my opinion, the SDX230DX for the lower price would be a great buy. I have the Australian version of the SDX2200D Disney model and really love it.
NOTE: do not be concerned your model is no longer available or discontinued. At this stage, all accessories are still available for both the CM range and the DX range. Some shortages have been noted however this may be due to shortages in general across the world.
Here are the US links to see more of what is included.
SDX 225F – The F stands for Fabric and includes additional accessories for sewing enthusiasts. More product info for the SDX225F can be found on the Allbrands site. This Fabric model still does not include the new rotary blade as a standard, it does include the beige Thin Fabric Auto blade kit. They are not the same. The rotary blade would be a better choice.

SDX325F – This model includes a NEW WLAN feature that allows you to transfer your designs back and forth between the ScanNCut DX and a Brother XP2 sewing machine using the 'My Connection' tile. Obviously only useful if you have a Brother sewing machine that supports this technology.
Recommended places to buy in the US
One of our SNC friends has recommended Ryan's Sewing Centre in Albuquerque and they have recently opened up a store in Sante Fe.
Here is what she said "They are good people and really take care of their customers. They just happen to be one of the top 10 Brother dealers in the world!"
Ryan's Sewing and Vacuum Center
5501 San Mateo NE
Albuquerque, NM 87109
US
Allbrands is another online option for purchasing your Scan N Cut and accessories. I have only purchased embroidery-related products from them a fair while ago. They were a good choice then.
Check out sewing machine dealerships that stock Brother sewing machines. They will often stock or be able to order in a Scan N Cut for you. I will add more recommendations as I locate them.
Scan N Cut models in the United Kingdom
The next country in the how to choose your Scan N Cut to buy is…da da… the UK.
Models in the UK include – some of them are now discontinued:
CM300
CM900 – no longer listed as available
CM800Q – no longer listed as available
SDX900 – this is an equivalent model to the US SDX85 and has a very small 3.47″ screen.
SDX135 Pro – feedback has been good on this model so far.
SDX1200
SDX2200D – my favorite, however, purchase within your budget.
NOTE: do not be concerned that your model may no longer be available or discontinued. At this stage, all accessories are still available for both the CM range and the DX range. Some shortages have been noted however this may be due to shortages in general across the world.
Remember, the difference between the CM models and the DX models is the auto blade. With the CM models, you manually adjust the blade and the DX models have an auto depth selection blade.
The Q after the model number is for quilting which has features designed to assist quilters. If you see an F at the end of the model F = Fabric
I would recommend purchasing a DX over the CM model in this section of the lifecycle of the machines.
One important thing to keep in mind is that ALL the new accessories are being designed for the DX range.
Here is the link to the UK Brother site for more information on each machine. Check the website out as it has a lot of interesting information. The UK site is one of the better Brother sites for information.
Where to buy in the UK
Woodseats Sewing Centre – Has a good range and I have heard a lot of positive reviews about them.
Most sewing centers that stock Brother sewing machines can order the Scan N Cut in for you. It pays to ask.
Australian models of Scan N Cut machines
Here are the models on the Aussie Brother site.
They include:
CM900 – discontinued
SDX2200D – Disney model
SDX1200
SDX1000 – on the Brother site but cannot locate in the dealerships
DC 200 (Design and Cut) appears discontinued – limited stock available. No scanning ability.
NOTE: do not be concerned that your model may no longer be available or discontinued. At this stage, all accessories are still available for both the CM range and the DX range. Some shortages have been noted however this may be due to shortages in general across the world.
BUT wait – I found the new models too
SDX2250D – Latest Disney model now released.
SDX1250 – Newly released model.
The new models are featured on the Echidna Sewing and Hobby Sew sites based in Australia AND both models come with the new rotary auto blade kit.
I purchased my CM900 from Echidna sewing and have been very happy with the purchase. The CM900 model is now discontinued.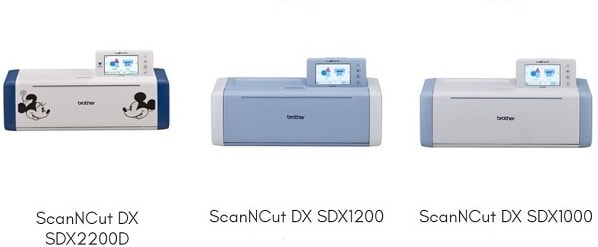 I purchased the SDX2200D in early 2020 and have enjoyed using it so much. It is a great little machine and I certainly have no regrets. While I have retained my CM900 and use it when I am doing a lot of cutting (loved this machine), I find that I head to the SDX2200D as my first choice these days. It is so quiet and a delight to use.
The SDX2250D is Brother's latest Disney Scan N Cut model which has only recently been released. It includes the new rotary blade for fabric which looks fantastic for those interested in cutting fabric.
This model appears to be identical to the SDX330D released in the US.
NOTE: the rotary blade kit will work in all SDX models and can be purchased separately
Places to buy in Australia
My favorite places are:
Echidna Sewing – I shop a lot at Echidna and they ship Australia-wide. . They have a great platinum membership that provides discounts and free shipping.
Kornacraft – This is a dealership located in Gawler. They have a small online presence and Kim is really helpful and can order products if you request them.
Hobby Sew – Based in NSW and ships to Australian addresses only. I haven't used this vendor, if you have, I would be pleased for some information. UPDATE – Spotted a Hobby Sew in SA… haven't had a chance to check it out.
Blackmore and Roy – Based in Western Australia.
Models available in Canada
Models of Scan N Cut cutting machines that are listed on the Brother site as of November 2021.

If you are looking to purchase a Scan N Cut in Canada, these are models to look at.
The biggest difference to look at when purchasing is the screen size of the SDX85. Both the SDX325 and the SDX225 have a 5″ screen BUT the SDX85's screen size is only 3.47″. While this may not concern you, it is something that you need to take into consideration during purchase. This is especially true if you are upgrading from a CM model as the SDX85 screen is the smallest that I am aware of.
If you are planning to do a lot of stamp scanning etc, the bigger the screen the better.
The other differences are the number of in-built designs. The SDX325 and the SDX225 both have 1303 in-built designs and the SDX85 only 251.
While this seems enormous, it really isn't unless you are only relying on in-built designs. There are many free and inexpensive designs available that can be added to any of the machines by wifi, PC, or USB. In my opinion, not a wavering factor.
Here is the Brother Canada page so you can look at the comparisons. I am not really certain why they have placed a N/A against some of the criteria on their comparison chart as it is not useful nor accurate. Go into each model and look separately for more info on each.
Note that the first two models read PES files and the SDX325 has a new feature that links it to the Brother XP sewing machine. This is what is noted by Brother "The WLAN feature seamlessly transfers your designs back and forth between the ScanNCut DX and the Brother XP sewing machine using the 'My Connection' tile".
Keep in mind the above is ONLY useful if you have a sewing machine with that functionality too. Being able to read PES is only useful if you are an embroiderer and like creating applique projects.
Not included
I have not really mentioned the SDX125 series which is also on the site. The SDX1200 models were plagued with problems when they were first released .. I am not confident that these are models that I would choose and so I have left them out.
Where to purchase in Canada
Sewing centers, in particular the dealerships that stock Brother sewing machines are the best places to check for the ability to purchase a Scan N Cut machine. Even if they do not keep them in stock, many dealerships are able to order them in as a special order for you.
My Sewing Room – I have no personal information regarding this site however they have a reasonable selection of machines and accessories.
All About Sewing – not a huge range advertised but worth checking what they may be able to order in for you.
---
Where to next?
You will find a number of tutorials on using both the CM and the DX on my website. Remember to have a look around.
This is a CM700 which is an older manual model.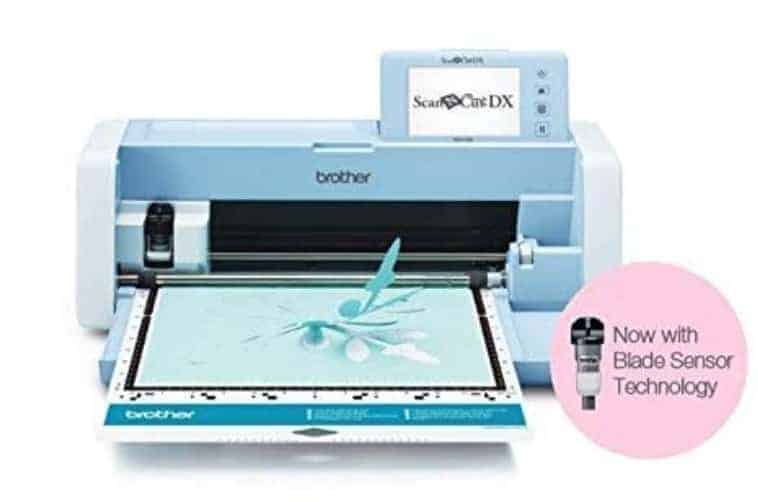 Unfortunately, the SDX1200 model had a lot of issues with the mat loading.
Hopefully what I have provided has provided some guidance on how to choose a Scan N Cut to buy. I remember how much I researched to work out which model I would purchase. I aim to continue to update this page as new information is available.
For you, it is about finding the features that you need and the budget that you have and then matching the two of them! (If you are anything like me, I always end up spending more than I intended to )
Anyway, for now…
Happy creating,
Join me
Join me in the Scan N Cut – Let's Create With Sue Facebook group.
I would love to see you there.

While you are here, don't forget to check out my other posts. There are heaps of helpful information in them.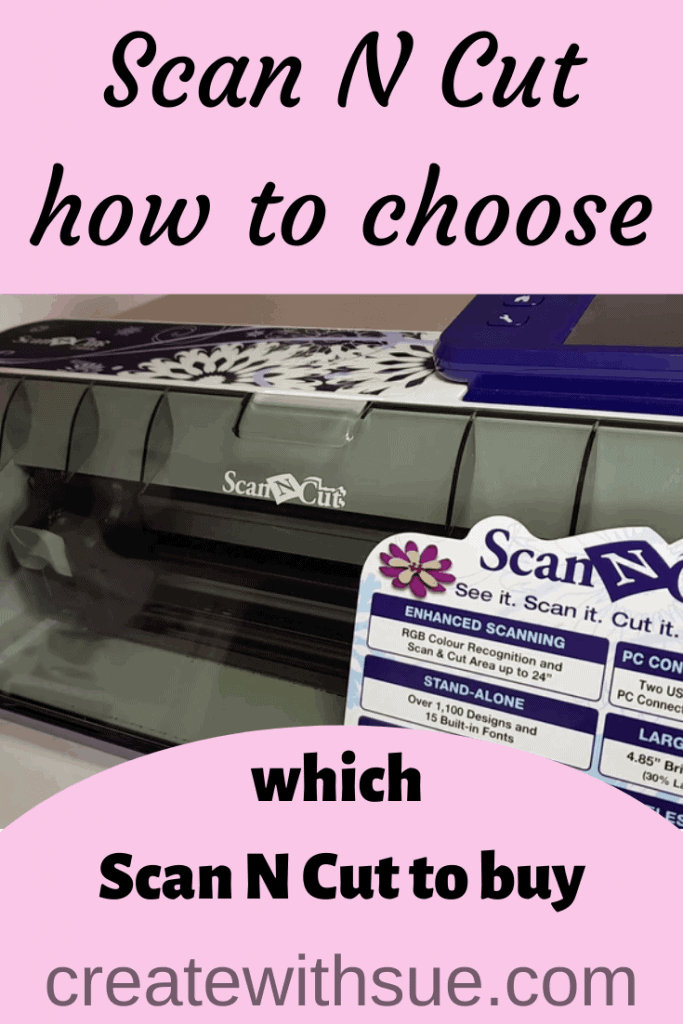 Like it! Pin it!
#this post was called 'How to choose a Scan N Cut to buy"