The Rhinestone Kit is another accessory from Brother for the Scan N Cut that is great fun. Don't you just love adding a bit of bling to your projects? I know that I do.
Rhinestones seem to add a touch of class to your clothes, even the humble t-shirt can step up a few notches. They can take your clothes from ordinary to extraordinary with very little effort. Plus, Rhinestones can be used to add that special touch to cards, wall designs, tealight projects, candles… just about anything that you can think of to use them on.
While this tutorial is about the Brother Rhinestone Kit, I have included information further down that can be useful for Cricut and Scan N Cut owners.
This post may contain some affiliate links for your convenience (which means if you make a purchase after clicking a link I may earn a small commission but it won't cost you a penny more)!  Read my very boring full disclosure policy here.
What is the Rhinestone Kit?
The Brother Rhinestone Kit is a hotfix Rhinestone kit that allows you to cut small, circular shapes in the design of your choosing from thicker, flock like material. In the cut-out circle you place Rhinestones in and then pick them up with heat resistant transfer sheet. This is not dissimilar to transferring vinyl designs.
Once you have your Rhinestones on your heat resistant transfer sheet you iron the design onto your project (t-shirt, clothing, cards etc)
EASY!
NOTE: the flock material can be treated like a template and re-used for that particular design over and over.
What is included in the Rhinestone Kit
If you received your Rhinestone Kit as a bonus then there are a few things missing, including the activation card. While this was a little disappointing, I was still thankful that I had enough to get me started.
This is what I received in the bonus starter kit.
Most of the items are the same as the bigger, purchased starter kit although the size/amounts vary. The sticky-backed flocking is only 6 x 6 and so is the heat resistance transfer sheets. The Rhinestones vary slightly too although this may change between countries.
Of course, the other item that is not included in the free bonus kit is the activation card for more Rhinestone designs. Keep reading as there are other options for designs.
The purchased kit has a few additional extras.
Included in the full Rhinestone Kit.
2 Template Sheets 12 x 12
2 Transfer Sheets 12 x 12
Positioning Brush
Backing Board (reusable)
Rhinestone Pick-Up Tool
Hot Fix Rhinestones: SS10 2.8-2.9 mm in 3 colors:
clear (approx. 800)
yellow (approx. 300)
pink (approx. 300)/SS20 4.6-4.8 mm
clear (approx. 50)
A total number of rhinestones 1450 – (I didn't count the number that I received however I am pretty sure it wasn't this many.)
Instruction Guide
Activation card for 100 template patterns
TIP: Use the inner box as a workspace for setting rhinestones
The link to the manual is included in the kit for you to download. It is also freely available on the Brother site. Here is the manual to download if you want a sneak peek. I notice that the Brother sites vary significantly across countries. Check around for what is included in other countries' Brother websites to find all sorts of additional info.
Where to get your Rhinestone Kit
Like me, some of you may have been lucky enough to have the Rhinestone Kit included as a bonus when you purchased your Scan N Cut. Mine was included when I bought my SDX2200D (Disney model).
While this is a GREAT bonus, the downside is that the Rhinestone Kit does not include the activation card to add the Brother Rhinestone designs.
Not to worry though… you can use non Brother designs with your Scan N Cut. I will cover this shortly.
If you are in the US
Check with your local Scan N Cut dealership. If they do not stock the Rhinestone Kit they should be able to order it in for you from Brother. If you are not sure where to find a dealership look for sewing centers that stock Brother sewing machines. Even if it is not obvious they may be able to help you.
Crafters living in the UK
Living in Australia?
Don't want to purchase a Brother Kit?
Rhinestones are SO popular that if you don't want to buy a Brother Rhinestone Kit, there are many non Brother alternatives around.
Yep! You don't have to buy the Brother Kit if you would prefer not to.
Alternatives include kits with a heating applicator tool and lots of Rhinestones like this one. They are a little different to the Brother kit and do not include some of the components that the Brother Rhinestone Kit has however will certainly do the job.
These kits may make a super addition to what your Scan N Cut can actually do and usually include Rhinestones and a container to keep them in. This is certainly a bonus as they are fiddly little things to keep track of.

NOTE: The heating applicator tool heats each Rhinestone individually. This is a slower method than using heat-resistant transfer tape.
heat resistant transfer sheet which you can purchase by the meter. – non Brother brand
You can purchase the replacement parts from Brother if you can find them. Here is a link for Amazon although it is a little hit and miss whether they are in stock.
If you cannot get the Brother replacement parts then sticky-backed flocking or really anything that is firm, or has a little bit of depth and will allow you to cut the small circular shapes to sit the Rhinestones until you pick them up with the transfer tape.
Activation card from Brother for the Scan N Cut DX only – includes 25 designs. I personally prefer some of the alternative options that I describe below however you may still prefer the Brother designs.
Create your own Rhinestone projects
You are not limited to using Brother designs with your Scan N Cut. There are many options from purchasing, finding free designs, or creating your own.
Create with Canvas Workspace
Even without a design activation card, Canvas Workspace still includes some custom designs within their free projects library.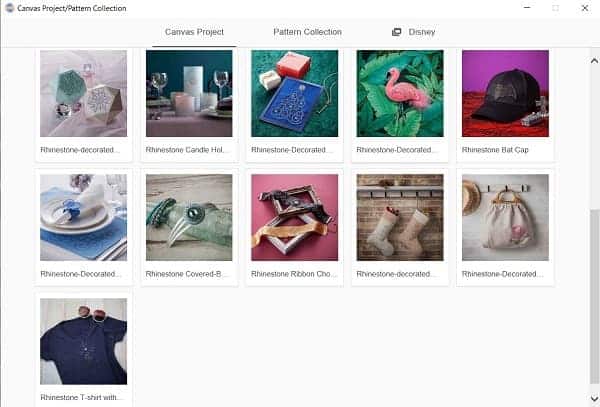 Brother are always adding more free projects so keep a watch for what is on offer. I will often share in my Facebook group when they have made a change or addition.
This is a quick look at the free Rhinestone Candle Holder pattern that is available in the Brother design library.
Cute hey!!
Video tutorial using Canvas Workspace
Create with SCAL 5
You can also use other software like SCAL5 to create your very own Rhinestone designs. While you can create Rhinestone designs in other software, SCAL5 is pretty easy. This one took me about 15 minutes… not long at all really.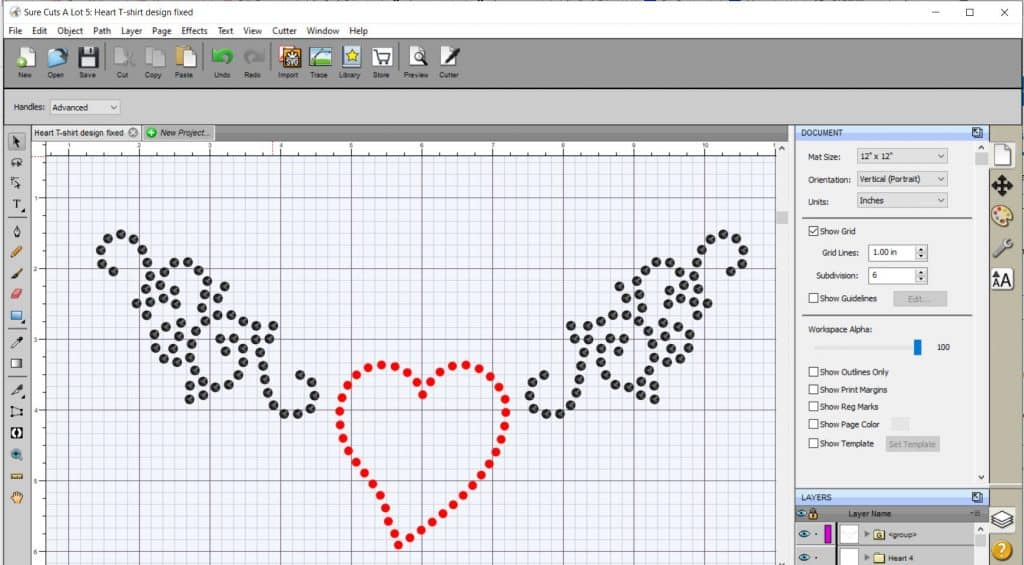 Steps to create a Rhinestone design in SCAL5
Open up SCAL 5 and either trace a picture that you would like to make a Rhinestone design with OR use the library to make your own design OR choose a cut file that you like.

Once you have your design ready then you can turn it into a Rhinestone pattern. NOTE: make sure that you size the design to what you want

BEFORE

you turn it into a Rhinestone design as it will affect the size of Rhinestones that you use. Resize at this point!

Go to the top menu and choose

Effects

, then scroll down to

Rhinestones

as shown below.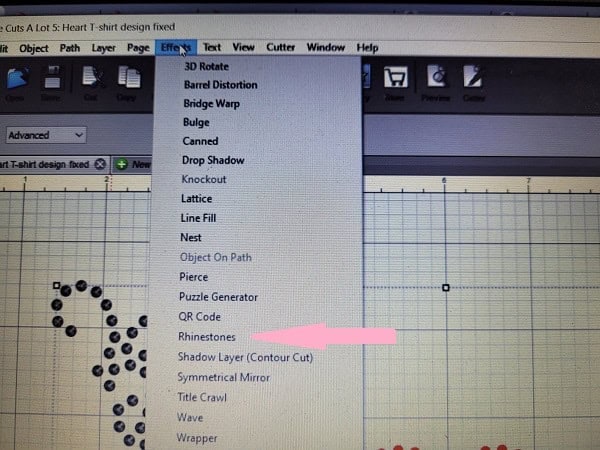 4. You will be presented with a choice of various sizes and shaped Rhinestones that you can use for your design. Choose the size that you have. I chose the SS10 – PP22 – 2.80 – 2.90 rounded Rhinestones as this is what came in my kit.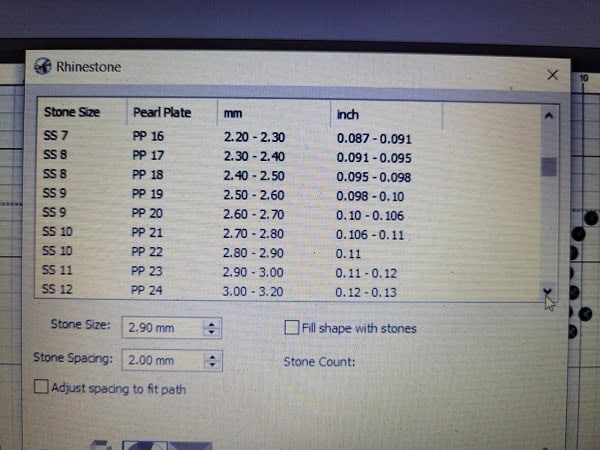 5. Below is what your design will convert to with the cut-outs for the Rhinestones. This works with the Brother Rhinestone Kit method however if you purchased an alternative kit you could change these cut lines to draw so that you draw placement if that was your preference.

TIP: If you are creating your Rhinestone using the Draw feature on fabric then use the Brother erasable pens supplied with a number of Scan N Cut models. Alternatively, a fabric pen that fits the Universal holder.
6. Export your design in either SVG format (Scan N Cut or Cricut) or FCM (Scan N Cut only) format to cut with your cutting machine. Designs created in SCAL 5 and saved in SVG format can also be cut out in a Cricut cutting machine.
Where to buy Rhinestone designs
There are also heaps of Rhinestone designs that you can find free or purchase.
Sites like Creative Fabrica have many designs.
Another is Creative Market although I haven't found many on this site.
Then there is Designbundles where there is a large selection to choose from.
You will also find designs on Etsy and other sites on the web.
Join me on Facebook
Join me in the Scan N Cut – Let's Create With Sue Facebook group. It is a group of awesome craft friends sharing and caring.
I would love to see you there.
Please feel free to ask any questions that you need and while you are here, wander around the website. There are heaps of tutorials to help you on your crafting journey.
Happy creating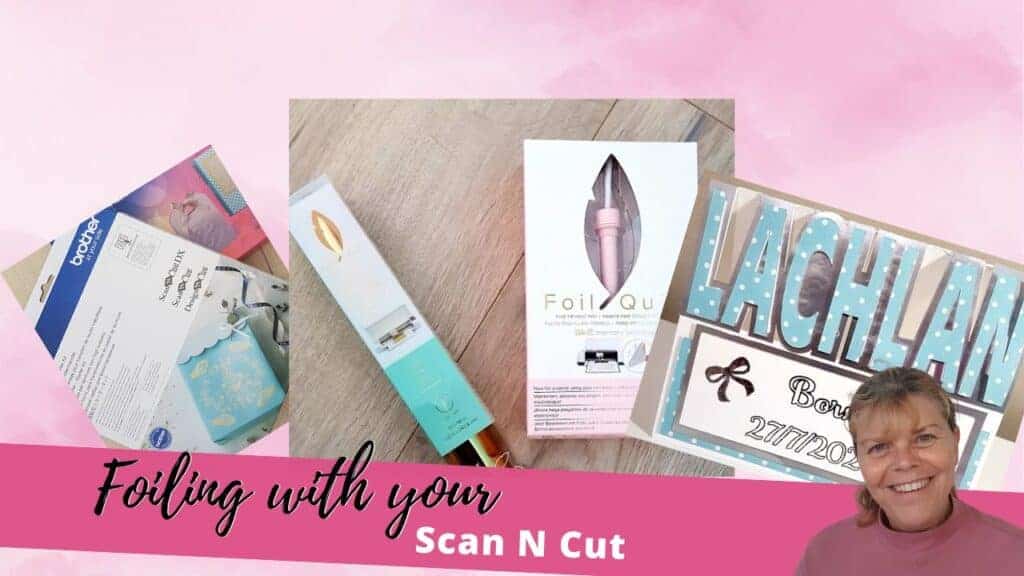 This tutorial will give you tips for foiling with your Scan N Cut. We will look at the difference between the Brother…
Have you wondered about how to create DIY labels at home? Using a Munbyn thermal label printer can be the answer. This…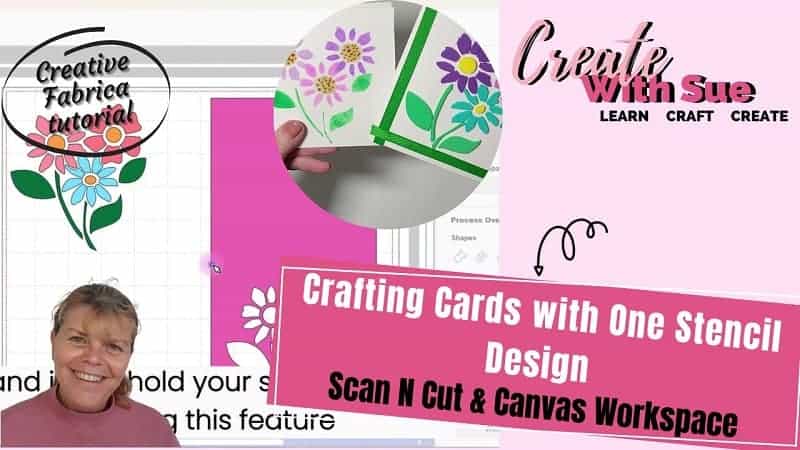 I was invited to create a Scan N Cut class for Creative Fabrica. Crafting Cards with One Stencil Design Using ScanNCut will…