This tutorial will review the Brother Scan N Cut and Cricut cutting machines. These machines are all amazing however, which one will suit your needs?
Createwithsue.com (Scan N Cut ) and shawnmosch.com (Cricut) have pooled their resources to provide you a comprehensive comparison between these fantastic cutting machines..
Let's take a look at them.
Models in the Scan N Cut Range
While Brother has produced a number of models of the Scan N Cut cutting machine, there are two main versions of their Scan N Cut machine.
These are the CM range and the DX range. Both ranges have Brother's unique scanning ability. One of the biggest differences between the two series is the Scan N Cut DX range has an auto sensor blade whereas, in the CM range, this is a manual function.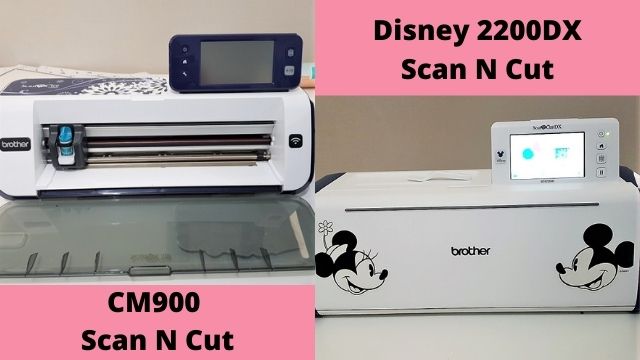 NOTE: The CM series is an earlier version of the Scan N Cut range is being replaced by the DX series.
Models in the Cricut range
Cricut has three main models currently on the market. Each with their significant differences. These are the Cricut Maker, Cricut Explore Air 2, and the Cricut Joy. The biggest difference between the Cricut Maker/Explore and the Cricut Joy is the size. The Joy is tiny in comparison, fitting into your hand, and a great choice if space is an issue. Keep in mind though, that being smaller also limits the size of your projects. The width of the cut is 4.25″ wide however it can cut up to 4ft in length or make repeated cuts up to 20 ft long.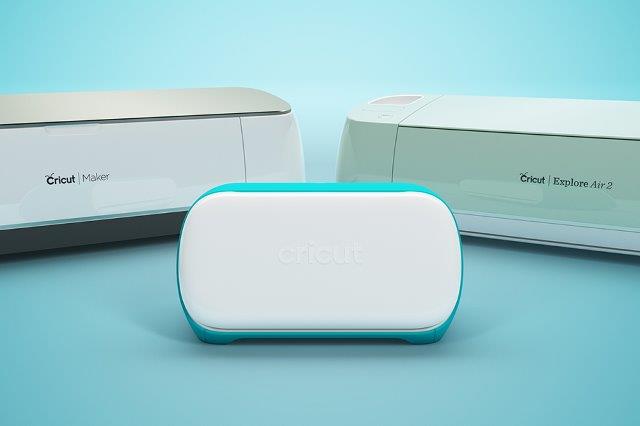 Features of the Scan N Cut and Cricut
Brother Scan N Cut
(DX and CM models)
Scanning feature (I love this feature). Scans in 300dpi
Can be used standalone (no other device required)
Inbuilt patterns, fonts, and designs (Disney model includes Disney designs as well)
Accepts files over wifi, USB drive, a cable connection (DX) direct to your computer and also retrieves and stores your designs on the actual Scan N Cut machine
DX models cut up to 3mm thick, CM 2mm
Auto sensor blade (DX Models)
12" x 12" mats – Low Tack, Standard and High Tack grip
12" x 24" mat
Cuts and draws
Able to cut vinyl, leather, washi tape, paper (scrapbook paper, cardstock, tracing paper, Velum, poster board), fabric (cotton fabric, flannel, denim), felt, plastic sheet, foam sheet and more. Brother information here
Additional kits are available including an Embossing kit, Calligraphy kit, Foiling kit, Rhinestone kit, Paper Piercing kit, Stamp maker, Rotary blade and more.
Universal pen holder – 2 barrel sizes available. Both use regular pens like the Ultra fine Sharpies etc
Access to free projects designed by Brother
Able to import SVG, FCM file types
Free editing software called Canvas Workspace. Two versions. The online version and a downloadable version to install onto your computer. Not ideal for use on phones
Canvas Workspace Trace feature will import PNG and JPEG so you can cut them out
Some models support PES files. This enables you to cut applique shapes and designs for your Brother embroidery machine.
Colored LED screen on all models which lays flat when not in use
Roll feeder to cut vinyl on the roll (6ft length) – DX models only
A large amount of online support is available
Lots of video tutorials are available
Cricut Machines
(Maker, Explore, Joy)
Print and Cut feature – import pictures and sends them to your printer so you can cut them out.
Cricut is lighter. The Cricut Joy is perfect for small spaces.
Different machines at different price points and come in a variety of colors
Connects via Bluetooth or cable and has a dedicated space to hold your phone or tablet on the Maker
Cricut Maker has a higher cutting pressure and cutting power
Has Pre-set inbuilt settings to use with Cricut vinyl and other materials
12" x 12" mats to suit various materials
12" x 24" mat
Cuts and draws
Able to cut vinyl, cardstock, fabrics, felt, leather, mesh, washi tape, poster board, cork, Cricut chipboard, balsa wood, basswood and more. Cricut's full list here
Additional accessories like pens, knife blade, rotary blade, perforation tool, scoring tool
Cricut Explore had dual holders to hold both a blade and pen at the same time
Access to free projects designed by Cricut
Able to import SVG files
Free software called Cricut Design Space to install on your computer. Cricut App to suit Android and ios (iPad) – phone and tablet friendly
Easier to achieve better results cutting fabric without bonding or stabilizing fabric and felt using the Maker rotary blade
Different machines at different price points – very affordable
A large amount of online support is available
Cricut's website is very user friendly
Scan N Cut features
Scanning ability
This is a super cool feature and the Scan N Cut is the only cutting machine that has it. There are three ways to use the scan feature.
You can scan your mat and it will display where your materials are located enabling you to place your design precisely where you want them Precision placement is a great feature. It allows you to maximize the use of your materials and cut multiple colors all in one pass.
Check out the tutorial for more information on cutting multiple colors on one mat easily.


Scan to data is the next way you can scan. To use the scan to data feature you can place a design on your mat, scan it using your Scan N Cut and then save the file for further editing or cutting again and again. You also have the choice of saving directly to your Scan N Cut, to a USB or excitingly, back to Canvas Workspace where you can do some major editing if you choose to.


Direct scan is great for stamped images or pictures. This method scans your image on the mat and then cuts it out. Options include adding an offset to the image to either have a border on your stamped image or cut a seam allowance on fabric.
Using your Scan N Cut stand alone
Not needing to connect to your computer can be a really handy feature. The Scan N Cut has many of the same shapes inbuilt into it as Canvas Workspace. There are also numerous designs and fonts depending on the model that you purchase. You are able to weld shapes and letters together, align and group objects together to make your own designs right on the machine… no computer. Magical isn't it.
For more information on creating and welding designs on your Scan N Cut check out the tutorial. How to weld on your Scan N Cut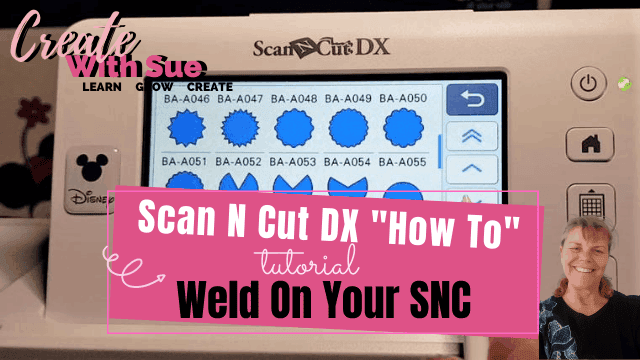 You can also use Canvas Workspace to weld if you prefer. Either option is very easy.
Optional accessory kits
There are numerous kits that can be purchased for the Scan N Cut. Most are available for all models of Scan N Cut however some newer kits, like the Calligraphy kit and the Paper Piercing Kit only work with the DX models.
Each kit that you purchase adds additional premium features to the Scan N Cut and also into Canvas Workspace. The kits usually include bonus designs specially developed to suit the associated kit. More information on tools and accessory kits here.
Brother scan and cut used with the embroidery machine
If you love sewing and applique work, teaming up your Brother embroidery machine and a Brother Scan N Cut makes perfect sense. The Brother embroidery machine uses files in PES format and a number of Scan N Cut models will read PES format. How cool! Cutting your applique shapes is a great option.
When purchasing a Scan N Cut for applique work you need to really make sure that the model that you are selecting is capable of reading the PES format as not all models do. Unfortunately, Brother's documentation on the various models is not as clear as it could be. This is especially true if the model does NOT have that capability.
Canvas Workspace software for your Scan N Cut
This is free software from Brother. It has been developed so that you can create your own designs or edit purchased designs. Canvas Workspace is available in an online version and a downloaded version. You can read more about the differences here in the tutorial Which Canvas Workspace to use?
Canvas Workspace has some wonderful functionality. Features include a Trace function where you can import a picture file and Canvas will turn it into a cut file. Both versions can weld objects and text together, divide, subtract and remove overlapping objects to create new shapes.
The downloaded version will curve text and manage layers of the design better than the online version.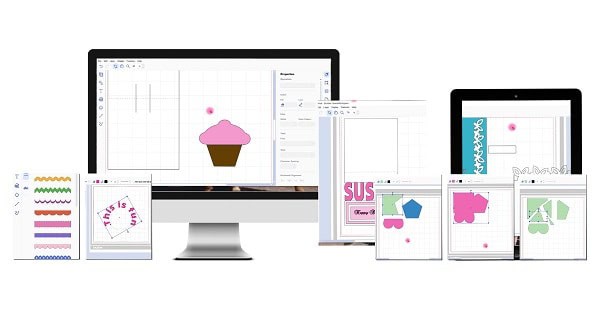 Canvas Workspace even has node editing so you can create shapes and designs from scratch. Your newly created designs can be saved directly on your Scan N Cut, in the Canvas Workspace online cloud, or on your computer.
Find out more on how to get started with Canvas Workspace.
Canvas Workspace is feature rich and very easy to use
Cricut features
Cricut machines have grown and changed over the past decade. The focus has gone from making simple cuts for cards and scrapbooks to a tool that has more power and precision so that you can cut a larger variety of materials and DIY projects. The Cricut Maker has an adaptive tool system that can be purchased to add to the basic Cricut Maker machine. These include a knife blade for cutting wood and a rotary blade for cutting fabric.
Color choices to suit your decor
Both the Explore Air and the Cricut Maker come in a variety of color accents. While the machines work exactly the same, it is fun to be able to choose a color that you like or that goes with your crafting space.
Easy to use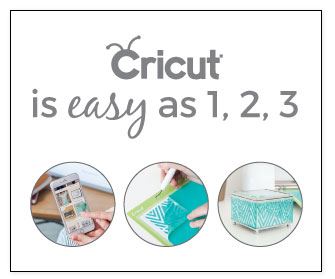 The Cricut is a great machine for a beginner since you can open up pre-designed projects from Cricut Design Space and just start cutting right away. It also has enough software capability that it can grow with you and your crafting needs. The software is easy to learn. We recommend the Teach Me Cricut Design Space Handbook to help you learn the buttons and functions in the software. Cricut Design Space allows you to design and cut projects from your computer, phone or tablet. You can then save the projects that you have designed to be cut later.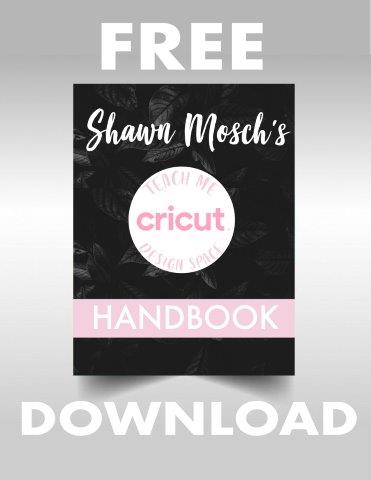 Print and cut feature of Design Space
Instead of scanning images to cut from the machine, you can use images on your computer or that you find online, and then upload those to Cricut Design Space to use for your projects. This allows you to work with designs created and shared by other people in the crafting world.
Cricut Explore's dual carriage
The Dual Carriage on the Cricut Explore Air 2 allows you to have a blade in one slot and a pen in the second slot. That way when you are working on a project that has both cutting and writing you do not have to change out your tools. This speeds up the whole process.
Cricut also produces a large variety of materials to use with their machines. This is a bonus since you are sure that their vinyl and leather will cut with their machine. You can use other brands, but you may have to test the cutting settings for them to get them exactly correct.
Cricut Design Space software
Cricut Design Space is a very easy-to-use program designed to transfer your cut files to your Cricut machine.
One of Design Space's unique features is the "Make It" button. This is a great feature to manage the various layers of your design with one easy click of the button. By clicking on "Make It" each layer of your design is transferred to its own separate mat in the software. From there you simply load the mats and cut out your design accordingly.
Design Space is also available as an App for your Android or Apple device. More information on how to use your Cricut with your iPad here.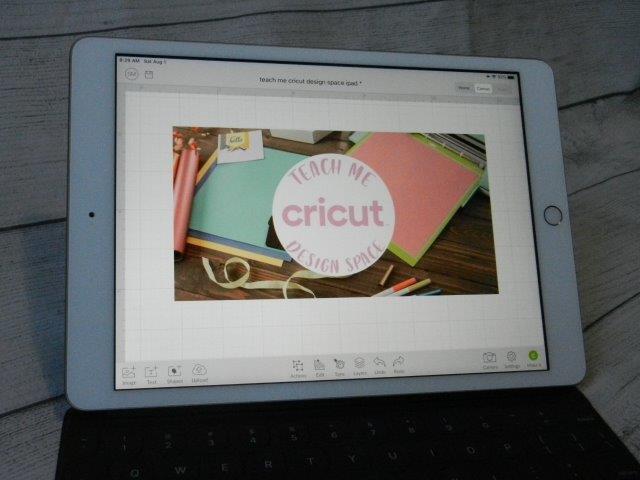 Welding in Design Space is easy
Design Space has the ability to add text, add various shapes, resize files, join text together (weld), and much more. It is very easy to use the program.
Here is a quick tutorial on Shawn's site to show you how to weld with Cricut Design Space.
Comparison of cutting performance
While both brands of cutting machines will cut out your project really well there are some differences worth noting. The Cricut Maker has a higher cutting power and potentially cuts harder materials. It can cut with 10 times the force of the Cricut Explore machines and also more than the Scan N Cut. The rotary blade on the Cricut is a great tool as it produces a different type of cut.
UPDATE: Brother Scan N Cut has released a rotary blade that can be purchased separately or may be included in some later models. This blade is a game-changer for cutting fabric with the Scan N Cut.
All machines covered in this comparison are a great choice for your DIY projects.
Comparison aspects of the Scan N Cut and Cricut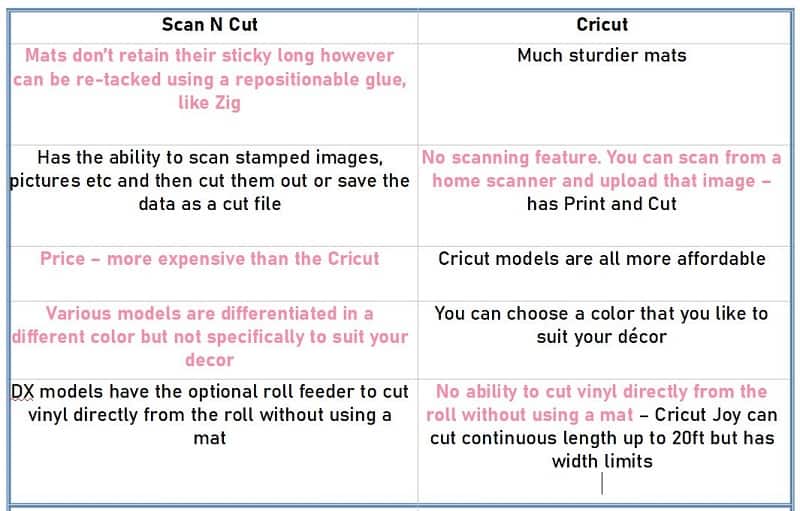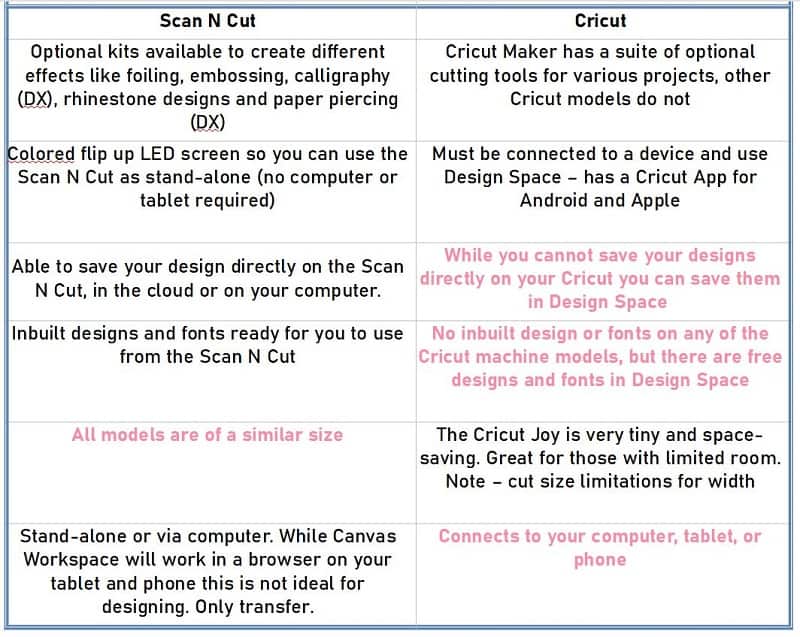 Summary – which one for you Scan N Cut or Cricut
This is a hard decision and one many new crafters looking to purchase a cutting machine struggle with. I (Sue) am a HUGE fan of the Brother Scan N Cut as I love the additional scanning abilities, stand-alone functionality, and the LED screen. However, Cricut machines are a great option too and really easy to use.
The issue is… the cutting machines covered in this blog ALL have great features.
Yes, whichever model or brand you choose will have some fantastic features and will do a great job of cutting your designs to make awesome DIY projects.
Our best advice is to work out what you plan to make with your cutting machine and then review the above information picking out the features that will suit YOU the best. Budget, of course, is another consideration which will certainly add to your decision.
Happy creating, from Sue and Shawn.

Join me on Facebook
Join me in the Scan N Cut – Let's Create With Sue Facebook group. It is a group of awesome craft friends sharing and caring.
I would love to see you there.
OR say hello at [email protected] or [email protected]. I would love to hear from you!
Would you like to learn the Scan N Cut Basics?
I have a free course on offer to assist you to learn some of the basic features of your Scan N Cut.