This post will look at a number of ways that you can convert a PNG or JPG (JPEG) to an SVG file to cut with your Scan N Cut or Cricut cutting machine.
Do you need to convert JPG to JPEG?
There is no difference between JPG and JPEG apart from the fact that JPEG has an extra letter included and so no need to convert JPEG to JPG. Either file format will be fine to upload into the below conversion tools.
This post may contain some affiliate links for your convenience (which means if you make a purchase after clicking a link I may earn a small commission but it won't cost you a penny more)!  Read my very boring full disclosure policy here.
Websites which will convert a PNG or JPG to an SVG
Online converters are hit and miss whether they will do a good job converting a PNG or JPG (JPEG) to an SVG. Often it depends on the image that you are trying to convert. If I choose to convert an image, I will often try the image in a couple of online converters to see which one will produce the best SVG file.

NOTE: looks can be deceptive. Check out the video on how they compare importing them into Canvas Workspace.
SVGCreator
svgcreator.com – I have used this JPG to SVG converter a few times now with success. Not 100% successful though. Often when converting files the end result will still need a little cleanup of unwanted areas that have been included in the file.
You can see in the picture below the original on the left-hand side and the SVG file ready to download on the right. There are some areas that have been missed however overall it is not a bad result. You will still only know how well when you actually cut the file out.
PicSVG
Picsvg.com – This is another I have used with mixed results. It is worth keeping in mind. The output in the picture looks great and it will be interesting to see how it comes into Canvas Workspace. Keep in mind that you can upload the SVG directly to your Scan N Cut. In some cases, this may produce a better result. The downside of this is that it is much more difficult to edit if you need to in your Scan N Cut screen.
Convertio
Convertio – I usually like the results this online JPG to SVG converter gives. This online software, however, doesn't display the output until you download it. Most of these sites are very easy to use.

Cutecutter
Cutecutter.com – This is the first time that I have tried this online converter. Cutecutter is a little different from the others in this list as it is in demo mode. Another big difference is that it has adjustment buttons so that you can choose what you think will be the best file for you.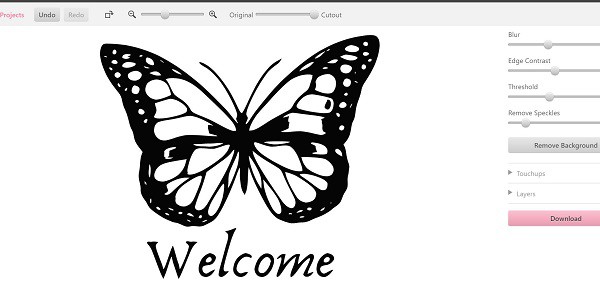 Online SVG image converter
PNG and JPEG online converter
PNG and JPEG Online Converter – At first glance, this doesn't seem to have done a great job however the colors make it deceiving. In reality, I think the outcome could be comparable to some of the other online converter programs. Again, this will be discovered when you upload the file to cut it out. I recommend that you zoom right in to see line breaks, missing areas and unwanted areas.
Vector Magic
Vector Magic – not free. This is subscription-based which means it costs you money each month. The test conversion looked great so if you were doing a LOT of conversions it may be worth it. The program has reproduced the butterfly really well however due to the subscription I did not investigate any further.
The website also offers a downloaded version of the converter.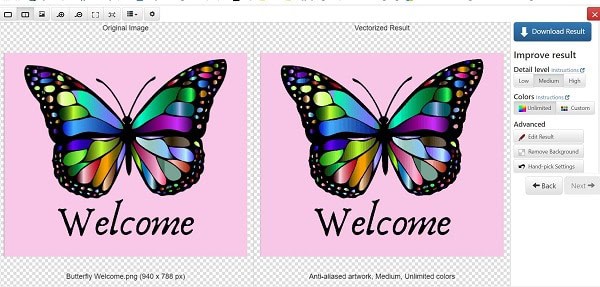 Comparing the PNG to SVG Converters
Have you watched the video?
Very interesting. I was surprised that the CuteCutter file was full of broken and open paths once I had uploaded it to Canvas Workspace (online) as I have had files turn out reasonably well from the CuteCutter site.
I decided that maybe it was an anomaly with the online version of Canvas Workspace so I uploaded the exact same file into the downloaded version to see the difference.
At first glance, I thought it looked perfectly fine HOWEVER on further investigation it had exactly the same issues with numerous broken paths that would have cut out like dashed lines.
What does this mean…
I often hear crafters say that they have had "NO success with converting files"…or "that conversion site doesn't work". Comments along those lines.
What I have found is that if you want a picture converted badly enough, try it in each of the converters listed above and pick the one with the best result. This has been the strategy I have used in the past as there are no guarantees of the outcome. I start with the site I think I will have the most success and then look at that file. If I am happy with it I don't hunt any further however if I am not happy, then I look further.
Check the file thoroughly once you bring it into Canvas and make a judgment call as to whether you are likely to get a good cut from the file. Check the nodes as shown in the video.
Adobe Express
Adobe Express contacted me to add a link to their JPG to SVG so I checked their converter out. In my initial tests, the converter did a great job so it is well worth giving this one a try.
The site does require you to create a login and will offer you a free trial to their Premium paid software. At this stage, I didn't see any restrictions on using their free JPG to SVG conversion software. Check out the software here!
This is an example of a photo I converted.
This is the original file.
Recommendation
Free converters
My go-to free converter is PicSVG as I get the most consistent results from this site. I then head over to Convertio if I am unsuccessful in PicSVG. Adobe Express also does a great job.
Having said that…. I would recommend the Trace feature in Canvas Workspace as my first preference and only dive around the conversion sites like a maniac when Trace fails me.
How to Trace with Canvas Workspace
Let's review the Trace function of Canvas Workspace. Both versions of Canvas Workspace will trace PNG, BMP and JPG images and they produce a reasonable result. Sometimes the results of using the Trace feature still require some tidying up of the file but rarely worse than many of the converters and usually as good or better job depending on the file you are trying to convert.
The online version and the downloaded version work slightly differently and consequentially may produce slightly different results.
A trace is an excellent option and you will find the full tutorial here.
Imaengine App
The Imaengine app is for Apple products like the iPhone and iPad. It can produce excellent results and if you have an Apple device it is worth downloading the app and having a play converting images. Unfortunately for me, I have an android phone and tablet and haven't been able to find an app that does a good job. If you know of one, feel free to let me know.
Go to your Apple Store on your iPhone or iPad and search for Imaengine.
Additional Tips
PNG and JPG image size is important
Linda, a member of my Facebook group raised a good point. For maximum success, it's essential to use large, high-quality visuals that are the perfect size for your needs! The image quality will make a significant difference to your end results.
JPG and PNG and raster images will pixelate when enlarged. This in turn may affect your SVG, causing jagged edges and requiring significant tidying up to get a good cut from your cutting machine.
You also need to consider the content of the image that you select. Not all images would suit being cut with your Scan N Cut or Cricut cutting machine.
Here is more information on why SVG's do not cut out correctly.
Be aware of the Copyright
Many images are copyrighted which means that you cannot simply download an image from the internet and create SVG files. There are websites that you can go to where you can download images without breaking any copyright laws. Pixabay.com is one that I like and is where I located the butterfly image to run the tests in this tutorial. There are many to choose from.
While these sites are touted as having copyright-free images, you still need to ensure that you are not breaching any copyright laws. Google support has shared info on how to check for copyright. Check out what they have to say here.
For more help managing SVG files in general, take a wander through this tutorial that covers possible reasons why your SVG file doesn't work as expected.
If you would like to know more about the two versions of Canvas Workspace I have put together more information here.
Happy creating,

Join me on Facebook
Join me in the Scan N Cut – Let's Create With Sue Facebook group. It is a group of awesome craft friends sharing and caring.
I would love to see you there.
OR say hello at [email protected] or [email protected]. I would love to hear from you!
Would you like to learn the Scan N Cut Basics?
I have a free course on offer to assist you to learn some of the basic features of your Scan N Cut.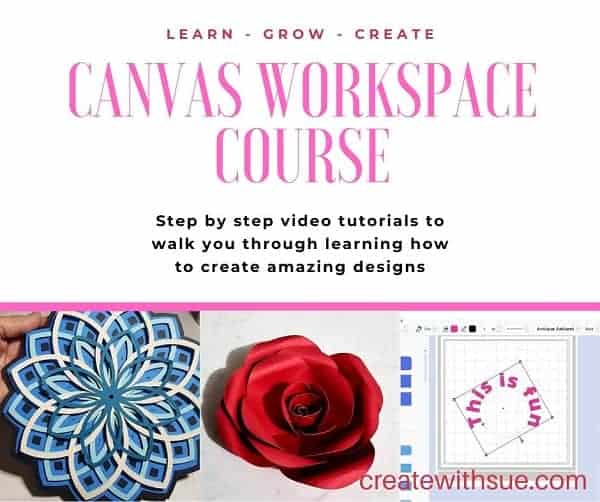 Need to learn how to use Canvas Workspace? More information can be found here!
LIKE IT ….. PIN IT