This easy fairy lantern is such an easy project to tackle. I have included the template for you FREE or you can create your own. There are also some tips and tricks included in the post aimed to assist newer users. If you are very familiar with creating projects skip over them 🙂
About The File
I designed this template during a course in designing SVG files using Inkscape with Jennifer Maker Marx. If you need more information on what an SVG file is check this post out here.

I had already completed another course in Inkscape a year or so ago but I love Jennifer's ways of teaching and designing that I decided to do this one too… AND HAVE LOVED IT. Here is an affiliate link if you are interested in designing your own SVG files. (Note: While I may earn a small commission should you purchase anything, please be assured that I only recommend courses and products that I truly believe in. )
Jennifer's "Cut Above Course" is only open for enrollment at certain times of the year however the good news is that you are able to put your name down on the waiting list!
Now, What Do You Need For The Lantern!
Luckily not much!
Card stock ~ I used 220gsm. It will fit on A4.
Vellum or Parchment paper ~ I only had patterned Vellum so used Baking Paper with a good result.
Glue or double sided tape
Something to cut it out with ~ I used my Scan N Cut.
Template which can be downloaded from my Resource Library Or use your own.
Step 1 – Download and Unzip
Download the file from the Library. It will come down in a zipped format. If you are unfamiliar with unzipping files click here for a short tutorial on how to do it.

Unzip the file and select the .FCM file for the easiest outcome if you have a Scan N Cut. If you have a different brand machine like a Cricut then select the .SVG option.
OR
If you wish to give it a go and cut it out by hand then select the PDF option.
Step 2 – Into Canvas or Design Space
Ok, now we have that bit out the way, you can either upload the file into Canvas Workspace (or Design Space for Cricut) or send it straight to your machine.

I often like to pop files into Canvas just to double check that everything looks how it should before I send it to my machine so I will continue the tutorial based on that. If you need a hand with uploading files to Canvas Workspace check this tutorial out.
WiFi is another benefit of bringing it into Canvas Workspace first. I usually send all my files via WiFi to my CM900. If you don't have WiFi capability with your machine, never fear a USB will do just as well!
Step 3 – Check File
When you upload a file into your machine's software, double check that the score lines are still set to dashes or score. Occasionally some SVG files will lose groupings and dash line settings altering them to cut lines when imported into Canvas and Design Space. (you would end up with lots of rectangles 🙁 )
Once you are happy with the file you can send it to your cutting machine and cut it out! Don't forget to do a test cut! I always do one unless I have just cut the exact same material just prior.
Tip 1: If your Card Stock doesn't stick to the mat as well as you would like, you can use masking tape on the edges of the card to hold it more firmly. Make sure you don't cover the registration marks on the mat.
(It is a major pain if what you are cutting moves! This is something to watch out for with all your projects. )

Tip 2: You can clean your mat with Alcohol Free Wipes (baby wipes) after each use. I am often a bit slack here, hence I know about the major pain when things move LOL.
Tip 3: It is a good idea to keep a record of what setting's work well for you for your various projects and different materials used BUT don't rely on it as the blade setting may change as the blade wears. (If you are lucky enough to have a DX then this may not be an issue for you.)
Step 4 – Add Vellum
Cut a piece of Vellum, Baking Paper, Parchment OR what ever you have decided to use in a rectangle shape a little smaller than outline of your cut out lantern. As an option, you could cut each panel out separately.
I used baking paper which I discovered (should have known) is NON STICK so it was awful on my mat. I just fixed my muck up with scissors. May even have been easier in this instance to cut it out with scissors to start with!
Here is my crinkled mishap!
It came off the mat almost as soon as it started cutting. 🙁
(Mental note "non stick" means it doesn't stick well.)
I fixed the messy cut with scissors and pressed the crinkle out and kept on making it!

Lucky it still turned out cute!
Step 5 – Put it Together
Now it is just a quick assembly.
I used double sided tape to adhere the baking paper to the back side of the lantern.
Bend each score/dash line inwards. This includes the extra piece on one end which is to attach to the opposite side of the lantern to make it form a square frame.
Attach the Baking Paper (in my case) to the double sided tape and make sure it also folds at each of the scored edges. I laid it out fairly flat and placed it down on the tape and then put the folds into it working from one side of the lantern to the other.
You can place a bit of glue behind the fairy images too. I popped a bit on but didn't go overboard.
Put double sided tape on the edge that attaches to the opposite side of the lantern and bring it up into a square and press it together neatly.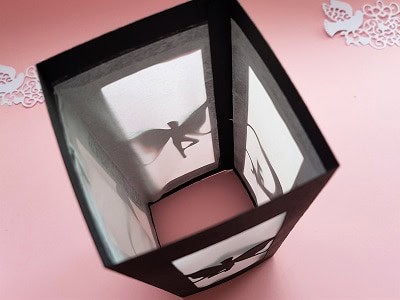 To Finish Off
To finish this off place a battery operated tealight inside it and turn it on at night. Looks great!
Now I know none of you would do this BUT just in case……don't use a real candle.
This is one side view of the finished Lantern.
This is the other side.
I hope you had fun with this. I would love to see how you have done yours. Possibly way better than mine! There are so many variations to make these individual. You are welcome to upload a pic on my facebook page Create With Sue.
I also have a facebook group you can join for more adventures and tutorials with Canvas Workspace. Follow this link!
Happy Creating!
Catch you next time,
Sue
P.S. Please let me know if you enjoyed this tutorial or have any suggestions for improvement. You can contact me at [email protected]
Check out my other tutorials while you are here too 🙂. You will find a list on the sidebar or in the menu bar at the top. Just click it and it will pop out for you to access.

Note: If you are on your phone the other tutorials will be at the bottom of this post.
Free Top Tools

Free Font Info
You will find these FREE e-books and Cheat Sheets in my Resource Library. If you receive my emails, the password will be at the bottom of each email. If you haven't already subscribed then it is really easy. Just complete the form below and the password will be sent out straight away.
Enjoy!