Is this one for you? It is the exploding box! Making an exploding box has endless possibilities AND I have a free template for you to start your creation.
I put this project together when I started thinking about Mother's Day. Now what was I going to get for my very hard to buy for mum!

Well, she is very sentimental and LOVES my crafts, cards and anything I decide to make for her. She takes them around to her friends and basically shows them off to everyone. So the exploding box with family pictures in it comes to life.
Exploding box ideas
I have included some little pockets for little notes or photos to be placed into. You can add more or easily alter the size.
A friend even suggested if you made the boxes for kids you could put money into the pockets. Now wouldn't they love THAT!
Have fun with the colors. I used double sided card stock from a pack that co-ordinate throughout. That way you know that everything will fit together color wise nicely. (I am going to do another one in plainer pastel colors too. Can't wait! )
Add more pockets, even enlarge them if you like.
Add a couple more layers… Comment below if you need instructions to do this and I will make sure I add them.


What Do I Need!
5 pieces of 12″x 12″ different coloured card stock.
Download the free template.
Something to cut it out with. I used a Scan N Cut but whatever you have will work.
Glue.
Ribbon.
Items of your choice to put into the box.
Step 1 – Download
Once you have downloaded the template file unzip it so that you can access the files. If you need assistance with this check out these instructions.
https://www.createwithsue.com/how-to-unzip-a-file-on-a-pc/
Step 2 – Cutting
Upload the file named Exploding Box Base as your first file to cut. If you are using a Scan N Cut then make sure you select the .fcm files as these will make it much easier for you, otherwise select the .svg files.

If you are using a Cricut, go into your Layers side panel and find the score lines and check they are still set to either score or dashes…if not you may need to alter them.
Cut the base out. It will take up most of the 12″ x 12″ card stock and is the largest piece of the box.
And we are on our way!
Step 3 – Layers
Next up select the Exploding Box Layer 1 file and cut it out.
Steps 4, 5 and 6 – More Layers
Work through cutting out Layer 2, Layer 3 and then the lid. Ensure the card stock you have chosen looks great together and the lid and the base coloring's match up nicely.
Note: Don't throw away the little pieces that are cut out of the layers, they can be used as embellishments!
Let's put it together!
Step 7 – Fold and Glue
I started with the lid however this is optional.
Fold all the edges where the score lines are down. You will have a nice square at the top.
Then fold the small tabs inwards.
Glue the first corner and ensure that the glue is holding together before you move onto the next corner or you may find the piece does not stay square and inline.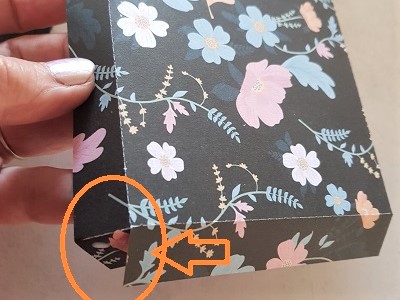 Ok, now that step is done and we have a lid!
The completed lid will look like this on the inside.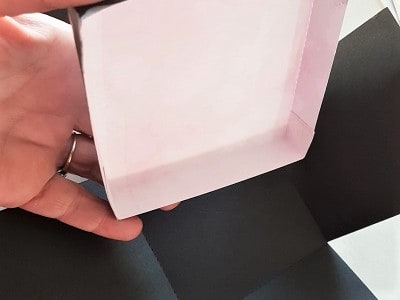 Step 8 – Score Lines
Now for the base!
Fold the four score lines inwards on the base layer and double check that the lid sits well on the base.
All good? We can move on.
Step 9 – Check Layers
After you have folded Layer 1's score lines inwards, align it on top of the base. Check that the box's sides all still fold upright ok. This needs to be checked through out these next steps.
Once you are happy with it place glue in the centre panel ONLY and glue the two layers together ensuring they are aligned still. This can be checked at each edge.
Check again that all the sides fold up nicely still.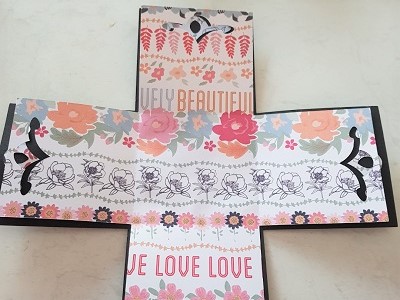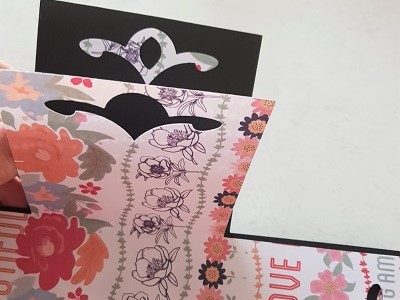 Step 10 and 11 – Repeat
Repeat the above step with Layer 2 and Layer 3 making sue that they align in the middle and only placing glue in the centre panel. Check that all sides come up separately and still form the nice box shape.
Step 12 – Embellish
Ensure the lid fits the box nicely still. It should!
We can now add more embellishments. I also used the hearts that were cut out. Place them wherever you think they look great. It is fun choosing.
Add the pockets. When I cut mine out I used up some of the leftover card stock. I scanned in the left over material so I knew exactly where I could place them.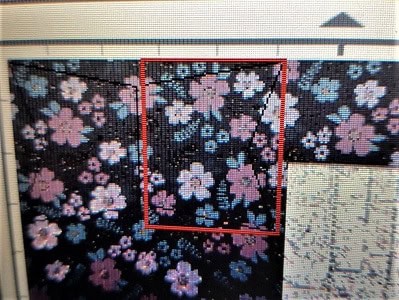 CONGRATULATIONS you have made your exploding box!
Watch for the next tutorial being released soon.
Happy Creating,
Sue
Make Your Own SVG's?
P.S. Would you like to learn how to make your own SVG files?

I am such a big fan of Jennifer Maker Marx who is a wonderful teacher and designer and I highly recommend her courses.

While enrollment is NOT open all year, the good news is that there is a waiting list! Check out the link below for more details.

Click here to view more information about Jennifer's Cut Above Course
SVG's Made Simple Free Course
To get you started Jennifer has also offered a short introductory 'SVG's Made Simple course for FREE!
Click here to view more information on this fantastic offer from her.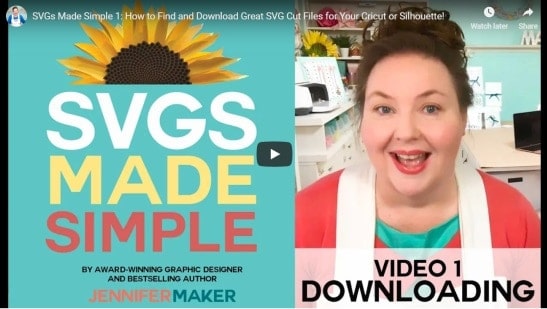 Access to Free Projects
Want to find more of my free projects you can create. Check out some of my other posts. You will find them on the sidebar of each page.
Make sure you complete the form at the bottom of the page so you can access to all the free templates and patterns.
Facebook Anyone?
I would love you to join my facebook group if you haven't already. It has been set up as a place to get help you along the way.
It is called Scan N Cut !~ Lets Go Create With Sue

https://www.facebook.com/groups/352240932085702/?source_id=798673080508072

And my like my page Create With Sue
https://www.facebook.com/createwithsue1/
or simply just say hello at [email protected]. I would love to hear from you!
If you find this page useful then others might too! Why don't you share it to facebook, Instagram or pinterest so others benefit too.
Access to my FREE Resource Library below.