Vinyl T-Shirt designs are so much fun to create! This tutorial will cover how to create a vinyl T-Shirt and includes the featured design as a free file in my Resource Library. The tutorial and tips are not exclusive to this particular design though. They will work for any design that you choose to create.
Creating this vinyl T-Shirt I hit a few snags. Nothing that couldn't be overcome….. however it occurred to me that if I had these issues that others may come across them as well.
SO… I have included how I resolved my problems AND how to try and avoid them.
This post may contain some affiliate links for your convenience (which means if you make a purchase after clicking a link I may earn a small commission but it won't cost you a penny more)!  Read my very boring full disclosure policy here.
What do you need for this project
Heat Transfer Vinyl (HTV) – I used Siser Easy Weed
T-Shirt or something you choose to add the design to
Iron or heat press
Cutting machine – I used my Brother Scan N Cut
Design – download my free design from the Resource Library
Vinyl T-Shirt design
Download the free "hang on ….. I need to overthink this!!!! " design from the resource library OR create your own. It is quite easy really. The file will come in a zipped format which is how a lot of your designs might come. Check this tutorial if you need help with unzipping files on a PC.
What can you put vinyl designs on?
Well, vinyl designs can go onto many, many items and they are GREAT fun to make. You can use either normal adhesive vinyl which comes in permanent or removable OR Heat Transfer Vinyl (HTV) onto fabrics, wood, basically, anything that will accept the heat required to make the transfer.
I have tutorials with more information about types of vinyl in general and a guide to using HTV which has some value-added tips. Some of those tips are included in this project.
Choices for vinyl T-Shirt designs to create are ENDLESS. You really can put anything that appeals to you on your T-Shirt. I chose to create this particular T-Shirt design as both my daughter and I continually comment on the fact that "we overthink things"! I often ask her where she got that trait from LOL.
What is the best program to create T-Shirt designs
My two favorite software programs to create designs in are:
Canvas Workspace
I really love Canvas Workspace which works so well with the Brother Scan N Cut cutting machine. It is quite easy to create designs in Canvas Workspace, especially vinyl T-Shirt designs and it is provided by Brother for FREE. Find out more about the two versions of Canvas Workspace.
I also have a Step by Step course on how to use Canvas Workspace.
SCAL5
I often need to make files in SVG format so my next choice is using SCAL5 which is short for Sure Cuts A Lot 5. This software is a great choice for the Scan N Cut as it will export files in FCM format as well as SVG.
How do you make your own T-Shirt design
When you have your design import it into Canvas Workspace and send to your Scan N Cut or import it directly into your machine to cut out. If you need help with this step I have two tutorials to help you. One is for the online version and the other is for the downloaded version of Canvas Workspace.

IMPORTANT – HTV needs to be reversed or mirrored, especially if there is wording involved.
Half cut your Heat Transfer Vinyl
Set your machine to half-cut if you have a DX or adjust your manual blade for the CM models. Most importantly – do a test cut – read about mistakes made from not doing this below.
Apply the vinyl to your T-Shirt
Heat your shirt prior to applying your HTV design. The added heat will help your HTV adhere to your shirt.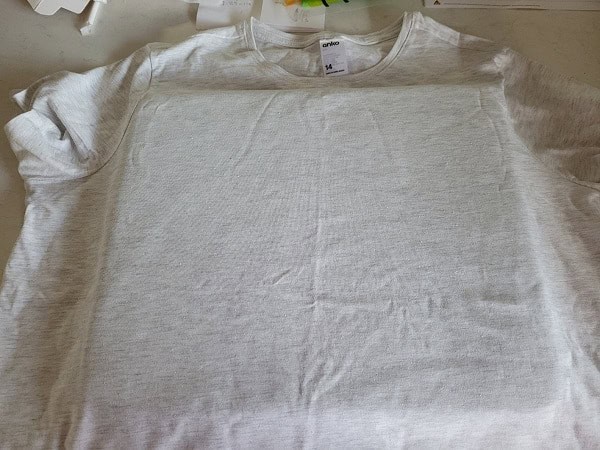 I like to have my Teflon sheet handy. While HTV comes with its own heat-resistant carrier sheet, the Teflon comes in handy if you ever need to reheat the design or when layering.
Once you have heated your HTV onto your T-Shirt, check whether all the design has adhered properly.
Left a corner and double check. If it still has not quite adhered properly and needs a little more heat then apply more heat. My philosophy has been to heat and then check, adding more heat if required. This seems to provide much better results than overheating the HTV in the first pass.
When using the same brand HTV continually, write down the settings so that next time you use the HTV you have a guide making your pressing much easier.
Below is a picture of the finished project – I was very happy with how it turned out.
BUT WAIT ….. I had a few bumps along the way. Read on.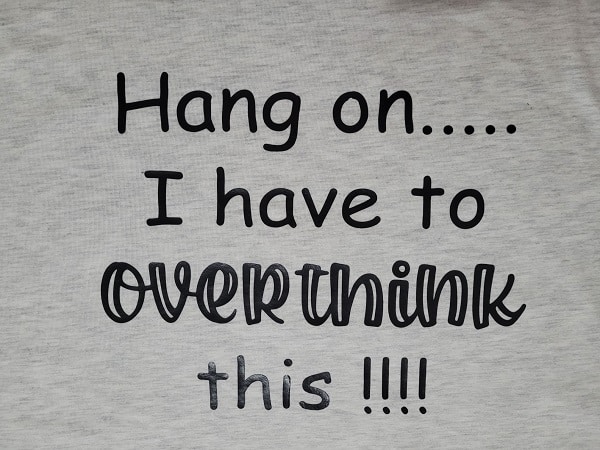 Mistakes, mistakes and yes, more mistakes
Ok, so for some reason this HTV project was thwarted with problems. Do you ever have a bad day crafting? Never fear, there are ways to resolve problems that frustrate you.
There are many, many solutions to resolve some of your crafting fails.
Vinyl T-Shirt issue # one
Remember how I mentioned above to do a test cut? This is particularly important if you are using material that you haven't used before.
When I use my CM model with the manual blade I ALWAYS do a test cut.. but now, with my DX it does not seem so important.
WRONG..
For this project, I used a different HTV than I have previously used. While it is a really nice HTV, it has a slightly thinner carrier sheet and I didn't think to do the test cut. So, even though I set the half-cut correctly the blade cut through the carrier sheet. I had lettering loose and in some areas, completely cut out of the carrier sheet.
The HTV cut file fix
I thought I had a heat-resistant sheet in stock but could not find that. Luckily I had thinner heat-resistant tape which I used to keep the lettering together nicely while I did the heat transfer.
First I used some used normal (non-heat-resistant) transfer sheet to keep everything together while I picked the cut design up from the mat. I then turned it over and applied the heat-resistant tape. Then removed the normal transfer sheet.
It doesn't look the best but it certainly did the job. Let's face it, it is not how you achieve your finished project, it is how it finishes up.
This is a close-up of the tape.
Vinyl T-Shirt issue # two
When the T-Shirt design was cutting out it missed cutting some sections of the lettering. This will simply be because the blade depth wasn't set quite right.
The picture below is of the O. You can see that my Scan N Cut has not cut all the way around. Don't take any notice of the lifted area at the edge of the cut, that was just me picking the centre up with the weeding tool to see if I could remove it.
This problem is able to be resolved too.
HTV fix # two
Fix number two involves an Exacto knife. All I did was cut the missed areas with the Exacto knife. Phew, problem number two resolved.
This solution works in all sorts of projects, both cardstock and vinyl. The Exacto set is definitely a handy tool to have.
Issue # three with the vinyl T-Shirt design
Yep, there was still another issue. I can hardly believe it. Talk about a day of learning. This is exactly what making mistakes are – days of learning.
It has also provided me with the opportunity to share my "learning" with you. A silver lining in a sea of errors.
If you look below, you will notice that the three dots are missing on the bottom of the exclamation marks. sigh.. this was such a stupid error. I had cut the vinyl not quite straight and just missed cutting the complete circles out. They had the bottom edge of the circles missing.
Easy fix # three
I didn't try to fix this prior to ironing the design on to the T-Shirt. I fixed it afterwards.
I went back into Canvas Workspace and used the eye icon to hide the entire design EXCEPT for the small missing dots.
If you upload an SVG file, you may not have the flexibility to hide all the objects that you need to do this however, the FCM version of files have all the small detail of each object.
This is why you will often see the dashed lines import singularly. It is also the reason why you sometimes get that message that small pieces may not be sent to your machine. It can be the tiniest piece that Canvas Spots. Usually makes no difference to the outcome of your project.
It is a great feature to use to your advantage.
In the picture below, you will see that all that is visible of the T-Shirt design is the dots and that is all that will be sent to the machine to be cut. You can cut it on a bit of scrap.
This is before
And this is after the fix – voila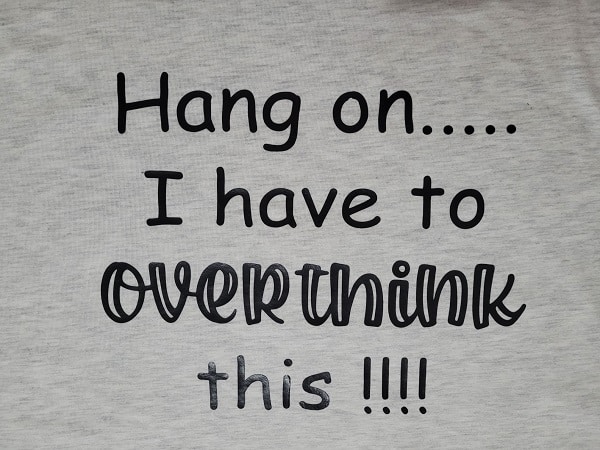 Until next time……
Happy creating,
Join me
If you haven't already, pop in and say hi in our facebook group
Scan N Cut ~ Let's Create With Sue
Before you go…..DON'T forget to subscribe! I would love you to follow my journey helping you create along the way.
Get Started with Canvas Workspace full course
What if you had a step by step, specially formulated, video course that lead your through learning to use Canvas Workspace from the very beginning and right through to being able to create your own amazing designs from scratch.
Yep, you read that right!!.. From scratch!!
The Get Started with Canvas Workspace course uses the downloaded version of Canvas Workspace and will take you from beginner to pro in very easy steps.
Limited special offer.