This post will show you how to clean the scanner glass on your Scan N Cut. There is a video if you prefer plus the step by step tutorial.
When do you need to clean your Scan N Cut scanner? Luckily, it isn't that often however you will know when it is needed because you will notice unusual or unwanted marks when you scan something.
I knew mine needed cleaning when I made one of my posts. There was a dark line down the scanned area which indicates there is something on the scanner glass.
Let's clean it!
Cleaning Your Scanner Video
Step 1
Unplug your Scan N Cut from the power and move it to where you have a bit of room to maneuver your machine. Remove your blade as well.
Step 2
Carefully pick up your machine and flip it over onto it's back. You need to make sure that you hold onto the LED screen otherwise this may pop open and get damaged. Make sure that you lay it down carefully.
Step 3
Once you have your Scan N Cut laying over on its back, you will see a separate section underneath. On the right-hand side, there is a plastic tab that you squeeze together which will allow the section to be removed.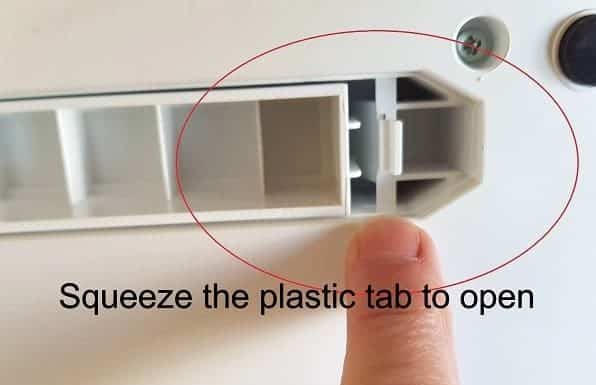 This is the scanner cover. Once you remove it you will be able to see the scanner glass.

Remove the cover.
Step 4
Only use lint-free material to clean your scanner glass. I used a microfibre cloth. DO NOT use a paper towel or anything that will leave 'bits' on the glass.
Dampen one corner of the cloth, make sure it is only damp and no wet. Wipe the Scan N Cut scanner glass gently with the damp cloth.
When you are happy with how clean it is dry the scanner glass with a dry area of your cloth.
Step 5
Put your Scan N Cut scanner cover back on to your machine. Note there is a little piece that slips into a slot.
Step 6
Flip your Scan N Cut back over carefully. Again, watch out for your LED screen as you flip it. Clean any other areas that may need a bit of a wipe.
And you are done!
Wasn't that easy!
I hope that you found this tutorial useful.
Happy creating,
P.S. Remember to check out some of the other posts on this site while you are here.
Join Me
If you haven't already, come and join in the facebook group Scan N Cut ~ Let's Create With Sue.
AND like my facebook page Create With Sue