This tutorial will assist you to update your software on your Scan N Cut. The technical name for a software update is a firmware update.
If you are a proud owner of a Brother Scan N Cut machine, then you need to keep your software up-to-date! Brother regularly releases updates to the software in order to improve functionality and fix any issues that have been reported. In this blog post, we will show you how to update your software – it's quick and easy!
Software updates are released fairly regularly for both the Scan N Cut and Canvas Workspace. If you are interested in how to update Canvas Workspace please see this tutorial here.
This post may contain some affiliate links for your convenience (which means if you make a purchase after clicking a link I may earn a small commission but it won't cost you a penny more)!  Read my very boring full disclosure policy here.
What is a Scan N Cut software update?
A software or firmware update is a free upgrade for your electronic equipment that can improve performance, fix problems, or add new features. For example, when you update the software on your Scan N Cut machine, you might see bug fixes, improved connectivity, or new functions. Updating your software is important because it can help keep your machine running smoothly and prevent issues in the future. In some cases, software updates are required in order to use certain features or accessories. So if you're having trouble with your machine, make sure you're using the latest software version.
Where to find the software update
One of the best features of the Scan N Cut is that it is always up-to-date with the latest software.
Updating the software on your Scan N Cut is a quick and easy process that can be done directly from the machine. Simply connect your machine to the internet and select the "Update Available" button on the main screen. Your machine will then download and install the latest software, ensuring that you have access to the latest features and bug fixes.
What if I don't have internet access?
If you don't have internet available or the connectivity is poor, you can still download the software update for your Brother Scan N Cut machine. You can find the software download file on the Brother support website. Once you've downloaded the file, you can place it onto a USB and install the software update just as easily as if you had an internet connection. We'll go through where to find the software download file in more detail further along in the tutorial.
Update using the WiFi connection on your Scan N Cut.
Below shows a picture of the Scan N Cut SDX2200D with the Update Available blue information button and highlight.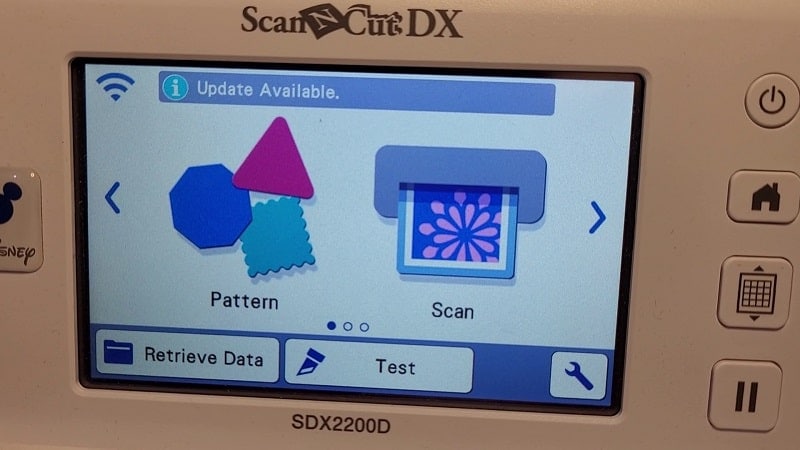 Check your version of the software
Select the Update Available option and you will be presented with the screen below. This screen has information relating to the version of software you are updating from and the version you are updating to. It is advisable to take note of this information in case of any issues you may come across during the update.
Once you click on the blue Update button the software update will then start. My update took around 16 minutes to complete however this will vary for others. Time taken is dependent on the internet connection speed. Once the software update is finished, your Scan N Cut will restart automatically and be ready to use with the new software version installed.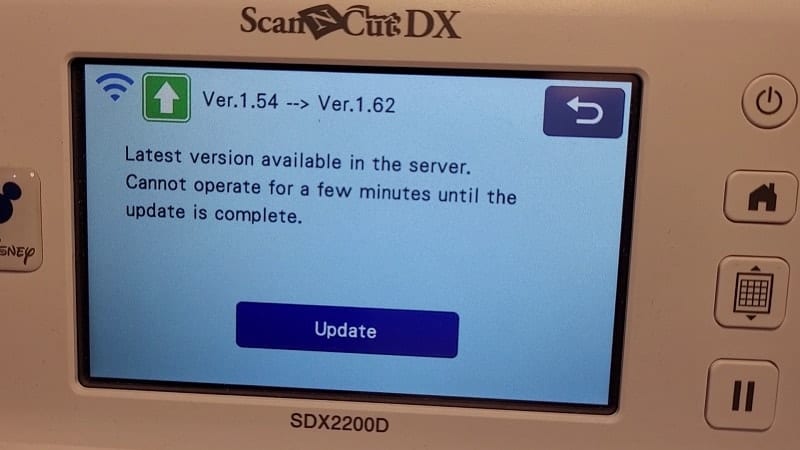 Brother support for the Scan N Cut
One great thing about Brother is that they provide great support for their products. One issue is where to find Brother support can be a bit of a challenge. If you're having difficulty with your Scan N Cut machine or any other Brother product, you can go directly to Support.Brother.com. This is the quickest and easiest way to access support.
On the front page of the site, check that the country you are in is correct. Choosing the correct country ensures you are presented with a page with specific support information for your region. If you need software updates for your machine, they'll be available for download on this page. You'll also find support phone numbers and email addresses if you need additional assistance.
NOTE: There is no reason that you cannot browse the Brother websites designed for other countries. They are not all the same and you can find some unique snippets of info along the way.
Below is a snapshot of the site where you can do a Product Search by categories. The choices include Downloads, Manuals, and FAQ's & Troubleshooting.
To get your software update go to Downloads
Selecting Downloads will take you to the downloads area of the site. There are two ways to search for information relating to your particular model Scan N Cut.
One method is by placing your Scan N Cut's model number into the Search box. This is the quickest way of getting to the software downloads. If you are uncertain of your model's name, you can search using the Search by Product Category further down the page. Simply choose Cutting Machine as highlighted in the picture below.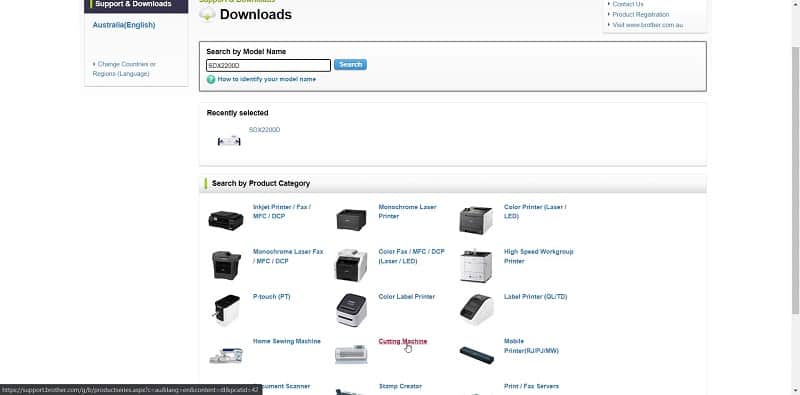 Choosing your operating system version
Choose the correct operating system for your computer. The screens below show the options you will be presented with for both Mac and Windows computers. I have a Windows 10 operating system and would select this option for the download.
Mac choices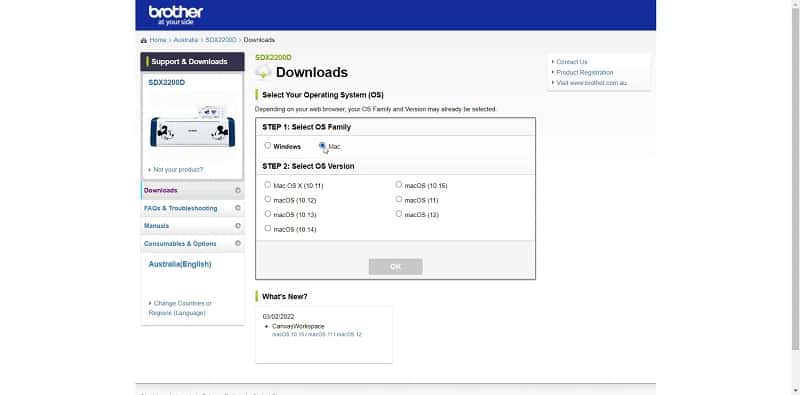 Windows choices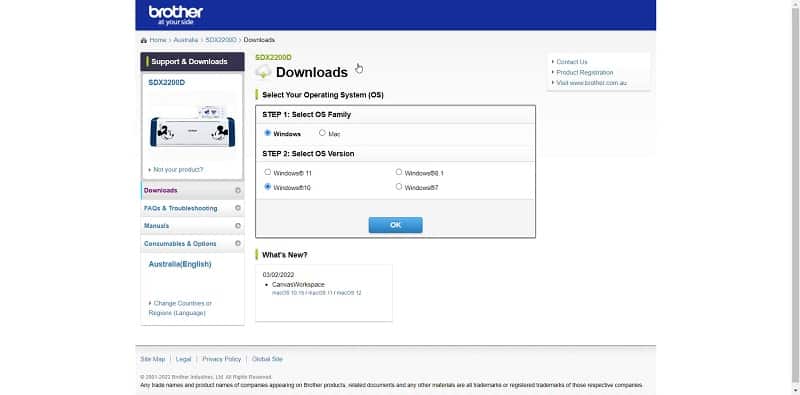 Download the software update file
Yey! There is LOTS of access to troubleshooting and help on this page plus the machine's software update file to download. The file is called Machine's software and a description in the next column provides you with information about the file. The version date/number plus the size are important pieces of information to take note of too.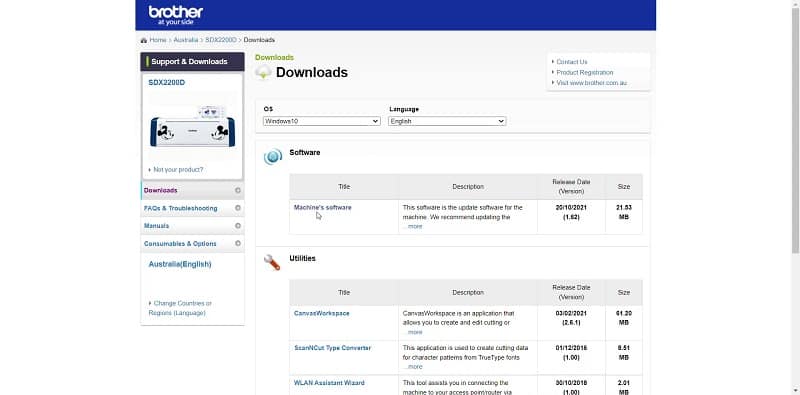 Download the software update to your computer or USB device and transfer the update to your Scan N Cut. The installation instructions are exactly the same as described earlier in the tutorial for the update via the internet.
Video on updating software for your Scan N Cut
Watch my YouTube video on updating your Scan N Cut software. Remember to subscribe to the channel to ensure you don't miss any new videos.
I hope that you have found this tutorial helpful.
Join me on Facebook
Join me in the Scan N Cut – Let's Create With Sue Facebook group. It is a group of awesome craft friends sharing and caring.
I would love to see you there.
Please feel free to ask any questions that you need and while you are here, wander around the website. There are heaps of tutorials to help you on your crafting journey.
Happy creating