Yes, heart cards. I know it is a little early or maybe a little late for Valentine's day however, heart cards can be used for all sorts of occasions. The special thing about these ones are they are available in SVG/FCM/PDF format for you free from the Resource Library.
This post contains some affiliate links for your convenience (which means if you make a purchase after clicking a link I may earn a small commission but it won't cost you a penny more)! Read my full disclosure policy.
What Do You Need?
These cards are really easy to make and can be cut from A4 cardstock.
1 sheet of colored A4 cardstock.
Contrasting scrap cardstock to embellish.
I used 3D Liquid Pearls (they are such fun).
A small amount of foam double sided tape.
A way to cut them out. (I used a Scan N Cut however you can use other means. I have included SVG for Cricut users and a PDF for each card so even an Exacto knife would be ok.)
Download the free template from the Resource Library.
If you are using a Scan N Cut I have included the FCM file for you which will make it super easy for you.
What to do next.
Step 1.
Head over the Resource Library and download the heart card template. If you don't already have the password for the library complete the form below and it will be sent to you. There is no charge.
Step 2.
Once you have the file you will need to unzip it. If you are unsure how to do this check the How to Unzip tutorial out.
Step 3.
Choose the .fcm file and upload it into either the online version of Canvas Workspace or the downloaded version. If you need instructions click here.
The file can be sent directly to your Scan N Cut if you prefer.
Cricut users select the .svg file and upload it into Design Space.
NOTE: the file contains dash lines for the fold. You may wish to change these to score lines in Design Space.
Step 4.
This is how the file will look once it is uploaded. You have a choice of three different cards to make.
Top:- Lattice heart card with flowers on it.
Middle:- Lattice heart card with a big heart in the middle.
Bottom:- Plain lattice heart card.
Remove the heart cards you don't intend to cut out this session. As long as you do not save over the original file they will be still there when you want to make them.
I recommend that you group the card and the dash fold line together of the card you intend to cut out to make sure they stay in line with each other. NOTE: Grouping is usually lost when uploading into the online version of Canvas.
Tip: Move the heart card file to the top of the work mat to where you need it to be once it is uploaded to your Scan N Cut. It is much easier to do it at this stage however if you forget, it certainly can be done on your machine as well.
Step 5.
Send it to your machine and cut it out. I have been setting my blade on 5 for cardstock but this is only a guide. Remember to do a test cut first, making sure that the test shape is cut through properly. This is particularly important in this design as it will be a pain to remove any pieces from the lattice pattern that do not cut through properly.
Tip: Before you remove it from your mat, double check that all pieces have cut through properly. (if it hasn't, cut it a second time)
Step 6.
Now all you need to do is embellish your heart card however you like. I included a butterfly, a heart and a flower outline so you can add them to your design if you would like. Your choices are endless!
I used the 3D Liquid Pearls to add centers to the flowers. Other options for centers could be a small circle cut out in a different color, a small pearl or diamonte would also look nice. As I said, LOTS of options. You can probably think of more!
Show me.
I would love to see your finished projects, either these heart cards or any projects you have completed.
We have a facebook group you are welcome to join too where you get sneak peeks at the new freebies in progress and first access to the cut files. Awesome hey!.
The group is called Scan N Cut_- Let's Create With Sue
I hope that you have enjoyed this tutorial. If you have any suggestions on what you would like me to design or write a tutorial on please let me know. You can either request it on facebook or email me on [email protected]
Happy Creating,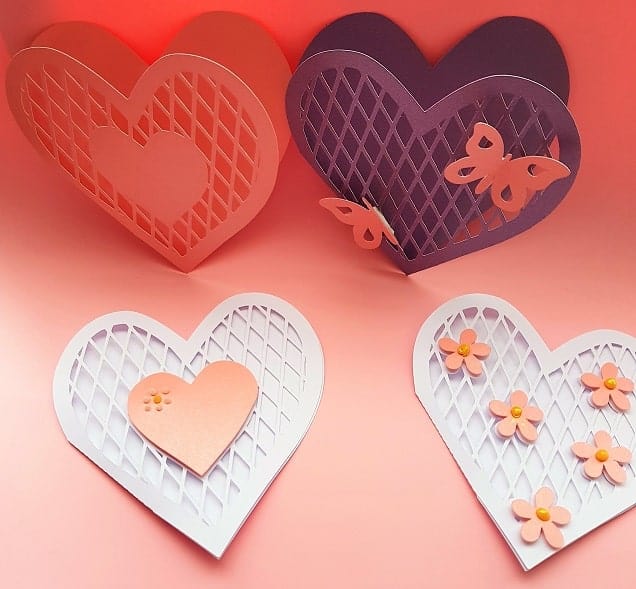 P.S. Don't forget to check out other posts that may interest you on this site.