If you are new to the Scan N Cut world you may not realize that there are TWO versions of Canvas Workspace. Yep, Brother developed two versions! There is an online version and one that you download to your computer.
I know it seems a little confusing that there are two but it isn't really. Let's work through it together.
If you are already familiar with the next steps of accessing Canvas Workspace scroll down to "What is the Difference?" section of the post. Perhaps spot read as you scroll, in case there is something that you didn't know 🙂… cause you don't know… what you don't know, right?. That is the best bit about learning, you never know when you might learn something new. OR navigate with the Table Of Contents
This post may contain some affiliate links for your convenience (which means if you make a purchase after clicking a link I will earn a small commission but it won't cost you a penny more)! Read my full disclosure policy.
How to access Canvas Workspace
I guess this is the first step for you. Accessing the software! You can come back to this step if you want to choose a version of Canvas Workspace before you set up.
Head over to Brother's Canvas Workspace site. The URL (Uniform Resource Locator) is https://canvasworkspace.brother.com/en
The good news is that BOTH versions are absolutely free. Whoohoo! I love free stuff, especially useful free stuff which this software certainly is.
This is what you will be presented with when you follow the URL. The top black download button will enable you to download Canvas Workspace to your computer.
Now, you still need to register with Brother just the same as the online version. I will go into this a bit more for you later in this post.
Canvas Workspace login
The bottom circled area is the login to the online version. If this is your first time click on the 'New' button and set up your account. If you have already set up an account with Brother enter your login details and password to access the software.
NOTE: I find Chrome is the best browser at this moment, if you have a different browser it will work too, however, keep in mind that not all browsers receive information the same. Sometimes a change of browser can fix an issue if you are having one.
Online version of Canvas Workspace
You will be presented with a page FULL of fun projects that Brother has created for you. There are lots and quite fun. Have a look through them and do a little learning on the way.
BUT….. if you are like the rest of us you want to make your OWN personalized projects. Can't blame you! We are creators, let's create :-).
Canvas Workspace Projects
Click on the "New" projects square to start a brand new project. Note the "My Projects" tab that I have circled in the picture. This is where YOUR projects are stored and accessed if you save them to the online storage. You can access them from this screen as a bit of a shortcut to them or from the next screen. Check out both ways.
NOTE: Both versions allow you to save to your computer so you are not restricted to saving online. Your projects are simply not accessed through the "My Projects" tab.
TIP: If you are looking for something that you created a while ago this screen is the quickest.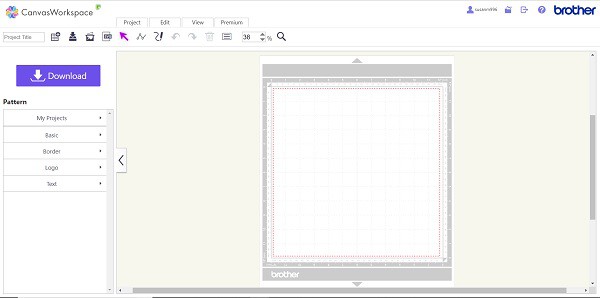 Once you have selected a new project you will be presented with this screen.
The online version is a simplified version of Canvas Workspace. I really like it!
Brother Type Converter
The online version of Canvas Workspace only has a limited number of fonts easily accessible. This is probably one of its biggest drawbacks.
Brother has developed an extra piece of software so you can add more fonts to the online version. It is called Type Converter. Now, Type Converter is a little clunky, but works. I have detailed instructions to step you through and more information below.
Adding an SVG to Canvas Workspace
For the next step in using Canvas Workspace online head to my post on adding a SVG to Canvas Workspace
Before you do that though….read on …..
Downloaded version Canvas Workspace
So you have selected the black download button and installed the downloaded version of Canvas Workspace.
As I mentioned before you still need to register with Brother so create a login and password. When you log in you will see a spot to put a tick in a checkbox to keep you logged in for 7 days. This makes it easy to access the program without having to log in each time.
TIP: If you stay logged into Canvas Workspace download version and there is any downtime with the software, then in most cases, you are not affected. If you are NOT logged in then as you try to access the software it will take you off to check your credentials.
When you open this version of Canvas Workspace you will find the same screen with all the Brother projects as you do with the online version. The main difference here is that you simply close it if you wish to start a new project and your new project mat is sitting waiting for you.
OK, so we are in both versions. Now, what next?
What is the Difference
Well as you will have noticed they look a little different. That's pretty obvious as you look around.
AND… they have icons in different locations. YUP…. no brainer, that's easy to see.
Basically, the downloaded version has more capabilities than the online version. Which in turn, makes it a tiny bit more complex to learn. NOT a lot though so don't let that put you off.
Key differences of the downloaded Canvas Workspace
A couple of key differences in the downloaded version, apart from the aesthetics, are:-

1. The right-hand menu has lots of functions, this includes managing the various layers of your project.

2. It saves natively as a CWPJR file (Canvas Workspace Project file) This is quite an important difference and I will explain more in a moment.

3. Your installed fonts are accessed directly through the downloaded version whereas the online version uses Brothers Type Converter to access them. This is a whoohoo! A vast improvement to the online version.

4. You still have full access to ALL the Brother free projects however they don't come up automatically like in the online version. You access them by clicking on the top left-hand menu icon (circled below).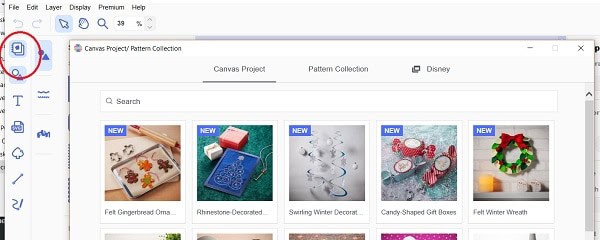 Navigating the Difference
Let's briefly tackle these differences.

NOTE: I have more tutorials on how to do things in both versions of the software and more on the way. Check out Learn How To section of the sites Menu
The Right-Hand Menu

Looking at the right-hand menu from top to bottom, it has 'Properties', 'Edit', 'Layers' and 'Artboard'.
The only section in this area that is not covered in some form in the online version is the Layers section. The rest are simply located differently (aesthetics).
Working with layers
The 'Layers' panel will enable you to access, hide, change and elect not to send to you Scan N Cut various components of your project.
This is a COOL feature and if you are having trouble with manipulating layer one that you will truly benefit from.
You can do all these things in the online version too, however, this version manages it here. The online version is a little more manual on your part. Easy…but manual. 🙂
As I mentioned before…. do not let these things put you off either version. I find both very easy and very effective for most projects.
Let's Tackle the CWPRJ File
Oooh, it looks a little scary but it isn't at all! It is simply the native saving format of the downloaded version of Canvas Workspace. The online version saves natively as an FCM file which is one of the main file types your Scan N Cut will read. It will also read SVG files…
The downloaded version of Canvas Workspace saves as a CWPRJ file.
Your Scan N Cut machine will NOT read CWPRJ files.
Why on earth has Brother used this as their default saving file type? Yeah, I don't know. If anyone does I am happy to be enlightened. Anyway, this is how it is and that is what we work with.
To access the awesome project that you have just created you need to 'export fcm file' to either your USB or computer OR use the Transfer options. All you need is sitting in the circled area of the picture below.
Fonts
The downloaded version of Canvas Workspace directly accesses your installed fonts whereas the online version uses a utility called Type Converter. Both ways are easy enough although Type Converter has a few more steps to achieve the same outcome.
Check out more information in my How to use Brother Type Converter post.
Type Converter is provided by Brother free of charge!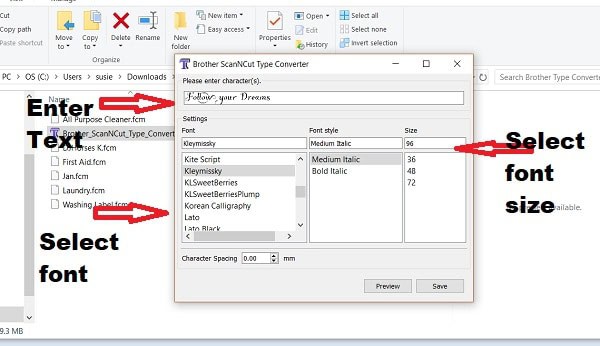 There is so much more to show you. It is a very exciting journey, and perhaps a little frustrating at times. Have look through the website as there are more tutorials and some projects for you to have a go at. I am adding more all the time too. Everything is available free of charge.
Posts that may assist you include:
https://www.createwithsue.com/add-a-svg-to-canvas-workspace/
https://www.createwithsue.com/canvas-workspace-how-to-trace/
https://www.createwithsue.com/canvas-workspace-cheat-sheets/
https://www.createwithsue.com/5-tools-that-you-need-for-your-scan-n-cut/
https://www.createwithsue.com/pop-up-photo-frame/
Alternative software to use for your Scan N Cut
While Canvas Workspace (either version) is great for most of your projects there is more…

If you decide to extend yourself into full-on designing there are more powerful programs available. My favorite is SCAL5 which is fairly inexpensive. There is also Inkscape which is free. Both have a bit of a learning curve compared to Canvas Workspace but have greater capabilities too. Inkscape is not as friendly with our Scan N Cut's as it is with the Cricuts. Bit of a nuisance really but something that can be worked around.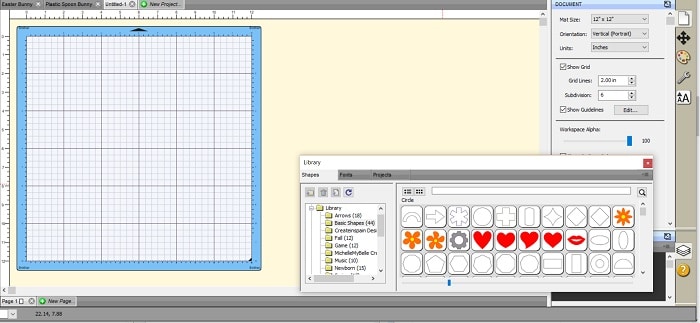 NOTE: To use wifi with your Scan N Cut you still need Canvas Workspace. Neither of the above software incorporates wifi. You would need to download to USB or upload it into Canvas and wifi across. I use the latter so I can double-check how the file has turned out and modify the design if necessary to gain the best result.

I have more information on other software program options and features for you here.
https://www.createwithsue.com/what-to-use-to-create-designs/
I hope this post has got you started on this exciting journey that you are on and provided you a better understanding of the two versions of Canvas Workspace.
Until next time,
Happy Creating!
P.S. If you are not already a member of my group please join us at
Scan N Cut – Let's Create With Sue
and like my facebook page so others can find this information 🙂
https://www.facebook.com/pg/createwithsue1/