This Scan N Cut – Guide For Beginners tutorial is a great way to get you started. The Create With Sue website has a number of tutorials to help you learn to use your Scan N Cut. PLUS a free course. Read on to learn much more….
First step with your Scan N Cut
The very first step with your Scan N Cut is to get it out of the box! Yep… as Nike says… just do it! There is nothing to fear and if you make a mistake it is no biggy. Mistakes are only learning opportunities. Believe me, I still make LOTS!
If you have already been playing and creating you will have already discovered how much fun your new Scan N Cut cutting machine is AND how many different projects you can make with it.
Free Scan N Cut Basics course
The Scan N Cut Basics course is great starter course which covers how to use lots of features of the Scan N Cut. It has been created on a CM900 model, which is a great model and has many features built into it.
CM Models of the Scan N Cut
If you have a CM model then this course is ideal and it will show you how to do so much with your Scan N Cut. While the course is geared to the CM range of Scan N Cut machines if you have a DX you are welcome to wander through. A number of areas are the same with Brother being fairly consistent with the icons they have used across ALL the models.
Did you know you could do all the below with your machine?
Add shapes on your Scan N Cut
Duplicate on your Scan N Cut
Flip and rotate on your Scan N Cut
Loading your mat in your Scan N Cut
A look at your cutting blade
Setting up the drawing tool on your Scan N Cut
The Universal Pen Holder for your Scan N Cut
Using the zoom on your Scan N Cut
Joining Text on your Scan N Cut
Welding shapes on your Scan N Cut
How to save on your Scan N Cut
To find out more and enroll follow this link.
DX Models of the Scan N Cut
If you have a DX model then you may find the above course interesting however the newer DX models have added features.
Here are some "How To" tutorials to get you started.
Easy projects to start you off
Ideally when you first start it is a good idea to do a couple of easy projects to build your confidence. You can start with the in-built designs in your machine OR some of the FREE projects in Canvas Workspace.
Canvas Workspace is the free software that Brother provides to create your own designs. There are two versions of Canvas Workspace. There is the online version which is quite good and then there is the downloaded version which is much more feature rich. It is certainly my choice for most projects.
Find out more about the two versions
Free projects in Canvas Workspace
Yes… you read that correctly. There are FREE projects in Canvas Workspace and they are GREAT to get you started.
Brother update them fairly frequently and include a pdf with some instructions and a short video tutorial on most. They are certainly worth checking out when you are looking for a project.
The above is the selection getting ready for Valentine's day. Fun projects with instructions for a shaker card, cake topper, some cute boxes, and candy shaped boxes to name a few.
NOTE: there is a search bar at the top to enter keywords so you are not doing the never-ending search. (mind you the continual scroll through all the designs takes you on a wondrous journey of inspiration)
More free designs
You will find lots and lots of free designs. I have written a complete post listing a number of them… I possibly haven't even scratched the surface of the free designs out there. Just remember, when you are first learning…. keep it simple.
Information with the really a big list of free SVG files is here
Canvas Workspace Course
Would you like to learn how to use Canvas Workspace?
While most of the tutorials I put together are free, this one is a paid course. It is called "Get Started With Canvas Workspace" and takes you from beginner to pro in very easy steps. It is a great way to get started without having to scramble around hunting for all the tips and tricks.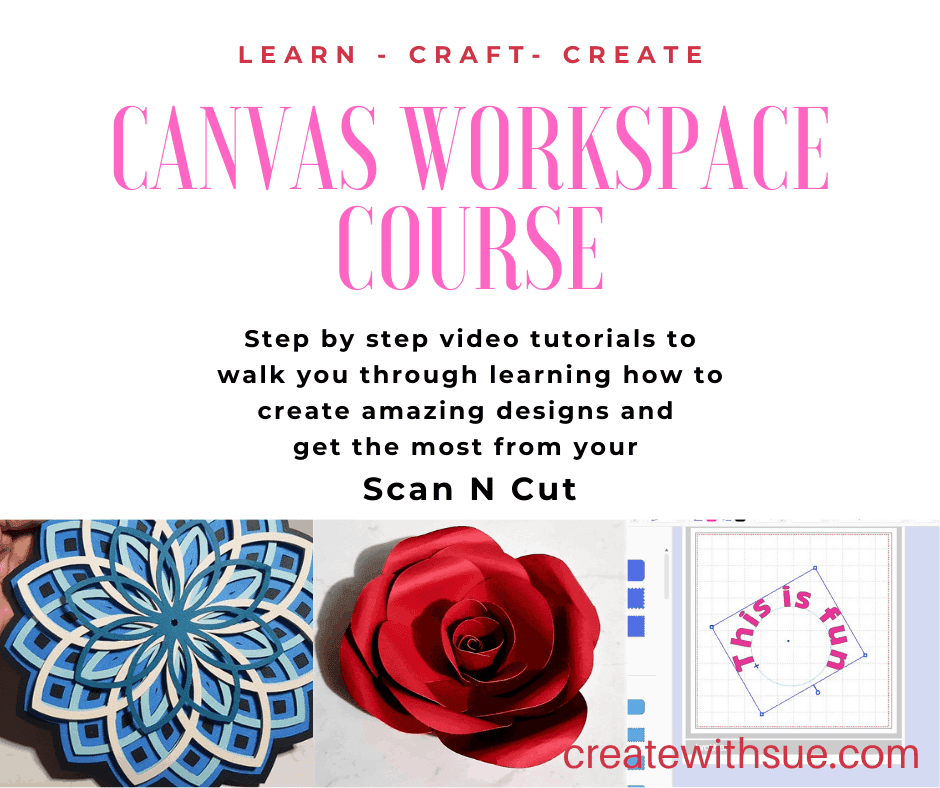 All about the tools for your Scan N Cut
Tools, mats, pens, which ones fit, which do you really need… so many things to learn about.
Mats
Mats are probably the most troublesome item. You need to make sure that you purchase the correct ones for your machine.
Basically the CM mats work in all the CM range of Scan N Cut machines and the DX mats work in the DX range of machines
BUT
They are NOT interchangeable
They are also a little confusing to work out which fits which range when you are shopping for them.
Brother has NOT been helpful in this area with the mats looking very similar to new users.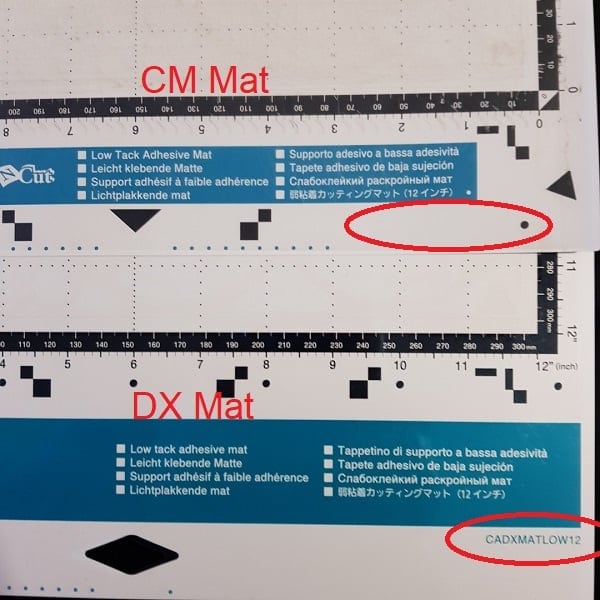 There is a tutorial that shows you how to identify the difference between the mats. There are a few easy to spot differences. I see so many people purchase the incorrect mats it is certainly worth working out which ones you need BEFORE you go to buy them.
Keeping your mats clean is another very important thing to do. You can use alcohol-free baby wipes after you use your mat to help keep it clear of all the fluffy bits that can be left stuck to it after cutting your designs. I must confess I don't always do it after each use however I aim to give them a wipe down very regularly as it really does make a big difference.
AAHHH, and before I forget and you have a very common mini-panic, the blade on your Scan N Cut WILL score your nice new shiny mat as it cuts out your designs. Sad but true! It usually leaves light scratch/score marks in the shape that it has just cut. Do not be concerned!
Helpful tutorials
To help you along, I have created a few tutorials which cover a number of the main pain points. While I have listed a few, don't forget to browse the site as there are many more. Even the projects have a LOT of information included on how to use your machine or Canvas Workspace.
Working with vinyls
Using vinyl, both Heat Transfer Vinyl (HTV) and the adhesive back vinyl is GREAT fun! I love both and they are usually fairly easy to cut for beginners.
So many projects are at your fingertips. To get you started with vinyl, you will find some really handy tutorials on the site.
Making cards
I really like making cards however the funny thing is this is a new phonema for me. I never been much of a fan of cards, either buying them OR making them. This was until I purchased my first Scan N Cut. Low and behold… a sharp change occured and today is a different story.
There are so many unique card designs, from pop up cards, flip out cards, cut out cards, concertina cards, tri-fold cards, box cards, 3D cards, and one of my favorite, the name card.
There are of course many many more and I am slowly working my way through them all. LOL
Join me on Facebook
Join me in the Scan N Cut – Let's Create With Sue Facebook group. It is a group of awesome craft friends sharing and caring.
I would love to see you there.
Please feel free to ask any questions that you need.
Happy creating

Recent Posts
PIN IT

!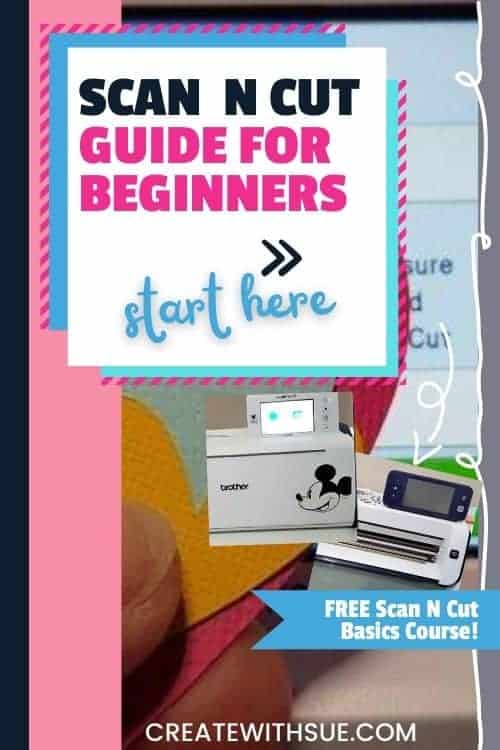 PIN IT !