Duplicate patterns and designs in Canvas Workspace easily with the new "Fill To Page" feature that Brother has included in the software version 2.6.0. This is a really handy feature when you want to create multiple copies of a single design on the Canvas Workspace design mat.
This tutorial shows you exactly how you can use this feature.
This post may contain some affiliate links for your convenience (which means if you make a purchase after clicking a link I may earn a small commission but it won't cost you a penny more)!  Read my very boring full disclosure policy here.
How to check what version Canvas Workspace
The "Fill to Page" feature is available in version release 2.6.0. If you cannot see the feature shown in this tutorial, check what version number you are using. To do this go to the Help on the top menu and then the "About Brother Canvas Workspace" menu selection at the bottom of the dropdown.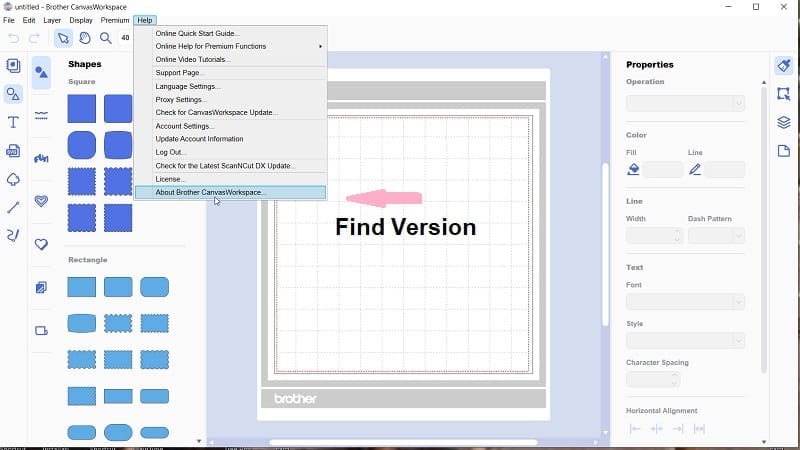 It will present you with the "About Canvas Workspace" box which will confirm the version you are using.
The below picture is showing the version release 2.6.0 which has the duplicate images "Fill to Page" feature included.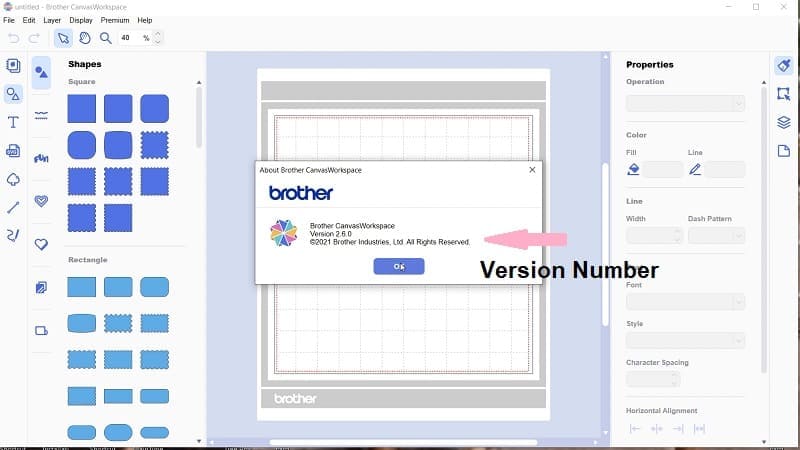 If you do not have this version or higher, you will need to update your Canvas Workspace to the newer version. Here is information on how to update Canvas Workspace (downloaded version).
How to duplicate patterns – Fill to Page
Ok, let's look at what the Fill to Page feature can do. As you will have already worked out, it duplicates your design.
To do this add your design to the Canvas Workspace design mat. You can choose what size Artboard you would like. The new feature will work with all your choices available to you. If you have the Print to Cut activation or the Premium Sticker feature card enabled, it works with these too!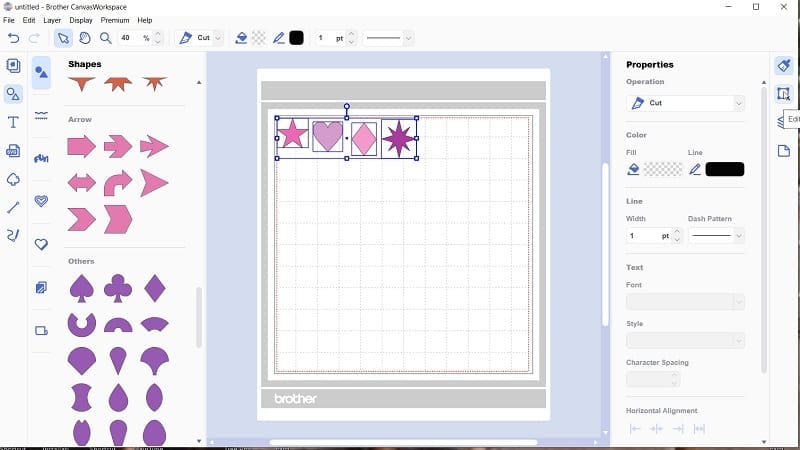 As you can see, I have added a selection of shapes ready to duplicate.
NOTE: You are not restricted to shapes, you can duplicate any patterns that you place on the design mat.
Fill Page icon to duplicate the pattern
Highlight the designs on your mat and go to the Edit Panel as shown below. Then, click on the Fill Page icon to duplicate.
I have added four different images for this demonstration. The Fill to Page feature works with one solitary image as well.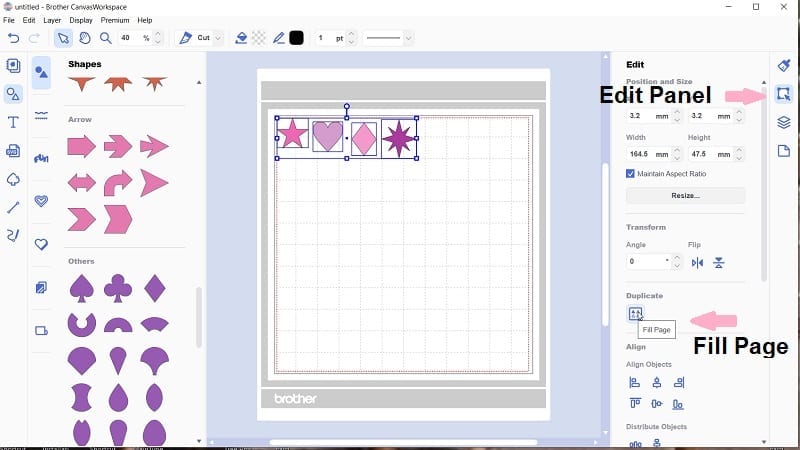 Magically, your page will be full. If I had added a couple more shapes then the entire mat would have been filled.
What to make with this feature
Well, you can make anything that you can think of. I made a flower pot years ago with about 50 small flowers pinned into a foam ball, this feature would have been handy to duplicate the many flowers needed to make the project.
Maybe you are making crafts to sell at a market or for Christmas gifts. Duplicating files for these would be a great time saver. What about Christmas cards and card embellishments.
I created an earring pattern which is available free in the Resource Library, this is another project that you could duplicate the design and cut many earrings at one time.
Labels for essential oils roller balls or spray bottles is another one of my favourite gifts.
The above picture is the earring pattern duplicated to make many pairs of earrings for gifts or sale.
Enjoy this new feature!
Happy creating,

Join me
Join me in the Scan N Cut – Let's Create With Sue Facebook group. The group is full of awesome new friends to share your projects and problems with. Sharing ideas will inspire you to create.
We would love to see you there.
Check out my other tutorials
While you are here, don't forget to check out my other posts. There are heaps of helpful information in them.
Have you wondered about how to create DIY labels at home? Using a Munbyn thermal…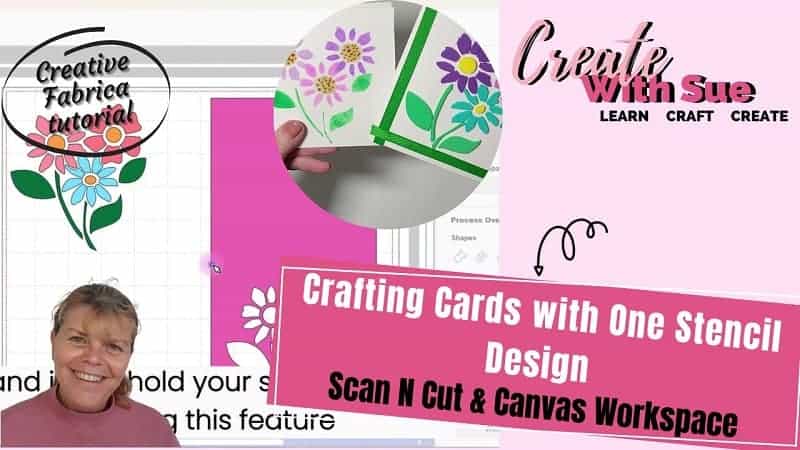 I was invited to create a Scan N Cut class for Creative Fabrica. Crafting Cards…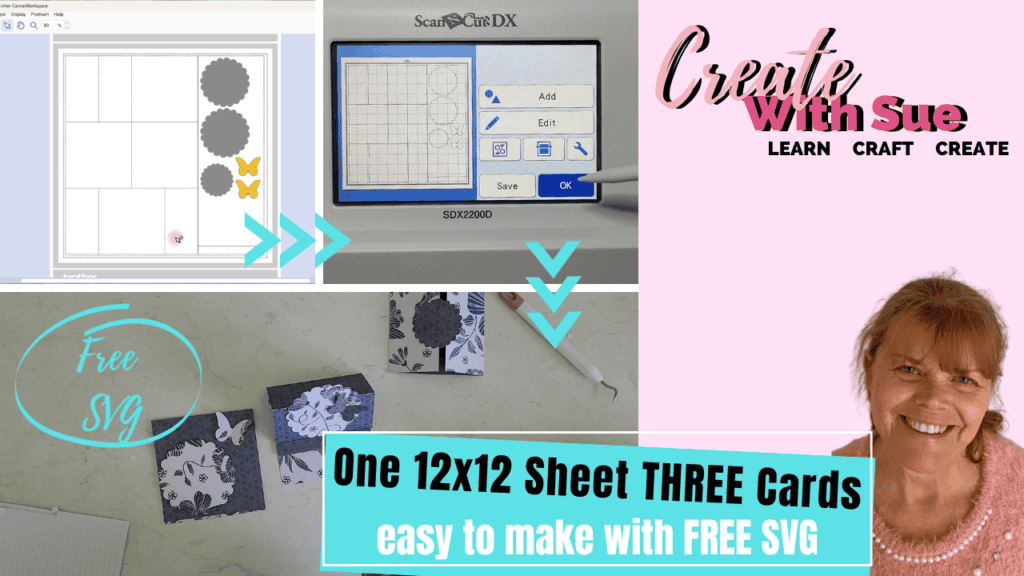 Discover the endless possibilities of the One Sheet Wonder card technique! In this article, we…