Want to know how to sublimate without a printer? I have some answers for you as we move through this tutorial including how to use your Scan N Cut or Cricut to assist you with creating your own unique sublimation designs.
This post may contain some affiliate links for your convenience (which means if you make a purchase after clicking a link I may earn a small commission but it won't cost you a penny more)!  Read my very boring full disclosure policy here.
Supplies you need to sublimate
Heat press and/or mug press (a dry iron at a pinch but not recommended)
Sublimation paper – can be pre-printed for you if you don't have a sublimation printer
A design for your project
Sublimation blank for you to create your project
Heat resistant tape to tape your design down firmly
HTV or Sublimation
Choosing between HTV or sublimation requires some understanding of the different techniques. While BOTH can be made by cutting designs with your Scan N Cut or Cricut and using heat to finish the project, the end result is quite different.
What is HTV
HTV is a specially designed vinyl that can be used with an iron or heat press to create custom designs on fabric. It's perfect for t-shirts, tote bags, hats, and more!
HTV comes in a wide variety of colors and styles, so you can really let your creativity shine. And because it's so easy to use, anyone can do it! Just create your design, cut it out with an electronic cutting machine, and then press it onto your fabric using an iron or heat press. It
PRO's
Great for personalized gifts
HTV is readily available.
Easy to cut with your Scan N Cut, Cricut, or Silhouette cutting machine.
Comes in a multitude of colors, including plain, patterned, holographic, and so on.
Presses with a heat press or dry iron (using a dry iron has some disadvantages).
Can be added to any material of any color that will accept the heat required to adhere the vinyl
CON's
Many brands of vinyl have a plastic-like feel when finished, some more so than others.
Vinyl can lift off or deteriorate on surfaces like mugs etc with washing, especially fine cut lines.
To create multicolored designs you usually need to layer different colors to achieve the desired results. There are also printed types of vinyl available.
Success is determined by time and temp used.
NOTE: the above list will not stop you from creating awesome projects with HTV. I personally love HTV projects and am simply highlighting the difference between a project created in HTV and created using Sublimation.
If you would like to find out more about HTV projects and how to make them here are a couple of tutorials. The Beginners Guide is a great starting tutorial to find out more about both types of vinyl.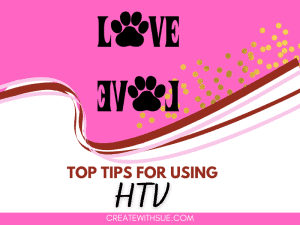 The Top Tips for using HTV tutorial is aimed at assisting with troubleshooting any potential issues that you may have creating your vinyl projects.
What is Sublimation
Ok, let's move on and focus on sublimation and how to create with it. Sublimation is a printing process that uses heat to transfer dye onto a material. The sublimation process includes using special 'heat activate' ink which is printed and applied to a suitable sublimation surface with heat. The heating process changes the ink into a gas that embeds or infuses into the sublimation blank material.
It's a popular choice for printing on polyester fabric and plastics, as well as ceramic mugs, coasters, and other hard surfaces. The advantage of sublimation over other methods is that the image becomes part of the material, rather than just sitting on top of it.
With sublimation, your images are actually infused into the fabric of the product, resulting in a vibrant, beautiful finish that will last wash after wash. This makes the image more durable and resistant to fading.
Not only is sublimation incredibly durable, this printing technique also allows for full-color, photo-quality images to be transferred onto fabric or other materials. So if you're looking to really make a statement with your printed products, sublimation is the way to go.
If you're looking for a way to make your designs stand out, sublimation is the way to go! And the best part is that the colors are bonded with the material, so they won't fade or peel over time.
What are the advantages of sublimation?
First, it's a great way to add a personal touch to your design. Whether you're looking to create a one-of-a-kind gift or promote your business or organization, sublimation allows you to do that.
This printing technique allows for full-color, photo-quality images to be transferred onto fabric or other materials.
What are the disadvantages of sublimation?
One of the biggest disadvantages of sublimation is the fact that it can be very unpredictable. Because the image is printed onto the material using heat, there is always a possibility that the image will not turn out exactly as you had hoped. This can be extremely frustrating for people who are trying to create perfect prints.
Another disadvantage of sublimation is that it can be quite expensive to initially set up. The equipment normally needed includes a dedicated printer and a heat press.
Next is that you are a little restricted on the type of material that will accept the sublimation process. The sublimation process works best on a white or very light background and will not show up on dark colors.
NOTE: Read on to find out how to create some awesome designs without the need for your own printer.
Pros and Cons Overview of sublimation
PRO's
Great for personalized gifts.
It is very durable.
Perfect for full-color, vibrant designs. Even photo quality designs!
It's fast and easy. With sublimation, there's no need for lengthy set-ups.
Designs created are only limited by your imagination.
You can purchase custom sublimation paper.
CON's
It can be expensive to initially set up.
To print your designs so they turn out as you expect can be a learning curve.
Results depend on time and temp used.
How to sublimate without a printer
If you would like to have a dabble in sublimation there are alternatives to purchasing your own sublimation printer. These are a few ways that you can sublimate without a printer.
Using Cricut Infusible Ink pens and your Scan N Cut or Cricut is another way to sublimate without a printer.
Pre-printed sublimation papers
Bright Star Crafters
Bright Star Crafters is an Australian company that will deliver internationally. They have HTV vinyl, adhesive vinyl, sublimation blanks, preprinted sublimation papers AND the most exciting is CUSTOM sublimation papers.
I have purchased both the pre-printed and the custom sublimation paper. BOTH have turned out really impressive. So much so, I have been hooked on sublimation ever since!
Their sublimation paper is a good weight and has been cutting really well with my Scan N Cut. The Bright Star Crafter team is predominantly Cricut users so they have plenty of tutorials for anyone using a Cricut too.
Custom printing is a perfect way to create very personalized designs.
Sublimation paper is quite dull-looking until it is heat-activated onto a sublimation blank. The heat changes the ink into gas and infuses it into the sublimation medium. Then the colors POP!
Creating mugs with patterned or custom designs
For regular mugs – HTV is OK and I have even used adhesive vinyl. Aim for thicker text and designs as the thinner lines are more likely to show wear and maybe come off after a few washes.
Sublimation takes creating mugs to a whole new level!
The patterned papers can be applied as is or use your cutting machine to create something a little more unique. This one I created for my Mum and added a matching coaster. Sublimation blanks for coasters are very inexpensive and probably the easiest item ever to sublimate.
The sublimation mug and coaster were created using Bright Star Crafters printed sublimation paper and my Brother SDX2200D to cut out the design. To create sublimation designs, you need to remember to mirror your design, much like when you create a HTV design.
Isn't that small floral print just the cutest design!
Adding a gift box
I created a similar one for my Dad (cause I couldn't make just one LOL) and boxed them as gifts. My Mum's was part of her Mother's Day gift and Dad's was because he has had a tough time with Chemo.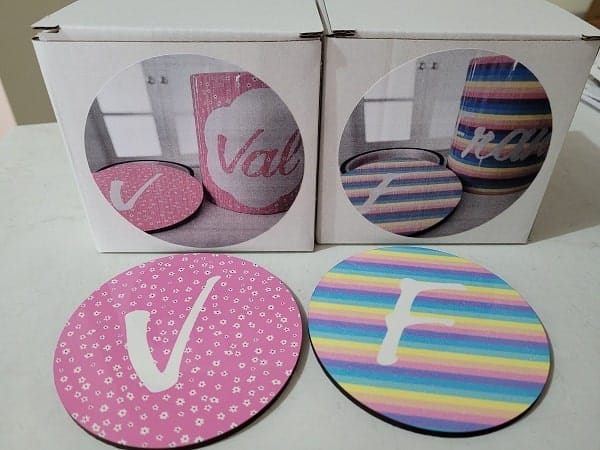 This gift can be personalized even further by taking a photo of your project and printing on a normal printer using sticker paper. Remember when purchasing sticker paper to select the correct type for your printer, either inkjet or laser. I then cut the picture out using the half-cut setting on my Scan N Cut and stuck it onto the front of the mug box.
Many mugs and sublimation blanks that you can purchase come with their own gift box. When browsing through your sublimation blank choices, this is something you might need to consider if you want it included.
Designs
As I mentioned previously, the custom designs were fantastic. So vivid!
I cut the shape around the picture out with my Scan N Cut on these mugs I created. If you do not own a cutting machine never fear, you could cut these out with a pair of scissors!
You may recognize my beautiful Alpaca "Fudge" on the mug below from the jigsaw tutorial I put together earlier this year. He is such a gorgeous boy. Aren't the colors absolutely fantastic? I particularly love the green (oh, and my Fudgy)
Other places to find sublimation designs
Creative Market
There are so many places to find sublimation designs. These include places like Creative Market. They have a large number of choices, particularly for sublimation.
Creative Fabrica
One of my favorite sites is Creative Fabrica. Do a search for sublimation designs and a huge number of designs appear. I find the Creative Fabrica site a little less expensive than Creative Market and have a membership account on this site.
Design Bundles
You cannot go past the Design Bundles site for any designs. They have a huge range of designs including specific designs for sublimation.
Other sites include Etsy and individual creators' websites.
Wrapping up this quick look at sublimation
As you may have already gathered, I have become a huge fan of sublimation. So many items can be sublimated which is absolutely amazing.
While I started off being able to sublimate without a printer I have become HOOKED. I recently purchased a Sawgrass SG500 sublimation printer and have been traveling down the sublimation path big time. The Sawgrass printers come with two different types of ink and mine was with the UHD ink as opposed to the Siser.
Many crafters convert Epson EcoTank printers into sublimation printers. This is a cheaper option but not the one that I chose.
Sublimation is a great way to create personalized gifts and items without the need for a printer. Let me know in the comments below what you think about sublimation.
I will put more tutorials together when I get a chance and include why I chose the printer that I did.
Happy creating

Join me on Facebook
Join me in the Scan N Cut – Let's Create With Sue Facebook group. The group is full of awesome craft friends sharing and caring.
I would love to see you there.
Feel free to ask any questions that you need in the group. While you are on this website, please take the time to wander around as there are heaps of tutorials aimed at helping you along your crafting journey.
Feedback to improve the site is ALWAYS welcome and you can contact me at [email protected], I would love to hear from you.
FAQ
1. Can you sublimate without a printer?
YES, there are a number of ways to sublimate items. These include infusible ink papers, pre-printed sublimation papers, Infusible ink pens, and Acrylic sublimation paints.
2. What are you able to sublimate on?
When it comes to sublimation, you're not limited to just shirts and mugs. In fact, almost any type of object can be sublimated as long as it's made from the right material. The most common sublimation blanks are made from polyester or polymers, but you can also sublimate onto coated wood, glass, ceramic, and even metal. As long as the item you're trying to sublimate is made from a heat-resistant material and has a coating suitable to be infused with the sublimation ink, you should be able to achieve good results. You can even sublimate on items coated with a laminate sheet.
3. Is it better to have a sublimation printer?
While it is definitely nicer to have your own dedicated sublimation printer, it is not necessary for many crafters who simply want to dabble with the odd sublimation project. Companies like Bright Star Crafter can supply awesome pre-printed sublimation papers and custom-printed papers. This is the best of both worlds for many.
4. Can you use your regular printer for sublimation printing?
NO, sublimation requires a dedicated printer as it uses a specific heat-activated ink. The Epson EchoTank model printers can be converted into sublimation printers however they cannot have had regular ink installed in them. The EchoTank range does not have ink cartridges and uses a refillable ink tank system which is suitable for the special sublimation inks.
There are a number of dedicated sublimation printers on the market including the Sawgrass SG500 and SG1000models (worldwide) and sublimation printers from Epson. Models include the Epson F160 (Australia), Epson F170 (USA), or Epson F570 (USA) and for the UK you might investigate the Epson SureColor SC-F100.