Do you love working with vinyl! Like a bit of a guide? Well, I have put together this beginner's guide to working with vinyl to help you through the myriad of choices.
Let's look at types of vinyl
There are two main types of vinyl that you can use. These are adhesive vinyl, normally referred to simply as vinyl and Heat Transfer Vinyl or HTV. Each of these types has variations from glitter vinyl to printable vinyl, then indoor and outdoor vinyl, commercial grade vinyl. Then there is hot-peel iron-on HTV, cold peel iron on HTV, patterned vinyl, printable vinyl, metallic, flocked, holographic and it goes on…sheesh..it is no wonder our eyes glaze over trying to work our way through the array of choices.
This post contains some affiliate links for your convenience (which means if you make a purchase after clicking a link I may earn a small commission but it won't cost you a penny more)! Read my full disclosure policy.
Outdoor and indoor vinyl
Let's tackle this section first.
Every beginner's guide to working with vinyl needs to start with some clarification.
So, let's clarify!
Broadly speaking – indoor = removable and outdoor = permanent.
Outdoor or permanent is the vinyl I personally seem to use the most for LOTS of things. My favorite being vinyl signs although I was stoked how the design of a horse I put on my horse float turned out too. We did the float up about two years or so ago and it is still going strong living out in the hot, harsh Australian weather day in and day out.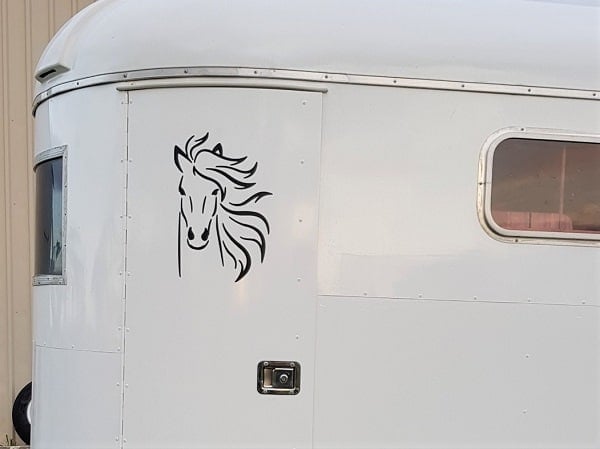 Scan N Cut and Cricut brand
Made out of Scan N Cut's vinyl, the horse design in the picture above was one of my very first vinyl projects. I made a reverse of the horse design aswell and placed one on the other side of the float (so both horses were facing forward).
I have also had really good success with Cricut brand vinyl however I know some crafters are not keen on the Cricut brand at all.
Cricut Transfer Sheet – I found their transfer sheets were too sticky and a pain to get my design off the transfer sheet and onto my project. Less sticky transfer sheet, in most cases, was easier although if you are transferring glitter vinyl a stickier one will be the better choice.
Alternatives -You can even use cheap dollar shop clear contact. Masking tape is another option. There are lots of cost-effective choices when looking for transfer sheets.
AND…don't forget, you can often use the transfer material a few times. I was doing labels and managed to use the transfer material three and four times. (Then it only failed because I got in a mess and stuck it to itself and had to get a new piece)
Oracal
Now, when we talk about outdoor vinyl the most popular and widely recommended vinyl is Oracal 651. EVERYBODY seems to love this vinyl so this one is well worth a try and it comes in a myriad of colors with a choice of gloss or matt. You can also purchase it in a range of sizes, from (30cm x 30cm) 12″ x 12″ sheets to (30cm) 12″ wide rolls and I also noted it was available in (60cm) 24″ wide rolls.
Oracal 631 is the indoor version of their product and is classed as "removable". This one might be the one that you would put up on the wall however, I haven't been game enough to try it just in case it takes the paint and gyprock paper off when you remove it. I will be game and give it a go one day I guess.
While you may see other 'numbers' associated with Oracal products the above two are the most used by crafters.
Unbranded
The next one I want to cover is a 'no name' brand that I purchased on eBay. It is 24″ wide and manufactured more for commercial applications. It was SUPER cheap to purchase it and it has been fantastic. One of my best buys yet!
Where I am going with this is you do not have to buy expensive brand name vinyl for it to work well. One thing to look for is thickness, if it is too thin it isn't nice to cut and it can be tricky to work with.
Another option for cost-saving while we are tackling that, is to approach commercial sign makers to see if they have any offcuts or scraps. What is scrap to them is a treasure to home crafters.
Signs can be done with either indoor or outdoor vinyl however if you are going to put them out in the weather outdoor would be the one to use.
Here are more ideas on what to use vinyl on. There are lots of ideas and I keep adding to it.
How to use indoor/outdoor vinyl
Vinyl reminds me of the contact that we used to cover our books with when I went to school only thicker. It has a backing sheet that is removed just prior to placing your design on your project.
Steps to working with vinyl
Choose your design and load it into your machine
Kiss-cut the design out of the vinyl ( Kiss-cut is cutting through the vinyl layer ONLY and not the backing) TEST CUT!
Place transfer tape or sheet onto the top of the weeded vinyl
Lift vinyl off the backing and place onto your project
Press down firmly so that it attaches and gently remove the transfer sheet
Follow the links above if you would like more information on these steps.
Other posts with instructions that cover working with vinyl are:
Heat Transfer Vinyl or HTV
HTV is for items that you can attach it to by heating both the material and vinyl up so that it bonds together.
NOTE: this vinyl is usually referred to as HTV as opposed to 'vinyl' which normally is associated with indoor/outdoor vinyl.
It can be used on
Clothing – T-Shirts, windcheaters, onesies, bibs, baby items
Socks
Mugs and tumblers (you can use permanent vinyl on these also)
Aprons
Tea Towels
Bags
Really anything that you can heat up to bond the HTV to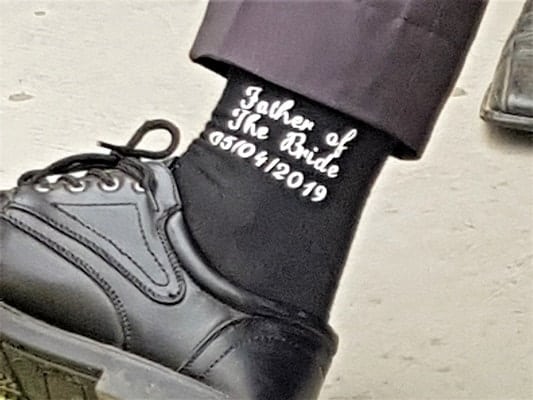 The biggest thing to remember with HTV is that you need to reverse your design to cut it out. It kinda works back to front to the non-heated vinyl we went through above. This is particularly important if you have writing on your design, if it is just a picture, you may get away with having it back to front.
HTV has it's own 'built-in' transfer sheet which is the side that is placed on the mat when you are cutting it. The transfer sheet is usually the shiniest side however occasionally this is a bit hard to determine. When cutting HTV you still use a kiss cut so as to leave the transfer sheet in one piece.
Brands of HTV (Heat Transfer Vinyl)
As you guessed, there are lots of brands to choose from in the HTV range.
Siser brand vinyl
A favorite amongst crafters is the Siser brand as it is one of the easiest to work with. (Pronounced See-Zur)
SISER EasyWeed Heat Transfer Vinyl
SISER Glitter Heat Transfer Vinyl
Siser EasyWeed Stretch Heat Transfer Vinyl
SISER EasyWeed Extra Heat Transfer Vinyl
SISER Holographic Heat Transfer Vinyl
Siser EasyPatterns Heat
Flock Heat Transfer Vinyl
Printable Heat Transfer Vinyl
NOTE: the info above is not necessarily a recommendation.
Transfer Vinyl
SISER StripFlock Heat Transfer Vinyl
Siser EasyWeed Adhesive Heat Transfer Vinyl
SISER EW Glow in the Dark Heat Transfer Vinyl
Logical Color Heat Transfer Vinyl
EnduraTEX Heat Transfer Vinyl
Chemical Heat Transfer Vinyl
This list I got off SignWarehouse.com and it is LARGE isn't it! Scarily large when you are trying to choose what to buy and even more scary is that I found more than what I listed here!
I have left the site's links in the post so that you can follow the link to find out more about the HTV however be warned …. the links go to MORE variations making it even more confusing what is best to buy.
Don't let this confuse you!
Take a step back….
All you need to think about is the effect that you are after and then make sure you follow the bonding instructions. So, if you want a glittery effect then choose one that states glitter. If you want shiny metallic then a metallic one and so on which is much easier to get your head around. You get the idea.
While the Siser brand is popular it is by no means the only one you should consider. Test out a few brands, buying a smaller quantity to start with, and then when you find what you are happiest with you can purchase larger quantities.
Oracle is another very popular brand.
Bundles of vinyl
A great way to purchase is in bundles which usually come in smaller cut pieces so you can give it a try. Some crafters even purchase mystery bundles which are actually quite fun as you get a surprise when you receive it.
The downside with the ones that I have purchased has been limited or NO instructions, so a bit of guesswork was required. Still fun!
This T-Shirt has a combo of metallic HTV and plain HTV on it. Both rocked up in a bundle with a number of other 'sample' pieces of HTV.
Common issues with HTV
There are a few common issues when using HTV.
Forgetting to reverse HTV
The most common is forgetting to reverse it. Crafters have used various techniques to MAKE them remember to reverse the design including notes on their cutting machine (some of these applied permanently with vinyl), notes on their HTV roll, notes in their designs. If you are likely to forget to reverse your HTV…make a note… in the best place to suit you.
Timing
The next common issue is how long to heat the vinyl. I recommend that you heat your fabric you are about to place your design on first, then place your weeded HTV design onto your fabric and heat for the time recommended on the wrapper (if it had one) of your HTV. Unfortunately not all HTV comes with instructions however try to find a guide on heating times to match what you are using and whether it is a hot peel HTV or a cold peel HTV.

NOTE: Hot and cold peel is exactly as you think, peel the transfer sheet off either when the HTV is still warm or has gone cold. If you receive these instructions with your HTV, make a note on the vinyl so that when you pick it up next time to use it you can tell what it is. It is soooo hard to work out what HTV is what otherwise.
Pressure
The amount of pressure (or lack of it) can also affect your end product. HTV doesn't really like a rubbing ironing type effect. You are better off placing your heat with steady pressure, moving as little as possible.
Layering
If you have instructions that come with your HTV I recommend reading and following them. For example, you normally can't overlay standard HTV over holographic or metallic HTV even though it may look ok. You risk it coming off in the wash!
The use of registration marks can assist you with the alignment of layers. Registration marks are simply a small mark cut in the vinyl of each layer that you can use to line up the different layers.
Remember to remove the registration marks BEFORE you bond your HTV to your project.
Which side to place on the mat
The shiny side is normally the transfer sheet side of HTV. Sometimes working out which side is the shiniest side can be a challenge. If it comes on a roll, then the side against the cardboard insert (the inside of the curl) is usually the transfer sheet side.
If you have problems working out which side is which, test the HTV by cutting a small test piece. It is the side that will peel the easiest. You can use the test shapes of your Scan N Cut to do this in the corner of your HTV.
It is a good idea to mark your HTV once you are sure which side is which.
More Top Tips for HTV
I have another tutorial with more information on sorting out issues and some step-by-step instructions.
Cricut app may help
The timing is often guesswork and experience. If you can locate the suggested or recommended settings then you are in front!
I found that the Cricut site had a cool app that provides you a guide to time and heat. So if you have Cricut Easy Press check it out!
The above picture is HTV on bags. Pressure and time are critical in getting your design finished to perfection.
You can see 'Jan' has some of the fabric showing through the HTV. In my mind, I left the heat on a little long whereas 'Roy' was timed much better. Some crafters suggest leaving the heat on until you can see the texture of the backing through the HTV. It is a fine line to follow. If you don't leave it long enough you risk it not staying on the fabric through wash after wash.
What to use to heat HTV
I have been using an iron to heat the HTV and bond it to my projects however this is definitely NOT the best choice. If you can manage it and are planning to do a lot of HTV projects then I would recommend getting a device that is designed specifically for pressing HTV.
Choices are Easy Presses by Cricut which come in a few sizes and designed specifically for the home crafter or there are bigger Heat Press devices, some of which come with all sorts of fun looking attachments. These are suited to the home crafter and someone who is planning to sell their creations.

Cricut Easy Press 2
Cricut products are compact and great for crafters with limited space.
On the right – the Swing Away takes a lot more space in your craft room.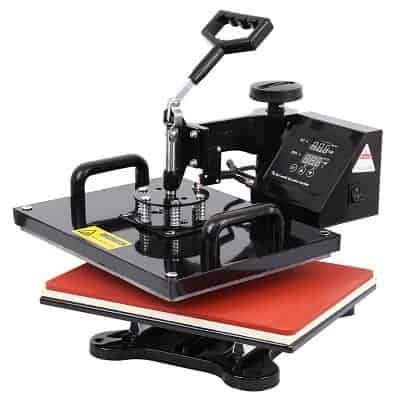 I found this site that has put together a pretty good comparison between the Swing Away and the Clamshell.
Where to buy vinyl
There are so many places to choose from that you can buy vinyl from. I will do my best to provide a list and will add to it as I can.
NOTE: While I have used a few of these sites these links are not necessarily recommendations, simply an easy way for you to find HTV and Vinyl.
USA
Walmart

ThreadArt – has a lot of blanks too (kindly shared by Robin)
Australia
UK
Hope this beginner's guide helps you work with vinyl. It is such a fun medium to use and can make AMAZING creations.
Join me on Facebook
I would love you to pop into my Facebook group and post some of your creations.
If you have any recommendations on the best places to buy vinyl in your country, let me know and I will share it with readers. You can either leave me a comment below, email me at [email protected] OR post a message in FB.
****SPECIAL thanks to some of my UK group members for their suggestions and questions which has triggered this post.
Happy creating,
P.S. Remember to check out some of my other posts.