School is about to go back here so it is time for back to school labels so those lunch boxes and drink bottles look schmick and everyone knows who they belong to.
Today we will go through making your back to school labels for a lunch box, lunch bag, and a drink bottle with your Brother Scan N Cut or Cricut. We will also look at the potential problems you may come across labeling these.
These are some of the ones that I did. The kids watched carefully as I transferred their names onto the lunchboxes and bottles transforming them from boring to amazing in minutes. Talking with Jacob who is the oldest, I said to him that no-one else would have a lunch box labeled exactly like his!
His response was that there was another Jacob in the class. … my reply? This label was made especially for you and there is not another exactly the same.
This is the wonderful thing about crafting and being able to cut out your own labels and awesome designs. No one else, even if they have exactly the same file, will make it identical. There will be something different..size, color, font, placement, all made with your LOVE. The wonderful world of craft!
What back to school labels are needed
There are numerous items that can be labeled and when the kids are heading back to school it is evident what you NEED to label. That will be EVERYTHING as you can guarantee it will get lost or misplaced at some stage OR someone will have bought the identical item for school.
Things to label include:
Lunch bags
Lunch box
Drink bottle
Schoolbag
Books, Pens, and Pencils
Rulers, calculators etc
Jumpers
T-shirts
Socks (and maybe shoes?)
This is a big list, isn't it! You may even think of more items.
Types of vinyl for your back to school project
As you may know, there are two types of vinyl, the normal adhesive vinyl and Heat Transfer Vinyl or commonly referred to as HTV. The adhesive vinyl you use on plastic, wood, glass. Pretty well anything that you cannot apply heat to without melting it. For back to school labels, you would use permanent vinyl for these items.
HTV you use for the lunch bag, school bag, jumper, socks, shoes… you get the idea. Anything that you can heat up and apply the vinyl to. You can also use HTV on glass and wood however you need to take care not to burn the wood or overheat the glass causing it to crack.
If you would like to find out more about vinyl check out this post.
This tutorial is working with the adhesive vinyl type. We are placing the labels on plastic lunch boxes and plastic drink bottles.
What fonts for labels
Once you have your vinyl sorted you need to start thinking about fonts and your choices are endless. We chose a larger, funkier style but it really is what you like best. Keep in mind that there are things to look out for when selecting a font to cut with your Scan N Cut.
Potential issue with font choice
While most fonts are perfectly fine and will cut nicely, you occasionally come across one that will not. It is worthwhile having a quick zoom in to check if your font is going to look nice.
Another potential issue with fonts is if you choose one that is too fine, while it may look gorgeous, the vinyl may not stay on your project as well as you would like.
This is particularly the case in back to school labels.
Back to school labels need to be as tuff as you can make them. So the thicker and chunkier the font, the more likely it will stay on your lunch box or drink bottle.
Canvas Workspace label video tutorial
This video is using the downloaded version of Canvas Workspace and various aspects of adding text and using the divide function.
Not sure which Canvas Workspace? Find more information here on the differences. I actually use BOTH versions depending on what I am planning to create.
Working with vinyl
Every brand of vinyl is a little different. Some are great and some…. well, can cause issues. Even well known branded vinyl. This project I used Metamarc vinyl and came across some issues I hadn't noticed with it before.
There is in-depth information on resolving cutting issues with your Scan N Cut here if you are having pronlems.
Step 1 – Weeding your labels
Yes, you will need to weed your labels and then transfer the label to your project. The picture below is the labels partially weeded. The centers normally come off fairly easily and you can either use your weeding tool or bend the backing paper and use your fingers. I used the latter for this particular project as I had some issues with the cut.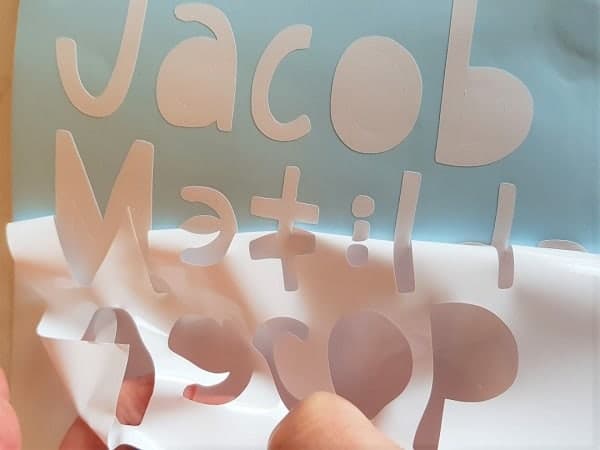 Step 2 – Transfer your label – adhesive vinyl
Once you have weeded your label you need to pick up the letters and transfer them to your lunch boxes and drink bottles etc. For this, you use what is referred to as transfer tape or transfer sheet. This is simply clear contact like material that you peel off of its backing paper and place over the letters of your label to keep them in their correct placement or alignment.

More information on how to weed vinyl can be found here if you need it.
Step 3 – Clean the surface thoroughly
Yep, don't forget this bit. Make sure that you clean your surface thoroughly before applying your back to school label. I use either methylated spirits or isopropyl alcohol to clean the surface of any oils or invisible films that may be on your project. You need to give your vinyl the best chance you can to stick properly.
Step 4 – Applying the label
Make sure that you have pressed the transfer sheet onto the label firmly so that it will pick up the letters ok. When you are ready to apply your label, peel the transfer sheet with the label letters attached from the vinyl backing sheet.
It should peel up nicely and mostly this is the case however if you have too much trouble check out my earlier link to resolve problems.
Hold your label roughly over the area where you want to place it. Once you are happy where it will go, then start from one side and attach one end to your project. Gently rub it down moving along the label until the entire label is attached. If you are happy with the placement then rub it firmly down so that it is well attached.
TIP: If your drink bottle is rounded and has a slight curve in the bottle. Snip the transfer tape in strategic places making sure that you don't cut your actual label. This will give you a bit more flexibility to ease your label on around the curve.
This little squeegee below has been one of the BEST things that I have purchased. So useful. I have used it for balancing jars so they don't roll as I am labeling. Use them to press the vinyl down firmly with the plastic side while the transfer tape is still attached. Then once the label is attached, pressing down again with the soft side once the transfer tape has been removed.
Below are the lunchboxes completed. The kids LOVED them and it is so worth personalizing them like this.
I truly love my Scan N Cut and what it can achieve, I hope that you do too.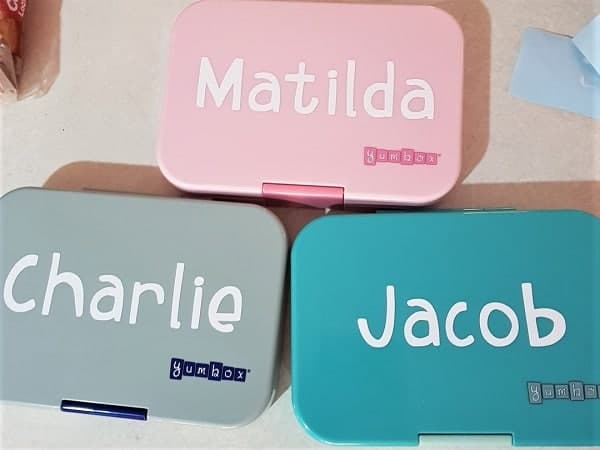 Hopefully, you have found this tutorial useful.
Until next time,
Happy creating,

Other videos that may interest you
Make your Scan N Cut mat sticky again
Mats lose their sticky really quickly. Don't rush to buy a new mat as there are things that you can do…..
How to clean your scanner
Sometimes your Scan N Cut scanner doesn't scan quite right. There may be a long mark in the scanned area. This video shows you how to resolve this and clean your scanner
Join me on Facebook
Join me in the Scan N Cut – Let's Create With Sue Facebook group. The group is full of awesome friends who also love to create projects with their cutting machines.
We would love to see you there.
Other tutorials you may like

Scan N Cut Basics Course
Would you like to learn how to use your Scan N Cut to gain the most from it?
A free course is available for you – check out what is on offer!
Like it? – Pin it!