Hmmm, creative ideas for projects hey?
I decided to put this page up to showcase creative ideas to provide inspiration for me and for you.
Some of these things I will go ahead and make, others I have already made AND the rest are just for …well….FUN!
I will add as much information as I can for any projects that are already completed.
Peg Signs
My daughter made this sign. One for her son and one for her daughter. A great creative idea. A place to put their creations.
This sign was made with Kmart vinyl and scissors to cut the lettering out. Pegs were also purchased from Kmart and were really cheap. She had Bunnings cut the wood to size for her which made it even easier. The of course she painted it and put it together.
This next sign I spotted on one of the Scan N Cut groups I am a member of and LOVED IT! It is along the same lines as the one above.
Do you know how many odd socks I have had over the years…. way too many to even start to count. I think I have a little man that lives in my washing machine and eats just one at a time!
This sign is great inspiration and is on my "to do" list for sure and super easy to boot.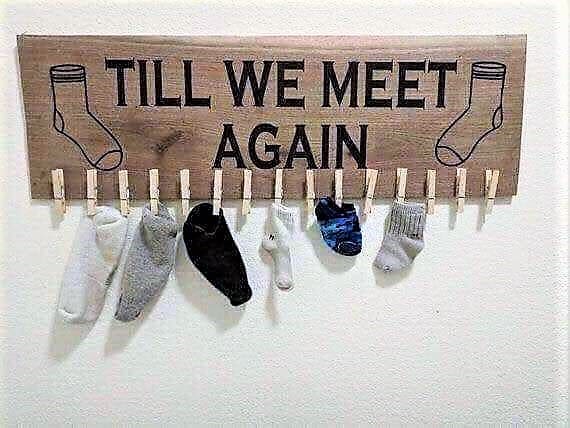 This definitely is in the category of 'Creative Ideas for Projects' don't you think?
Front of House Vinyl Sign
This is a long-standing project I have been working (procrastinating) on. Finally, I finished it. The vinyl component was the easiest part. As you probably worked out…I love horses.
Note:~ I blurred out the number at the front of the street name for obvious reasons LOL which is why it looks a little lob-sided.
Basically, it was made from 3 pieces of off-cut wood, joined together at the back with long thin pieces of timber (see pic 1) Then painted with a creamy colored outdoor paint.
I downloaded the horse silhouette from a free website and created the lettering in Canvas Workspace. The greenery is from Cheap as Chips and cut to size and popped into the gap (held with small nails).

…… and that's it! I cut the vinyl out on the 12″ x 24″ mat to maximize the use of vinyl and space. Easy as!
Have a go!
Double Hearts
I really like hearts so I created this double heart mandala. It is super simple and I wasn't really planning to put it my Resource Library as I am confident you could do this one yourself from scratch.

But, just in case you can't be bothered…I will pop the mandala in there!
Cool Acrylic Sign Holder Idea
This next idea was at my niece's wedding. I was sooo impressed with my other niece's crafty contributions to the wedding. She made so many things that I wrote a post on it.
However this particular one I believe she had someone else do BUT it would be so easy to make.
It consists of a small sheet of clear perspex/ acrylic and gold Cricut vinyl writing. (create the wording in Canvas Workspace and cut out in your Scan N Cut). The cool idea is the base to hold it up! It is simply a small piece of a log with an appropriately sized slit cut into the top of it to hold the perspex sheet upright.
Isn't that clever … easy … and cost-effective.

The sign reads ~
FIND your name GRAB your cup and ALL day long keep it FILLED UP.

Everybody had a plastic wine glass with THEIR OWN NAME on it in gold lettering cut out with a Cricut Expression 2. Awesome yes?

My niece did such a great job of making her sister's wedding a very special event.
Craft Room Hacks
Love this craft room hack! One of our awesome members of the Scan N Cut – Let's Create With Sue Facebook group, Bekki Campise, made this super cool storage hanger to keep her craft backing rolls organized in her craft room.
What a GREAT hack! I love how Bekki has made the first letter of each word accentuated too.
Make a decal for your car
I have made a few decals which have been placed in high weather exposure areas….. like my car and my horse float. The one I made for my float is my very favorite and I have been super pleased with how well it has lasted out in the weather. From memory, I used Cricut vinyl for the car and the horse float as I made them when I first purchased my Scan N Cut.
Don't look too closely at the car decal, I hadn't even worked out that you needed to weld the letters to make them look nicer when I did this. I keep meaning to do another one however time isn't always on my side and I have soooo many other projects I want to create.
The shelter belongs to a friend who I made a business logo for "Maliepark Equestrian"
The ideas are limitless of what you can make for your car or where ever you want to create a vinyl project.
Wedding ideas
I have created an entire post on this topic however I have will gloss over it still and there are so many things you can create for weddings. Recently I made this 'Just Married' for a family member. First, you drill a hole in each of the top corners and then thread some cotton rope through from the back with a knot tied in the end to make the "hanger". I then frayed the end of the rope to give it a bit of a rustic look. This is the method I use on a lot of my signs and really like the effect. (forgot to take the photo with the rope, sorry)
The super cute little gift boxes are a great wedding or special occasion box and are SO easy to make. I have created a free template and post to go with them.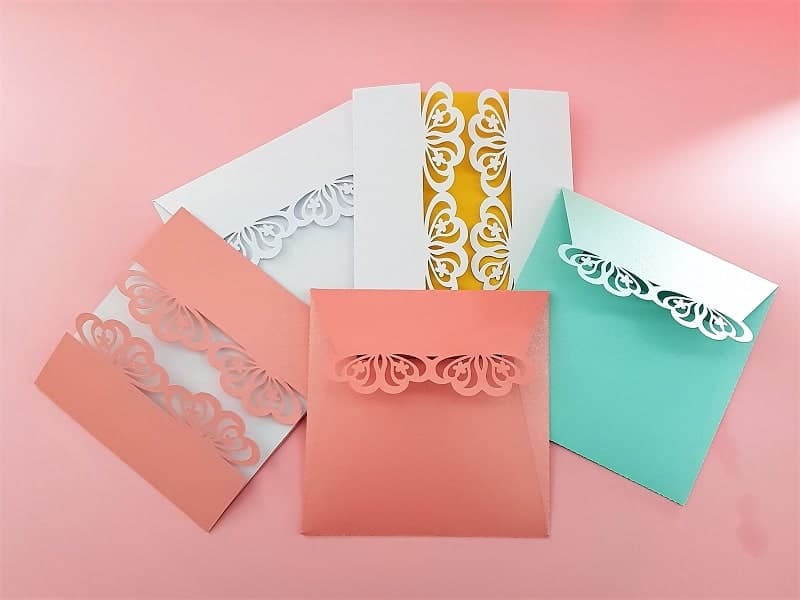 The picture next to the gift boxes are cards and envelopes which also could be used for a wedding card which is why I have popped it into this section for you to browse through. Yes, you guessed it. …. I have a tutorial and free template to go with these as well. These are all designed to inspire you to create beautiful things with your Scan N Cut. The designs are also in SVG format for Cricut crafters.
Creative Cards
Cards can be so creative. I will include a few of mine to give you some ideas. In some of the Facebook groups I belong to, there are some VERY creative people who make fantastic cards.
I think some of the most popular cards are the name cards and the pop-up cards. So much fun!
More creative ideas to come
I will keep adding to this page as I come across more creative ideas for your projects. If you have any 'creative ideas for projects' that you would like shown, please feel free to send them in to me at [email protected] and I add them, crediting you for them.
In the meantime,
Happy creating,
P.S. Don't forget to check out the Resource Library for free templates and patterns.
Which of these ideas did you like the best?
PIN it!

Join me on Facebook
Join me in the Scan N Cut – Let's Create With Sue Facebook group.
I would love to see you there.
Say hello at [email protected] or [email protected]. I would love to hear from you!
Would you like to learn the Scan N Cut Basics?
I have a free course on offer to assist you to learn some of the basic features of your Scan N Cut.
If you like it Pin It!